New owners receive house keys and take possession of their new, energy efficient home
(East Gwillimbury, ON, October 27, 2006) Today, Kerri and Carl Cartwright and their 2 children received the keys to their new, energy efficient home. They took possession of the first ENERGY STAR qualified home built using the new East Gwillimbury building guidelines. This community is Canada's first municipality to adopt ENERGY STAR as the standard for all residential developments requiring subdivision agreements (passed March 20, 2006). The Cartwright's new home is approximately 40% more energy efficient than a home built to the Ontario building code minimum and reduces greenhouse gas emissions by over 3 tonnes per year.

East Gwillimbury Mayor James Young, John VandeKleut of Natural Resources Canada, Corey and Jason DiCarlo of Terra Brook Homes, and Corey McBurney of EnerQuality Corporation, the organization which oversees the ENERGY STAR for New Homes initiative in Ontario, presented the house keys to the Cartwrights and cut a ribbon with Peter Love, Ontario's Chief Energy Conservation Officer. Mr. Love also presented a Certificate of Recognition to Terra Brook Homes for completing the first ENERGY STAR qualified home under the new guidelines. John Godden of Alpha-Tec Consulting conducted a blower door test to demonstrate the tightness of the home's building envelope.
"I'd like to congratulate Terra Brook Homes and the Town of East Gwillimbury for reducing energy consumption and taking the environmental lead in home building," said Mr. Love. "I'm not surprised that Corey and Jason DiCarlo are the ones involved. They are energy efficiency pioneers, building R-2000 homes over the past 15 years with their parents, the owners of Fifthshire Homes."
"We're very pleased to have our first ENERGY STAR qualified home completed under the new guidelines," said Mayor Young. "It's an important step toward saving energy, protecting our environment and demonstrating leadership."
"ENERGY STAR qualified homes are a smart move for home buyers," said Mr. McBurney. "The additional cost of an energy efficient home on your monthly mortgage payment is less than the amount of money you save in monthly energy costs. This means that, every month, you have more money left in your wallet and a better built home that is more comfortable to live in."
The 2400 sq. ft. home, at 12 Brent Road in Holland Landing, has upgraded insulation throughout, low-E argon windows, an ENERGY STAR qualified furnace, a heat recovery ventilator (HRV) and a very tight building envelope to reduce air leakage, among other energy saving features.
A Terra Brook energy efficient home is also stylish, with numerous luxury features, such as granite countertops and a tumbled marble backsplash in the kitchen, hardwood flooring, an oak staircase, a fireplace with a Capri stone mantle, and Cornice moldings. Terra Brook Homes is building a total of 9 homes in Holland landing. Phone 905-953-0888.
-30-
For additional information, contact:
Corey DiCarlo, Terra Brook Homes, 905-660-2432, corey@terrabrookhomes.ca
Licinio Miguelo, Policy/Strategy Coordinator, Town of East Gwillimbury, 905-478-4282 ext.275
Brent Kulba, ECO (EnerQuality media relations), 416-972-7401,
ENERGY STAR® for New Homes is a label given to homes that meet balanced, whole-house, energy-efficiency standards, guaranteeing their owners significant energy savings. New homes that receive the ENERGY STAR label are 30-40 percent more energy efficient than those built to the minimum Ontario building code standards. The ENERGY STAR mark is administered and promoted in Canada by Natural Resources Canada.
For more information on East Gwillimbury's policy, visit www.eastgwillimbury.ca
Featured Product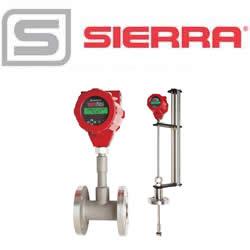 Sierra was the first to introduce a combination volumetric vortex and multivariable mass flow meter in 1997. Today, Sierra's completely redesigned InnovaMass® iSeries™ 240i/241i builds on two decades of success measuring five process variables for gas, liquid and steam with one connection. Now, with the latest hyper-fast microprocessors, robust software applications, field diagnostic and adjustment capability, and a new state-of-the-art flow calibration facility, Sierra's vortex iSeries delivers precision, performance, and application flexibility never before possible.