Provided by PowerLight Corporation, City's second solar facility is the largest municipal solar array in California
Provided by PowerLight Corporation, City's second solar facility is the largest municipal solar array in California

Chico, Calif., OCT. 27 - The City of Chico dedicated its 1.1 megawatt (MW) ground-mounted solar tracking facility at the City's Water Pollution Control Plant at 4827 Chico River Rd. State and local dignitaries including Congressman Wally Herger, Chico Mayor Scott Gruendl and City Manager Greg Jones, Scott McNall Provost of California State University Chico and Co-Chair of North State Renewable Energy, Al Stuebing and Lia White representing Pacific Gas & Electric Company (PG&E), and President of PowerLight Dan Shugar participated in today's dedication ceremony to commemorate the one year anniversary of the solar facility.
Solar Facility Dedication
During the public ceremony, Mayor Gruendl flipped the solar system's ceremonial switch. "This solar array is the world's largest solar tracking facility at a wastewater treatment facility and one of the largest cumulative quantities of municipally owned solar power systems in the country. Not to mention, this solar tracking facility is the state of California's largest municipal solar array," said Mayor Gruendl. "We are delighted to not only help the environment, but make history with this beautiful facility."
The solar tracking facility was operational on October 20, 2005. During the first year in operation, the 1.1 MW solar array was responsible for avoiding an estimated 1.6 million pounds of carbon dioxide emissions (CO2) per year. This would be the same as removing CO2 emissions from an estimated 160 passenger cars annually. It is also the equivalent of CO2 emissions emitted from nearly 31,000 propane cylinders used for home barbecues.
A solar tracking system differs from standard fixed mounted photovoltaic (PV) system in that it tracks the sun's course throughout the day, maximizing the system's electricity output. Solar onsite systems are one of many renewable energy sources available in today's market. Renewable resources that generate green power have little to no impact on the environment and produce no net greenhouse gas emissions in electricity production.
"On-site solar electricity generation is an effective way for government institutions to address their energy needs and hedge against electric price volatility," said Wayne Nastri, EPA Regional Administrator for the Pacific Southwest. "The City of Chico's voluntary investment in solar energy serves as an excellent example in reducing greenhouse gases such as carbon dioxide that contribute to climate change." The City of Chico has been an EPA Green Power Partner (in the Leadership Club) since 2004.
EPA's Green Power Partnership works with organizations nation-wide to reduce the environmental impacts associated with conventional power use. Organizations are encouraged to purchase green power or invest in on-site renewable energy systems as a means to improving their environmental performance.
During the dedication, PG&E presented the City with a solar rebate check for $3,813,791 - the largest single solar rebate ever awarded by PG&E. "PG&E is proud to partner with the City of Chico on this solar project and is pleased about the positive impact this rebate will have on the community and the environment," said Helen Burt, senior vice president and chief customer officer for PG&E. "Chico's success in solar energy demonstrates its foresight and innovation among American cities."
PG&E's self-generation incentive program provides rebates for on-site electric generating systems utilizing either solar, wind turbines, fuel cells, or micro turbine or internal combustion engine cogeneration systems. To date, PG&E has paid more than $190 million in customer rebates through the self-generation incentive program. In addition to this $3,813,791 rebate, PG&E also provided a $351,640 rebate to the City of Chico in 2004 for solar panels atop a municipal parking structure.
City's First Solar Facility
The Water Pollution Control Plant is home to the City's second solar facility. The first system, a 91 kilowatt (KW) solar array at Chico's Downtown Parking Structure at 3rd & Salem Streets, was dedicated in August 2004. Additionally, the City of Chico installed an educational kiosk in the Municipal Center's foyer to showcase the benefits of solar energy, while educating city staff, community members and visitors.
"We are very appreciative to have helped the City of Chico deploy 1.2 megawatts of clean, reliable, emissions-free solar power on their City-owned and operated properties," said PowerLight President Dan Shugar. "In doing so, Chico has distinguished itself as a model municipality for using solar power to reduce operating costs and hedge volatile power pricing with an environmentally-preferred solution."
PowerLight Corporation is the leading global provider of large-scale solar power systems, delivering unmatched experience and proven financial performance to commercial, utility, public sector, and residential customers. Their industry-leading products, technologies and services enable customers to maximize clean energy output along with project savings. Today, PowerLight designs, deploys, and operates the largest solar power systems in the world through market-leading innovation and exceptional customer service. For more information, please visit www.powerlight.com.
Additional information on the City of Chico's solar facilities, including photographs, can be found at http://www.ci.chico.ca.us/pubworks/Solar_Facilities_Information/Water_Pollution_Control_Plant.asp
Featured Product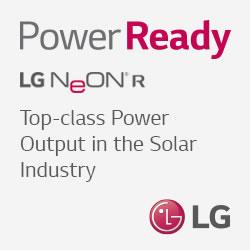 The NeON R module features "Back Contact" cell technology delivering an entirely black panel that is aesthetically pleasing and energy efficient. The cell's seamless, surface blends perfectly into nearly all rooftop designs while the module's electrodes are positioned on the rear of the cell. Using LG's N-type cell structure, the panels produce 365W of energy, up to 7.3kWp, compared to 5.8kWp of the p-type cell. The module's new design minimizes LID, thereby delivering a longer lifespan and increased energy output.