Aqus is a new, patented product that conserves and reuses water in the home
New Water-Saving Device Can Reduce Household Water Usage by 20% - 30%.

A "Green" solution to Water Conservation
December 9, 2006 (Louisville, KY) - - A new, patented product called Aqus re-uses the water from bathroom sinks, filters and disinfects the water, stores and quietly pumps it into the water tank where it can be used for flushing. The system saves between 10 and 20 gallons of fresh water each day in a two-person household.
"This is a first product, patented product to actually reuse water in the home so we can significantly reduce water consumption in our homes, put less of a strain on our water resources and save money to boot on our water bills," said Tom Reynolds, President of WaterSaver Technologies
40% of US Water Supply is Flushed Down the Toilet
Remarkably - according to the US Environmental Protection Agency's Office of Water - more than 4.8 billion gallons of water are flushed down US toilets every day. Eliminating the need for scarce, fresh water for flushing would reduce the water use in US households by 30%.
In a typical, two-person household, the Aqus can save, on average, approximately 5,000 gallons a year of fresh water that would have been flushed - reducing water consumption charges and wastewater treatment costs. It will also save the same amount in waste water charges.
A short video that shows how the system works can be found on the company's Website, www.watersavertech.com. Click on AQUS System and then click on demonstration video.
The Aqus was created to help conserve and re-use water in homes. Some buyers of the product also purchase the Aqus as a green, environmentally-friendly way to save water and reduce their water bills. The Aqus is an inexpensive, reliable system with a low retail cost ($195) that pays for itself in savings on water bills, generally within three years.
"As a green architect, educator and author, I need to continually be aware of the latest advances in green building technologies. The Aqus represents a leap in grey water technologies. Most importantly, it works on existing bathrooms and is affordable," said Eric Corey Freed, Principal at organicArchitect in San Francisco.
"Some days I think my full time job is finding ways to stretch the budget. Anytime I come across something with low/no cost impact, it gets added to our list of "No Brainers" of things we suggest people do on every project. The Aqus is one of those important items. Think of how much water would be saved if everyone added your lovely device to their homes," said Freed.
About WaterSaver Technologies
The company was founded in 2001 with the filing of its first patent. The Aqus water system is the first small scale water conservation reuse system available for homes and commercial applications, including government buildings, schools and other facilities. The company has its marketing, sales and manufacturing facilities in Prospect, KY with a manufacturing facility in nearby Louisville, KY. AQUS is a trademark of WaterSaver Technologies, LLC.
More information at: www.watersavertech.com.
# # #
John Reed, Media Relations
WaterSaver Technologies, LLC
(415) 846-4862
Elevatorpr@earthlink.net
PHOTO: A high-resolution photo of the Aqus can be emailed to you, as well.
Featured Product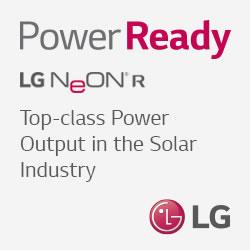 The NeON R module features "Back Contact" cell technology delivering an entirely black panel that is aesthetically pleasing and energy efficient. The cell's seamless, surface blends perfectly into nearly all rooftop designs while the module's electrodes are positioned on the rear of the cell. Using LG's N-type cell structure, the panels produce 365W of energy, up to 7.3kWp, compared to 5.8kWp of the p-type cell. The module's new design minimizes LID, thereby delivering a longer lifespan and increased energy output.