The seventh international All-Energy exhibition and conference (the UK's largest renewable energy show) - incorporating the first H207 conference and exhibition pavilion - takes place in Aberdeen, Scotland 23-24 May 2007.
8 January 2007

All-Energy, the annual exhibition and conference devoted to renewable energy goes from strength to strength. This year will see the seventh event in the series staged in Aberdeen at the Aberdeen Exhibition and Conference Centre on 23 and 24 May. Long before Christmas 2006 the show had attracted more booked and reserved space than it had opened with in May 2006, with many other exhibitors poised to make up their minds early on in the new year the exhibitor list is still growing on a daily basis.
The 2006 show had a total attendance of 2850 with 220 exhibiting companies and 150+ speakers - optimism is high this year that all three records will be broken. Each year since the show was first held in 2001 has seen an increase in attendance and the number of exhibitors.
"The show mirrors the growing interest - and investment - going on in the renewable energy industry both at home and abroad," says project director, Judith Patten of Media Generation Events who organise the exhibition and conference in partnership with Aberdeen Exhibition and Conference Centre. "Douglas-Westwood[1], who have carried out extensive business research into the global renewable energy industry, have produced some figures on capital investment that speak volumes about what is happening in the UK renewables business:-
Capital expenditure for 2006, based on value of UK projects (so not counting UK technology being used abroad):-
• Onshore wind: $1.92 billion
• Offshore wind: $434 million
• Wave & tidal: $26 million
• Biomass: $149 million
• Microgeneration - estimated at $60 million
"Meanwhile New Energy Finance[2] is reported as predicting that $70.9 billion was invested worldwide in 2006 on developing renewable energy.
"There is rapid expansion in the industry throughout the world, and we look forward to welcoming many international visitors to the show this year. Indeed, we can truly describe this year's event as 'international' for not only will we have those expected visitors, including DTI Inward Missions, plus individual exhibiting companies from overseas as before, but we also have pavilions from Austria, Canada, Denmark, Norway and the USA within the exhibition. Aberdeen City and Shire have combined to have their largest group ever at the show; and the Highlands and Islands presence is larger this year with the addition of an 'Orkney Village'.
"With the Government's Energy White Paper due for publication during the spring, and the Scottish Parliament Elections in early May (with renewable energy firmly positioned in manifestos), the All-Energy conference is sure of some highly topical presentations. Once again the free-to-attend conference will be attracting well over 150 speakers on a wide range of topics including all sources of renewable energy (onshore and offshore wind; wave and tidal; bioenergy; hydro; microgeneration; carbon capture and storage) and also the challenges and opportunities facing the industry from skills to financing; policy to grid issues; supply chain to opportunities for the farming community; and sessions from each of the countries represented by national pavilions. There are also plans for one-to-one 'reducing your company's carbon footprint' clinics. It is going to be a really stimulating - and packed - two days!"
All-Energy has strong support from key organisations in the renewable energy industry who work with us in putting together a compelling conference. The event is held in association with the British Wind Energy Association and Scottish Renewables Forum; The Society for Underwater Technology is the learned society patron; and Aberdeen City Council the host sponsor. There are 20 other organisations including the DTI, Scottish Executive, Scottish Enterprise and Highlands & Islands Enterprise, Aberdeen Renewable Energy Group and many trade associations and professional bodies who are official supporters of All-Energy - they field representatives to sit on the conference steering group to ensure that it addresses all currently relevant issues and attracts highly knowledgeable speakers actively involved in the industry. Many of the 20 have been strong supporters for a great many years. This year there are two new supporting organisations - EEEGR - the East of England Energy Group; and NEF - the National Energy Foundation.
New hydrodgen:fuel cell innovation
This year there is an additional and exciting two-day conference stream at All-Energy. Called H207 it has also attracted a dedicated hydrogen and fuel cell exhibition pavilion.
H207, or to give it its full name 'H207: The USA & Europe Getting Down to Business - Implementation of the Hydrogen Economy' is a forum at which regional projects, business councils, national initiatives and international collaboration all come together to get over the message that the hydrogen/fuel cell economy is a reality, and well and truly 'open for business'.
"This is an exciting innovation spearheaded by the Scottish Hydrogen Fuel Cell Association, the Mountain States Hydrogen Business Council (from the USA), and the United Kingdom Hydrogen Association," explains Judith Patten. "And, like All-Energy, it has strong supporting organisations who spread the word to their memberships and contacts ensuring industry-wide awareness of the event."
Networking, a key component
In addition to the exhibition and conference, All-Energy (with H207 this year) features a Giant Networking Evening, designed to do 'just what it says on the tin' and get exhibitors, visitors, conference speakers and journalists together to network at the end of what will be an exceptionally busy first day on 23 May. The evening features fun activities as well as food all of which combines to make networking easy and enjoyable. It follows the Aberdeen City Council sponsored Civic Reception at the close of the exhibition/conference day. Early in the morning of 23 May, Aberdeen and Grampian Chamber of Commerce will stage their now traditional Business Breakfast, another key networking opportunity.
Free registration for the conference, exhibition and networking evening is now open at www.all-energy.co.uk (there is a charge for the Business Breakfast and information on that is available from www.agcc.co.uk).
Further, and regularly updated, information on all component parts of All-Energy '07 and H207 is available on the All-Energy website at www.all-energy.co.uk and the H207 website at www.H207.com or from info@all-energy.co.uk - Tel: +44 (0)20 8241 1912.
________________________________________
[1] Douglas-Westwood Ltd - www.dw-1.com
[2] New Energy Finance - www.newenergyfinance.com
Featured Product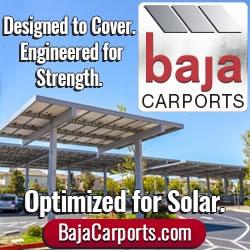 Baja Carports offers an extensive solar support system product line customized to customers' site specifications by in-house engineers, meeting their parking lot coverage, plus optimal PV production needs. Baja's Full Cantilever Tee is often paired with its Semi and Full Cantilever carports to meet live/loads up to 60psf and wind speeds to 160mph. All Baja products are pre-fabricated, bolted connections, pre-galvanized structural steel for fast on-site installation and project aesthetic requirements."