The 2007 North American International Auto Show is underway in Detroit, MI and as the headline below indicates, E85 vehicles are "new stars of the show".
E85 Advocates:

The 2007 North American International Auto Show is underway in Detroit, MI and as the headline below indicates, E85 vehicles are "new stars of the show". To some of you that may be a surprise, to others that have been supporting the use of E85 for the past several years, you might respond by saying, "we told you so"! Others can react with "so what" and even "it's about time" may be heard.
Whatever your response may be, the future of E85 in Flexible Fuel Vehicles and the use of high level blends of ethanol, has never been brighter. That said, there remains significant work to be accomplished. Some of our 2007 objectives will include: (1) addressing the UL certification of E85 dispensing equipment; (2) addressing the BTU issues associated with the use of E85; (3) working to advance the installation of large numbers of E85 fueling stations, and; (4) working with our partners across the nation to educate consumers/motorists that their vehicles are E85 compatible and that they should consider using E85.
The NEVC will continue to need your assistance in meeting the preceding objectives and others that will certainly appear during the course of the year. We encourage you to frequently check out our web site at www.e85fuel.com for updates on new fueling stations, legislative activities, and other important announcements. I would also ask that you consider joining the NEVC so that we may maintain the resources necessary to further advance the use of domestic-renewable fuels such as E85. A link to our membership information page can be found at: http://e85fuel.com/membership/membership.php. Corporate or individual memberships are welcome.
We thank you for your support of E85 and look forward to a year that includes further alternative fuel growth.
Phil Lampert,
Executive Director, NEVC
E85-capable vehicles new stars of show
Automakers want to cut oil imports
January 11, 2007
BY JUSTIN HYDE
Detroit Free Press
FREE PRESS WASHINGTON STAFF
As always, alcohol was a popular beverage during media previews for the North American International Auto Show this year -- but it wasn't just journalists lining up for a thirst quencher.
For the first time, several automakers unveiled concept and production models capable of burning E85, the blend of 85% ethanol and 15% gasoline backed by Detroit automakers as the most viable option for reducing U.S. oil imports. Even Toyota Motor Corp. jumped on the bandwagon, announcing its new Tundra pickup would offer an E85 version in the 2009 model year.
The new interest in ethanol came the same week as U.S. ethanol backers launched a lobbying push in Washington for more government support. While Detroit automakers already have committed to building 2 million flex-fuel vehicles a year by 2010, a group of 37 state governors, including Gov. Jennifer Granholm, proposed Wednesday that the government require 70% of new vehicles to be E85-capable in 10 years.
The growing ethanol juggernaut has been fueled by a variety of sources, from conservatives concerned about energy security and farm-state lawmakers seeking additional revenues to environmentalists pushing to cut carbon emissions and fight global warming. President George W. Bush has been an ardent supporter of ethanol, and likely will address the issue again in his State of the Union speech this month.
"If people are serious about reducing imported oil, this is the best thing you can do fast," General Motors Corp. Chairman Rick Wagoner told journalists at the auto show preview. "There's no question it's a good thing to do. Can't see why anyone would be against it."
GM's electric-car concept, the Chevrolet Volt, was designed with a backup engine that can run either gasoline or E85. Most of the concepts at the Ford corporate stand were ethanol-capable, from the Ford Interceptor sedan to the curvaceous Mazda Ryuga. And Chrysler showed two production models, the Dodge Avenger and its new minivans, that had E85 options.
Foreign automakers have not been nearly as enthusiastic about E85. Don Esmond, Toyota's senior vice president for automotive operations, said the limited availability of E85 filling stations had held down Toyota's interest in the fuel. California, Toyota's largest market, has one E85 pump.
"I think, directionally, if there's a way that we can start getting off fossil fuels and move to something else, we're willing to do it," Esmond said. "I don't know that demand is there right now."
The U.S. ethanol industry produced 5 billion gallons of the fuel last year, most of which were mixed into regular gasoline, but many members of Congress are seeking ways to boost output dramatically. Sen. Tom Harkin, D-Iowa, said Wednesday that renewable fuel production would be a key concern of any new farm aid bill; Harkin was one of the sponsors of a bill to boost ethanol output to 60 billion gallons by 2030.
Contact JUSTIN HYDE at 202-906-8204 or jhyde@freepress.com. Free Press business writer Joe Guy Collier contributed to this report.
Copyright © 2006 Detroit Free Press Inc.
Featured Product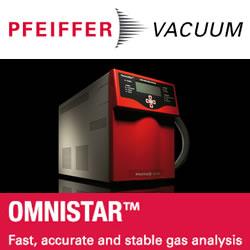 The Pfeiffer Vacuum OmniStar benchtop analysis system offers you a compact footprint, powerful software and Ethernet connectivity. It's the optimum solution for many real-time gas analysis applications. With the OmniStar, Pfeiffer Vacuum offers you a complete solution for gas analysis, in chemical processes, semiconductor industry, metallurgy, fermentation, catalysis, laser technology and environmental analysis. The turnkey OmniStar gas analysis system consists of heated, temperature-regulated gas inlet system, Quadrupole mass spectrometer, a dry diaphragm vacuum pump and HiPace turbopump. Unlike competing methods such as FTIR, OmniStar is suitable for qualitative and quantitative analysis of most gases.