Several renewables leaders respond to the alarming conclusions released today in the new assessment report from the Intergovernmental Panel on Climate Change (IPCC).
Washington, D.C. - Responding to the alarming conclusions released today in the new assessment report from the Intergovernmental Panel on Climate Change (IPCC) several leaders from ACORE, the American Council On Renewable Energy point out the role of wind, solar, geothermal, and other renewables in reversing the buildup of greenhouse gases in the atmosphere. The report determined with near certainty that these heat-trapping gasses are the main contributors to global warming. To quote from the document, "Most of the observed increase in globally averaged temperatures since the mid-20th century is very likely due to the observed increase in anthropogenic (human caused) greenhouse gas concentrations."

Chris Flavin, President of Worldwatch Institute and member of ACORE's Advisory Board states, "...the scientists in Paris are grappling with a growing body of evidence that points towards abrupt and economically disruptive climate change. The new IPCC report will accelerate the growing political and business momentum for climate legislation in Washington and other capitals."
"The IPCC has again underscored the seriousness of the climate challenge and the likely consequences of failing to address this global threat," says Roger Ballentine ACORE board member. "Fortunately, we have the tools we need to reduce greenhouse gas emissions and stabilize our climate - if we have the will to use them....there is no bigger and better tool in our toolbox than renewable energy."
"When the world agrees that climate change is real, as we are doing here today, and we turn to the search for solutions, renewable energy will be seen as the major solution to climate change along with far greater levels of energy efficiency," says Mike Eckhart, President of ACORE, speaking from Paris.
The IPCC report is the broadest and most respected scientific assessment of the impact of human activity on the world's climate. It reflects a growing consensus among the more than 2000 scientists who wrote and reviewed each of the 4 reports issued by the IPCC since 1990 that we are set on a trajectory of accelerated climate warming, changing weather patterns and rising sea levels unless the world dramatically reduces the burning of fossil fuels and greatly expands the use of renewable energy.
For additional comments from ACORE's President and members of the Board contact Bill Moller at moller@acore.org or (202) 393-0001 x7586.
Featured Product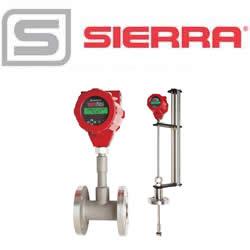 Sierra was the first to introduce a combination volumetric vortex and multivariable mass flow meter in 1997. Today, Sierra's completely redesigned InnovaMass® iSeries™ 240i/241i builds on two decades of success measuring five process variables for gas, liquid and steam with one connection. Now, with the latest hyper-fast microprocessors, robust software applications, field diagnostic and adjustment capability, and a new state-of-the-art flow calibration facility, Sierra's vortex iSeries delivers precision, performance, and application flexibility never before possible.