The EU sets a standard protocol and leads the way into Europes very own carbon emission reduction scheme.
Wednesday 14th February could be a historic date regarding a revolutionary change in emission targets set by the EU through the Kyoto protocol. The protocol will come into effect during 2008.

21 of the 25 EU member states have signed up to the new protocol which requires those countries to meet specific targets regarding their carbon emissions.
Countries who have not signed this new agreement are Greece, Italy, Poland, and the Czech Republic. We shall have to wait and see if these countries will be willing enough to sign the agreement.
The protocol is mainly aimed at the motoring industry in a bid to reduce vehicle exhaust emissions by 2012. Some gases related to industry have also been included, yet the targets for industry are said to be much easier to meet.
Countries who do not meet their targets by 2012 are said to be obliged to purchase credits off the remaining countries who have met their targets.
Could this see a revolutionary change in the methods we use to generate our power? We could begin to see a greater amount of renewable energy systems pop up all over Europe.
The motoring industry will have to adapt, and the idea of road tax cuts for smaller vehicles and higher taxes for 4x4's could very possible make an introduction into many of the EU member states.
It's a shame, but this protocol is only a very small start. We need to start seeing new protocols for power production and heavy industry. The green dream will most likely be in place someday, yet this could be hundreds of years. We need to start seeing more new and environmentally friendly, natural energy technologies that we can easily integrate into our current lifestyles.
Solar panels, wind turbines and geothermal heating systems should be introduced into more new builds across Europe. We really should make a difference to our environment for future generations. It is time to act now, many scientists agree.
Although this protocol is a start, many professionals and experts claim it is not enough, and we should be doing more to try and protect our current environment.
Many other professionals are claiming we won't see any change until around 3 years from now, which could be too late, we need to act now. The fact that countries are protecting their industry by introducing very low targets tells you that maybe this new protocol isn't going to be as effective as first thought.
Featured Product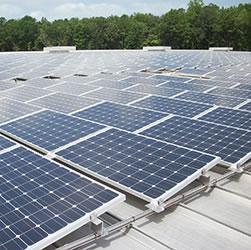 The Power Rail™ Commercial Mounting System is designed with the professional PV solar installer in mind. Both the XD/UD and LD/MD rails feature single tool assembly with the revolutionary patented RAD™ Lock-in-Place bolt for fast and secure module clamping. The high strength marine-grade aluminum rails include an integral wiring channel for securing cables and providing a professional finish.