Norway pledged € 3.7 million Euro over the next three years to the Renewable Energy and Energy Efficiency Partnership (REEEP) to accelerate the clean energy supply in emerging markets.
New York, March 1, 2007

The Norwegian Minister for Development Cooperation Mr. Erik Solheim today pledged 30 million Norwegian Kroner (approximately € 3.7 million Euro) over the next three years to the Renewable Energy and Energy Efficiency Partnership (REEEP) to accelerate clean energy supply in emerging markets. The funding is a follow up to the Norwegian Action Plan for Environment in Development.
Widespread energy poverty is perhaps the most serious problem the world is facing. Some 1.5 billion people do not have access to electricity and without adequate supplies of affordable energy, economic growth is hampered and welfare will suffer. In addition most of these people rely on traditional biomass - wood and dung, which has serious negative impacts on health and the environment. Using local sources renewable energy itself can generate new sources of income and stimulate further economic activity without reliance on imported fuel.
"Partnerships such as REEEP are allowing governments to provide market creation assistance for renewable energy and energy efficiency across the developing world, addressing both poverty and climate change", states Minister Solheim. "Becoming a donor to the REEEP allows Norway to accelerate the legislative and regulatory frameworks necessary to attract investment into rapidly growing markets such as Brazil, China, India and Sub-saharan Africa, thus lowering carbon emissions."
REEEP is an international alliance of governments, NGOs and businesses dedicated to accelerating and expanding the global market for renewable energy and energy-efficient technologies. REEEP is focused on reducing carbon emissions, improving energy security and ensuring access to clean energy. Norway's Action Plan for Environment in Development has clear linkages with REEEP's energy access work in emerging markets.
Dr. Marianne Osterkorn, REEEP International Director, recognised the contribution from the Norwegian government as a major step towards increasing the focus on energy access. "REEEP is extremely pleased to have a three-year funding pledge from the Norwegian government. Their contribution will allow REEEP to expand our work to reduce greenhouse gas emissions across emerging markets and to ensure socio-economic benefits from the implementation of clean energy and energy efficiency. In particular, Norway will help us to strengthen our activities in India, China, Brazil and across Africa via its experiences in policy, finance and technology", she stated.
REEEP is dedicated to the development and support of legislative, regulatory and financial frameworks that stimulate the marketplace for renewable energy and energy efficiency. REEEP is active globally, with over 30 on-the-ground projects targeting the development of policy, finance and business models that can be replicated by governments and project developers worldwide. The partnership has more than 200 members, including all G8 countries with the exception of Russia.
In 2006, Argentina, Singapore, Romania and Tunisia all joined REEEP in order to support their domestic renewable energy and energy efficiency programme. REEEP receives funding from Austria, Australia, Canada, Ireland, Italy, the Netherlands, New Zealand, Spain, the United Kingdom and the United States.
Featured Product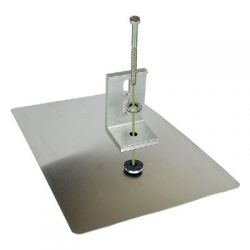 The GreenFasten™ - GF1 system utilizes the patented watertight technology EcoFasten Solar® is known for. The flashing is fit with our EPDM rubber bushing and when used with a compatible EcoFasten Solar compression bracket (milled with countersink), a watertight seal is created, which protects the integrity of the roof. Requiring just a single fastener (lag bolt or self-drilling), GreenFasten provides the fastest install in the industry and will not void roofing manufacturer's warranties. Backed by IAPMO certification, GreenFasten delivers a mounting solution for all new or existing (retrofit) composition shingle roofs, and is the most cost-effective solution available. Like all of the solar roof mount solutions in our line of products, GreenFasten is made in the USA using recycled materials.