The UK's largest renewable energy exhibition and conference (being held 23 and 24 May in Aberdeen, Scotland) just grows and grows in size and stature!
PRESS RELEASE

For immediate release: 21 March 2007
DIARY DATE:
Event: All-Energy '07
Dates: 23-24 May 2007
Venue: Aberdeen Exhibition and Conference Centre
Information: www.all-energy.co.uk
Records are there to be broken …. and that's certainly what All-Energy '07, the UK's largest renewable energy exhibition and conference (Aberdeen, Scotland: 23 and 24 May) is doing!
When the floorplan for this year's show was drawn with 2500m2 on offer to exhibitors, it showed a 25% increase on space taken at the 2006 show and was virtually full by the end of February. By mid-March a further 250m2 was opened up to accommodate the waiting list that had built up, and now that is filling fast! Well over 250 companies will take part in this year's event - the seventh in the annual series. Both the exhibitor list and the start of the show's online preview can be found at www.all-energy.co.uk
There are overseas pavilions from Austria, Canada, Denmark, Norway and the USA; the largest-ever pavilions from Aberdeen City and Shire, and from the Highlands and Islands area with the addition of a dedicated Orkney area. Individual exhibiting companies come from all over the UK and from Belgium, Denmark, Germany, Ireland and the USA. A hydrogen and fuel cell pavilion is a logical extension of the "H207: The USA and Europe Getting Down to Business" hydrogen and fuel cell stream in the conference.
"All-Energy '07 certainly mirrors the rapid expansion of the renewable energy industry," says project director, Judith Patten of Media Generation Events, who organise the annual show in partnership with Aberdeen Exhibition and Conference Centre. "Each of our seven events has grown in terms of size and standing - we are thrilled at the response to this year's show. With nine weeks still to go over 700 have already registered to attend. The list grows on a daily basis." Last year saw a total of 2850 participants and 220 exhibiting companies.
Timely and topical conference
The free-to-attend conference also continues to expand. This year in addition to early morning plenary sessions on both days - the UK Energy Minister, Lord Truscott; and US Ambassador HE Robert H Tuttle will be amongst the speakers on opening morning - there are five daily parallel sessions encompassing all sources of renewable energy and the challenges and opportunities facing the industry.
These include streams on policy (looking forward to the countdown to 2010); the power industry's reaction to the Energy White Paper; onshore and offshore wind; wave and tidal; bioenergy; hydro; microgeneration; carbon capture and storage; the grid; skills opportunities and challenges; supply chain opportunities; market opportunities; renewables for communities; a special session for the farming community; finance and funding; and the two-day H207 stream. There are also "Innovations from………. " sessions, featuring the overseas countries with pavilions; technical workshops on radar/ aviation and health and safety; as well as one-to-one 'reducing your company's carbon footprint' clinics. In all there will be well over 150 speakers taking part during the course of the two days.
"All-Energy provides a highly topical 'one-stop-shop' at which everyone with a business or professional interest in renewables can get up to date information on all aspects of the industry; take part in a stimulating conference with plenty of debating and question and answer time; enjoy a networking evening designed to do 'exactly what it says on the tin'; and meet the men and women responsible for moving the industry along at such a pace," explains Judith Patten.
Strong list of supporting organisations
All-Energy '07 is held in association with the British Wind Energy Association and Scottish Renewables Forum; The Society for Underwater Technology is the learned society patron; and Aberdeen City Council the host sponsor. Well over 20 key organisations are official supporters of the two-day event. H207 is an initiative of the Scottish Hydrogen & Fuel Association; the United Kingdom Hydrogen Association and the USA's Mountain States Hydrogen Business Council again, with a strong list of supporting organisations.
Online registration is open at www.all-energy.co.uk. Attendance at the exhibition, conference and the now traditional Giant Networking Evening (23 May) is free of charge to all with a professional involvement with the industry. Further information is available on the website and from info@all-energy.co.uk
ENDS
Notes to editors:
· You can register to attend at www.all-energy.co.uk/Press_badge_order_form.html
· Preview information: you will find our steadily growing "What They're Showing" information at www.all-energy.co.uk/What_they_are_showing.html and we can supply photographs to go with it (photographs from All-Energy '06 and photographs supplied by this year's exhibitors - all as high resolution jpegs)
· We're here to help in any way we can. Just contact Judith Patten at judithpatten@wwmail.co.uk or on +44 (0)20 8241 1912 to let her know how best she can help you
Featured Product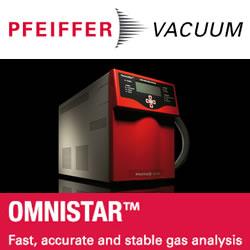 The Pfeiffer Vacuum OmniStar benchtop analysis system offers you a compact footprint, powerful software and Ethernet connectivity. It's the optimum solution for many real-time gas analysis applications. With the OmniStar, Pfeiffer Vacuum offers you a complete solution for gas analysis, in chemical processes, semiconductor industry, metallurgy, fermentation, catalysis, laser technology and environmental analysis. The turnkey OmniStar gas analysis system consists of heated, temperature-regulated gas inlet system, Quadrupole mass spectrometer, a dry diaphragm vacuum pump and HiPace turbopump. Unlike competing methods such as FTIR, OmniStar is suitable for qualitative and quantitative analysis of most gases.