Washington Crossing, PA USA - Morningstar is pleased to announce its latest product release, the SunSaver Duo' two battery controller for RV's, caravans, boats and cottages.
Rated for 25 amps at 12 volts DC, this product will charge two separate and isolated batteries at the same time, such as a "house" and an engine battery, based on user selectable priorities.

The SunSaver Duo employs Morningstar's legendary SunSaver controller technology, whose long-term track record for high reliability and improved battery charging is well-recognized in the solar industry.
This controller includes a backlit remote meter which may be mounted in or on a wall, and displays digital and pictorial status information about the solar power system. The SunSaver Duo is epoxy encapsulated for environmental protection, is user adjustable via DIP switch or connection to a personal computer and has an optional remote temperature sensor. The product includes a five year warranty.
Morningstar is the world's leading supplier of solar charge controllers and inverters whose quality products provide higher reliability and better performance. The firm's products are sold through a network of over 164 authorized solar distributors worldwide.
Featured Product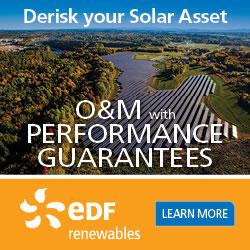 EDF Renewables offers the same innovative solutions that maximize the performance of our own 5.2 GW of installed projects. Because we're not an equipment manufacturer, our recommendations are transparent and data-driven. We cover the entire project lifecycle: from pre-commissioning support, through warranty and post warranty operation, to late stage and decommissioning.