Dozens of students throughout Mass. demonstrated the latest energy efficient building tools and techniques during the Massachusetts Technical School Outreach Learning Exchange recently.
STUDENTS PLAY GLOBAL "FOOTPRINT" BALL, INSTALL SOLAR PANELS AND DEMONSTRATE GREEN BUILDING

PRACTICES AT STATEWIDE LEARNING EXCHANGE
MARLBORO, Mass, May 2, 2007 - Nearly 150 participants from the state's high schools and vocational technical schools joined national green building experts and sponsors today for the "I-SMART Massachusetts Technical School Outreach Learning Exchange," a day-long, hands-on program showcasing the latest in energy efficient construction. The event took place at the Best Western Royal Plaza Hotel in Marlboro, Mass.
The Technical School Outreach (TSO) event featured faculty members and student teams from 12 Massachusetts schools participating in hands-on demonstrations, presentations and workshops. The event was kicked off by an "electric bike" competition whereby students pedaled bikes to light up two types of light bulbs - a high efficiency compact fluorescent and an incandescent bulb. Participants also played global "footprint" ball to illustrate offsetting carbon emissions. During the student workshops, faculty watched out takes of "An Inconvenient Truth" to view the impact of residential energy consumption and how building systems impact energy usage. Throughout the morning, the most advanced energy efficient technologies, new products and building science concepts were showcased. Students learned how to assemble a solar electric system, seal "duct dogs" and build with Lego-like insulating concrete forms. Nationally acclaimed industry experts conducted workshops, presentations and served as technical advisors at the event. During a luncheon, schools received donated products including power tools, CDs and building materials. To date, the TSO program has provided donations valued at more than $1.2 million directly to the schools.
The TSO initiative was developed by National Grid and Conservation Services Group (CSG) and attracts an increasing number of participants every year. Launched in 2004, the program operates in Massachusetts, Oregon, Rhode Island and Vermont.
National Grid has been involved in educating students about energy efficient building since 2000 and is the lead sponsor of the TSO initiative. Jerry Hanna, who oversees energy efficiency programs for the utility, said "This year, the program has expanded its reach by attracting schools in Brockton, Canton, Bridgewater and Worcester, to name a few new areas. We are excited that more schools throughout the state are embracing this program and realizing the significant impact that building has on the environment."
Paul Wolff, of CSG, is the TSO project manager. He said, "Since the program began, we have seen a 100 percent increase in the placement of tech students with builders, energy conservation companies and architectural firms. Some have even started their own businesses. The TSO program has also increased awareness of green building practices and conservation issues that contributed to recent revisions in the state-wide curriculum issued by the Massachusetts Department of Education. "
The new state education mandates require that technical schools must "identify trade specific practices that support clean energy technologies and encourage environmental sustainability" as part of their annual curriculum.
CSG has produced the TSO program since 2004. A national, non-profit energy services firm, CSG was founded in 1984 and is based in Westborough, Mass. For more information, visit www.conservationservicesgroup.com.
###
Featured Product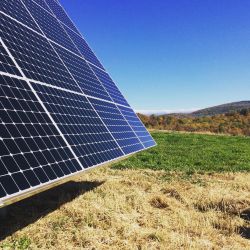 Designed and manufactured in the U.S., the AllEarth Solar Tracker is a complete grid-tied, dual-axis solar electric system that produces up to 45% more electricity than fixed systems. The tracker uses GPS and wireless technology to follow the sun throughout the day for optimal energy production. It has an industry-leading 10 year warranty and 120 mph wind rating, superior snow shedding, and automatic high wind protection. Its simple, durable design and complete system pallet simplifies costly procurement and installation time. Contact us about becoming a dealer partner or purchasing an AllEarth Solar Tracker.