The drive system that Odyne is developing for Dueco is designed to minimize fuel use and emissions in a typical aerial truck mission; these vehicles are generally dispatched to a work area and then spend several stationary hours at a site while repair or installation tasks are completed.
Hauppauge, New York - May 30, 2007 - Odyne Corporation (OTCBB:ODYC), a leading developer of advanced plug-in hybrid electric vehicle (PHEV) technology for trucks and buses, today announced that DUECO, Inc., has issued a purchase order to Odyne for installation of Odyne's propulsion technology into an aerial lift truck which will be displayed at the International Construction and Utility Equipment Exposition (ICUEE) on October 16 - 18 in Louisville, Kentucky. Odyne and DUECO had entered into an exclusive agreement earlier this month whereby DUECO and Odyne will develop and install proprietary plug-in hybrid electric vehicle propulsion systems optimized for aerial lift truck applications.

The ICUEE exposition is one of the largest tradeshows in the country and attracts approximately 17,000 industry professionals. The event is unique in that attendees can test the equipment on display, an important part of the decision-making process. There are also over 40 educational sessions at the show where participants can gain insight on the latest developments in the industry.
Odyne's plug-in technology provides much of the energy that is used to operate the truck loads during stationary operation from the power grid. The drive system that Odyne is developing for Dueco is designed to minimize fuel use and emissions in a typical aerial truck mission; these vehicles are generally dispatched to a work area and then spend several stationary hours at a site while repair or installation tasks are completed. In a conventionally powered aerial truck, the engine is idling during this stationary period to provide power for the aerial lift, power tools, lights and other auxiliary loads that are required by the work crew. The Odyne system will provide the fuel efficiency and emission enhancements typical of a hybrid vehicle while the truck is traveling to and from the work site and will allow the engine to be shut off during most of the stationary operation. This results in fuel savings, noise and emission reductions during the work period.
Roger M. Slotkin, CEO of Odyne Corporation, commented, "It's been less than a month since we established a relationship with DUECO and we are excited about installing our propulsion technology into their TL50M material handling bucket truck that will be displayed at the exposition. This affords us the opportunity to feature our technology to a very large audience with an appreciation and need for the solutions Odyne can provide."
Thomas Dalum, CEO of DUECO, stated, "The ICUEE is the perfect forum to feature Odyne's technology on a large scale. By letting the public know that we can offer this cost-effective and environmentally beneficial propulsion system in our vehicles is a win-win situation for both Odyne and DUECO. It is with great anticipation that we await our first vehicle equipped with this technology and we are confident that receptivity to our display vehicle at the show will be very favorable."
About Odyne Corporation
Odyne Corporation is a clean technology company that develops and manufactures propulsion systems for advanced Plug-in Hybrid Electric Vehicles (PHEV), specifically for medium and heavy-duty trucks and buses. The company has developed a proprietary system combining electric power conversion, power control and energy storage technology, with standard electric motors, storage batteries and other off the shelf components to create a lower fuel cost, lower operation and maintenance cost, substantially lower emission and quieter vehicle. Visit www.odyne.com for more information.
About DUECO, Inc.
DUECO, the largest privately owned final stage manufacturer of Terex Utilities and Hi-Ranger products in the country, is a family company with over 50 years of experience in the sale and service of aerial devices, digger derricks, cranes and other equipment. The company also provides its customers with conductor handling equipment, pullers and tensioners, trailers, excavators, loader backhoes, and wheel loaders. Committed to customer satisfaction, DUECO is the source for electric utility, telecommunications, contractor, electric cooperative, municipality, railroad and tree care needs in a 14-state region that reaches from the Midwest to the East Coast.
Forward-Looking Statements
This news release contains certain "forward-looking statements," related to the business of Odyne which can be identified by the use of forward-looking terminology such as "believes," "expects" or similar expressions. Such forward looking statements involve known and unknown risks and uncertainties, including uncertainties relating to product development and commercialization, regulatory actions or delays, the ability to obtain or maintain patent and other proprietary intellectual property protection, market acceptance, future capital requirements, competition in general and other factors that may cause actual results to be materially different from those described herein as anticipated, believed, estimated or expected. Certain of these risks and uncertainties are or will be described in greater detail in our filings with the U.S. Securities and Exchange Commission. Odyne is under no obligation to (and expressly disclaims any such obligation to) update or alter its forward-looking statements whether as a result of new information, future events or otherwise.
Featured Product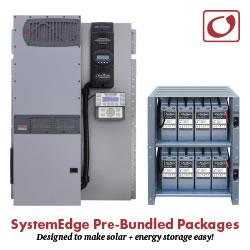 Each pre-bundled package is designed to make solar plus energy storage easy. By combining OutBack's most popular FLEXpower pre-wired systems with matched OutBack energy storage, SystemEdge takes the guesswork out of installing solar plus storage. Every SystemEdge package includes a FLEXpower factory pre-wired system, application-specific EnergyCell batteries and racking, FLEXware ICS Plus combiner and all the necessary connection hardware.