Frank Palmer, Chairman and CEO of DDB Canada launched Carmanah Technologies' newest addition: the i-PANEL(TM) illuminated advertising panel.
Vancouver, B.C.- Wednesday, June 6, 2007: Frank Palmer, Chairman and CEO of DDB Canada launched Carmanah Technologies' newest addition: the i-PANEL(TM) illuminated advertising panel.

"The i-PANEL(TM) is an ideal application of our solar-powered LED lighting and solar energy management technologies," said Carmanah CEO, Art Aylesworth. "We have been working with the outdoor advertising industry, developing techniques to illuminate a 4' x 6' advertising panel. Our new solar lighting technology meets or exceeds the performance requirements of the world's largest outdoor advertising firms - while providing a clean energy solution with independence from the power grid."
For advertisers, the i-PANEL(TM) provides an excellent opportunity to demonstrate environmental leadership.
Enabling a New Source of Revenue
Transit shelter advertising panels, with their high visibility to both vehicle traffic and pedestrians, are one of the most popular forms of outdoor advertising and a key source of revenue for city and transit authorities. In North America alone, the ad panel market currently generates approximately $300M in annual revenues and is growing at a rate of 8% per year.
Illuminated advertising panels provide advertisers with market access 24 hours per day. Until now, one of the primary issues of an illuminated ad panel program was access to power, and the number of ad panels in a program that would be lighted was influenced by the possibility and/or cost effectiveness of a grid connection. Currently, less than 30% of the bus shelters in North America are fitted with illuminated ad panels.
With the introduction of Carmanah's i-PANEL(TM) solar-powered technology, outdoor advertising firms can now install illuminated ad panels in all transit shelters, regardless of location. With hundreds of thousands of shelters worldwide featuring no advertising or using only unlit ad panels, the i-PANEL(TM) light box technology unlocks enormous potential.
Uncompromising Performance
Unlike other lighting solutions, Carmanah's i-PANEL(TM) light box technology offers grid independence with uncompromised brightness, light uniformity, image clarity and reliability. In fact, the performance of the i-PANEL(TM) illuminated advertising panel leaves many conventional light boxes looking dark and dated by comparison.
Simple Low-Cost Installation and Operation
Carmanah's i-PANEL(TM) illuminated advertising panels can be easily retrofitted into any new or existing bus shelter with minimal technical expertise. The fully integrated, aesthetically-pleasing design can be installed in a matter of hours, without trenching, cabling, disruption to traffic patterns or site remediation. With power independence, any power connection fees and associated permitting delays are also eliminated. In addition, the long-life, ultra-bright LEDs used in Carmanah's i-PANEL(TM) illuminated advertising panels are shock proof, vibration proof and operate for up to 10 years without replacement. Installation costs are a fraction of those of conventional panels and maintenance and operational costs are virtually zero.
A Clean, Renewable Energy Source
When compared to the environmental cost of running a grid-connected ad panel, Carmanah's solar-powered i-PANEL(TM) light box technology can save thousands of pounds of greenhouse emissions annually.
In addition, the flexible design of an i-PANEL(TM) illuminated advertising panel enables it to be grid-tied anywhere power is readily available, so its solar panels can contribute any surplus power generated to the grid, further reducing the dependence on fossil fuel-based electricity. In areas of favorable sunlight, it may also be possible to sell clean, surplus power back to the utility through net metering.
With Carmanah's i-PANEL(TM) technology, outdoor advertising firms can recommend the new solar powered ad-panel lighting alternative to advertisers as part of a more comprehensive, yet environmentally friendly outdoor advertising program.
About Carmanah Technologies Corporation
With more than 250,000 installations worldwide, Carmanah is a market leader in integrated solar-powered LED lighting. The Company's i-PANEL illuminated advertising panel leverages its proprietary and/or patented solar LED lighting technologies, as well as the unparalleled industry experience of the Company's team of solar-technology professionals.
Carmanah's award-winning i-STOP® and i-SHELTER(TM) solar-powered illuminated transit products have provided years of reliable, maintenance-free general illumination for over 250 agencies in North America. To learn more about all of the Company's unique solar LED lighting solutions for the transit industry, visit www.transitlights.com
Carmanah is headquartered in Victoria, British Columbia, Canada, with branch offices and/or sales representation in 11 cities across Canada, the United States and the United Kingdom. Carmanah is a public corporation listed on the Toronto Stock Exchange under the symbol "CMH".
For more information, please visit www.carmanah.com
Media:
David Davies
Tel: (250) 382-4332
ddavies@carmanah.com
Featured Product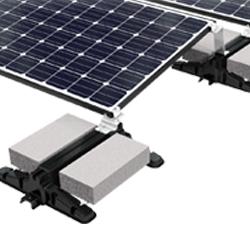 Preformed Line Products introduces the POWER MAX Ballasted Roof Mounting System. The POWER MAX solar mounting system is engineered to maximize energy output on commercial flat roofs. Developed with the professional installer in mind, this system offers adjustable inter-row spacing in the field of up to 11 inches. It features 50% fewer components and a simplified design resulting in faster assembly rates and labor savings on every project. Available in a flush mount, 5˚ or 10˚ tilt or higher density dual tilt design, the POWER MAX base arrives stacked on pallets providing easier transport to the roof. Engineered as a fully ballasted, non-penetrating system, it accepts standard concrete blocks and is qualified by wind tunnel testing.