The 2007-2008 Hydrogen Student Design Contest gives students the opportunity to develop innovative design concepts using hydrogen and fuel cell technologies. This year's theme is "Hydrogen Applications for Airports," focusing on South Carolina's Columbia Airport.
Greetings!

After a one year hiatus, the Hydrogen Education Foundation is pleased to announce the return of the Hydrogen Student Design Contest!
The HEF's 2007-2008 Hydrogen Student Design Contest gives multi-disciplinary teams of university-level students from around the world the opportunity to develop innovative design concepts using hydrogen and fuel cell technologies. After reviewing multiple proposals for this year's contest, the HEF has selected a proposal submitted by the South Carolina Hydrogen and Fuel Cell Alliance for this year's contest theme, "Hydrogen Applications for Airports," focusing on South Carolina's Columbia Airport. The contest rules and guidelines have been finalized, officially beginning this year's contest!
The winning teams will be given the opportunity to present their designs to over 1,500 energy industry professionals at the NHA's 19th Annual Hydrogen Conference in Sacramento, CA, March 29 - April 2, 2008, and will eligible to receive up to $5,000 for travel and expenses. In addition, the winning teams from the last two contests have both received funding for the construction and implementation of their contest designs, currently underway!
Sign up now to be a part of this unique contest and help foster the implementation of clean energy and the hydrogen economy. Contest rules, team registration, sponsorship information and more is available on the Contest website at www.hydrogencontest.org.
Not sure if you want to register as a team yet? Sign up for the Contest mailing list and keep up to date on all Contest developments and deadlines:
http://www.hydrogencontest.org/mailing.asp.
This Year's Theme: "Hydrogen Applications for Airports"
Columbia, South Carolina has long articulated a desire to become a global model for the mass deployment and application of fuel cell and hydrogen technologies, as well as other alternative energy systems, in an urban community. The belief is that alternative energy options will revolutionize not only cities, but more importantly, the lives of citizens through the freedom that comes from energy security, increased environmental benefits and the economic opportunities that this potential trillion dollar new industry will generate. One place that can realize the benefits of using hydrogen technologies is the Columbia Metropolitan Airport.
There are several key issues that the aviation industry faces today: air and water quality, noise, maintaining safety and energy efficiency. How would you spend $3 million USD to address these issues in a way that is repeatable at airports around the world? Using the Columbia Metropolitan Airport in Columbia, as a template for their designs, teams will develop system(s) fueled by hydrogen that could be implemented by January 2009 to make the greatest positive impact on one or more of the issues mentioned above.
We are still looking for sponsors!
The success of the Hydrogen Student Design Contest relies strongly on the support of industry and government each year. We are very grateful for this year's current sponsors -- The South Carolina Hydrogen and Fuel Cell Alliance, the Department of Energy, and Natural Resources Canada -- who have helped us to nearly reach our sponsorship goal for this year's contest.
However, we are still several thousand dollars short of our needed sponsorship goal, two-thirds of which goes directly to the winning teams to showcase their designs at the NHA Annual Hydrogen Conference. Is your organization willing to help support this year's contest? Benefits of sponsorship include:
- Positioning your organization as a leader in the move toward alternative and sustainable energy development
- Gaining corporate exposure of your organization among hydrogen and energy industry leaders, and among key student populations
- Supporting students and hydrogen education, including the future scientists and engineers in the energy and sustainable design industries
- Developing business opportunities with industry leaders
- Receiving a copy of each team's complete design solution
- Gaining the opportunity to participate on the judging panel
This year, we expect all contributions to be tax-exempt. The Hydrogen Education Foundation has applied to the IRS for recognition as a 501(c)(3) charitable organization. Donations of $10,000, $5,000, or $2,000 are suggested. The HEF will administer the Student Design Contest and guarantee that any unused funds will be contributed towards future Contests.
To sponsor, or for additional information, please contact Rex Hazelton via email at HazeltonR@hydrogenassociation.org or by phone at 202-223-5547x 322
Featured Product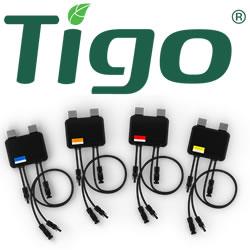 Tigo will announce the new product launch of the patented UHD-Core TS4-A (Advanced Retrofit/Add-on) Platform at SPI 2019. The new TS4-A-M (Monitoring) & TS4-A-S (Safety) units have improved lightweight hardware and lower labor costs to address a range of functions and budgets. The TS4-A-M allows module-level monitoring via Tigo's SMART Website & App. The TS4-A-S is UL-certified as a rapid shutdown solution for residential and C&I PV system. Both units join the Tigo's multivendor solution that works with almost any inverter and smart module in the global PV market. Contact sales@tigoenergy.com for pricing, shipping, and availability in Q4'19.