ISE Diesel Hybrid-Electric Drive Systems to Power Optima Opus Buses for Town of Avon and Other Transits.
Jun 26, 2007 13:32 ET

ISE Diesel Hybrid-Electric Drive Systems to Power Optima Opus Buses for Town of Avon and Other Transits
SAN DIEGO, CA--(Marketwire - June 26, 2007) - ISE Corporation recently received orders for its ThunderVolt® diesel hybrid-electric drive systems for additional 30-foot Optima Opus buses. These are part of a contract awarded to Optima Bus LLC in 2006 by the town of Avon, CO. The original award included a base order of up to five hybrid Opus buses with an option of an additional 10 buses.
In addition to one hybrid Opus for the town of Avon, an additional three were ordered by Lake Erie Transit Authority, Monroe, MI, and two more by Hampton Roads Transit, Hampton Roads, VA.
The ISE-powered hybrid Opus low-floor buses bring advanced technology to the under 30' Opus model, delivering powerful performance, fuel efficiency, reduced maintenance and increased ridership appeal all in one eye-catching package. Utilizing road-proven ISE-Siemens ThunderVolt® hybrid technology built around Siemens ELFA' motors, generators and inverters, the sleek-looking Opus ISE series hybrid uses a conventional diesel engine only to generate electricity.
A hybrid Opus is currently undergoing tests at the Altoona Bus Research and Testing Center.
About ISE Corporation:
ISE Corporation, based in San Diego, is a leading supplier of hybrid drive systems and components for heavy-duty vehicles such as buses, trucks, trams, airport equipment, and military vehicles. ISE is a world leader in electric, hybrid-electric, and fuel cell technologies, and the U.S. distributor for Siemens ELFA' electric and hybrid-electric drive components. www.isecorp.com
Safe Harbor statement: Certain statements contained in this press release are forward looking in nature. These statements can be identified by the use of forward-looking terminology, such as "believes," "expects," "may," "will," "should," or "anticipates" or the negative thereof or comparable terminology, or by discussions of strategy. ISE's business and operations are subject to a variety of risks, uncertainties and other factors. Consequently, actual results may materially differ from those projected and/or stated by any forward-looking statements. Such risks, uncertainties and other factors that could cause actual results to differ from those projected include, but are not limited to, the following: (1) the need for increased investment to support product and new services introductions, (2) ISE's ability to raise additional capital when and if needed, and (3) market acceptance of ISE's products and services. ISE Corporation makes no commitment to revise or update any forward-looking statements in order to reflect events or circumstances after the date any such statement is made.
ThunderVolt® and ThunderCAN' are trademarks of ISE Corporation. Other brand or product names are trademarks of their respective holders.
Copyright © 2007 ISE Corporation. All rights reserved.
Agency Contact:
Dolores Naney
Vice President
Lippert/Heilshorn & Associates, Inc.
800 Third Avenue
New York, NY 10022
(212) 838-3777
Email Contact
Company Contact:
Cuong Huynh
Manager Marketing Communications
ISE Corporation
12302 Kerran Street
Poway, CA 92064
(858) 413-1750
Email Contact
Featured Product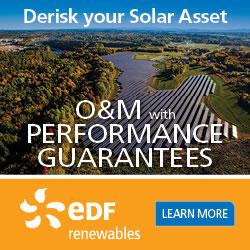 EDF Renewables offers the same innovative solutions that maximize the performance of our own 5.2 GW of installed projects. Because we're not an equipment manufacturer, our recommendations are transparent and data-driven. We cover the entire project lifecycle: from pre-commissioning support, through warranty and post warranty operation, to late stage and decommissioning.