Xantrex Technology Inc. today announced the launch of the Xantrex XW System, the first fully-integrated, battery-based system, designed for residential and commercial solar and backup power applications.
VANCOUVER, B.C., June 26, 2007, - Xantrex Technology Inc. (TSX:XTX) today announced the launch of the Xantrex XW System, the first fully-integrated, battery-based system, designed for residential and commercial solar and backup power applications. Engineered using a complete systems approach, Xantrex has designed the XW System to stand out from its competition, with a reliable, clean, compact design and integrated balance-of-systems components.

Targeting 4 kilowatt (kW) to 18 kW indoor installations, the Xantrex XW System is a renewable energy power system that can be customized to suit almost any solar or backup power application - grid-tie, off-grid, remote or village power.
The Xantrex XW System is composed of building-blocks that reduce complexity and are easy to install. Offering best-in-class efficiency, reliability and high surge performance, the system is configurable for multi-unit installations, and scalable for higher power levels. The Xantrex XW System features true sine wave technology, power factor corrected battery charging, grid-tie capability, generator support, 120/240-volt split-phase operation, communications and monitoring - all from a single inverter/charger.
"As we strive to make solar and backup power more cost-effective for an increasing number of home and business owners, Xantrex is proud to bring our next-generation battery-based systems to the market. The Xantrex XW System optimizes solar energy harvest and reduces installation time, maximizing the system owner's return on investment", said John Wallace, CEO. "The system was designed by our experienced engineering teams, who have been instrumental in developing innovative, industry-leading solutions for the solar power market."
Field serviceable with out-of-the-box communications and monitoring capability, the complete Xantrex XW System consists of a high-efficiency XW Inverter/Charger, XW Power Distribution Panel with both AC and DC breakers, and the XW Solar Charge Controller with Maximum Power Point Tracking (MPPT) technology. Xantrex MPPT technology allows maximum energy harvest from the solar array and optimally charges the batteries. Unlike other MPPT charge controllers on the market, XW Solar Charge Controller continuously sweeps the solar array to fine-tune energy generation, which is particularly critical during periods of fast moving cloud cover.
"The new Xantrex XW System is a winner!" said Jose Radzinsky, CEO of Renewable Power Solutions Inc., a solar energy system installer in San Jose, CA. "We have seen and worked with the leading battery-based inverters in the market and see the Xantrex XW System as the new standard for the industry. It's innovative design and features make installation, setup and operation seamless, and the performance is second to none. The combination of a 120/240 dual-voltage into one inverter is an excellent innovation that is more cost effective and makes everyone's life a lot easier. The installation process has been streamlined to save the installer time and the look of the finished system is neat and professional. We can't wait to get our customers using the Xantrex XW System."
The Xantrex XW System's combination of features makes it unique to the solar market, establishing a new standard for battery-based systems. Certified to the latest edition of UL1741 and CSA for utility-interactive applications, the Xantrex XW System is available through Xantrex renewable energy dealers and distributors.
To learn more about the XW Power System, visit the Xantrex booths (#416 & 516) at Solar 2007 in Cleveland, OH, July 7-12, or visit www.xantrex.com/xw.
About Xantrex
Xantrex Technology Inc. (www.xantrex.com) is a world leader in the development, manufacturing and marketing of advanced power electronic products and systems for the renewable, programmable, mobile, and portable power markets. The company's products convert and control raw electrical power from any central, distributed, renewable, or backup power source into high-quality power required by electronic and electrical equipment. Headquartered in Vancouver, British Columbia, the company has facilities in Arlington, Washington; Livermore and San Diego, California; Elkhart, Indiana; Barcelona, Spain; and Reading, England. Xantrex is listed on the Toronto Stock Exchange under the ticker symbol "XTX".
Note that this news release contains forward-looking statements related to Xantrex Technology Inc. Such statements reflect the current views of Xantrex with respect to future events and are subject to risks and uncertainties that could cause actual results to differ materially from those contemplated in these forward-looking statements.
For further information, please contact:
Bob Neudecker
604-422-2589
bob.neudecker@xantrex.com
Featured Product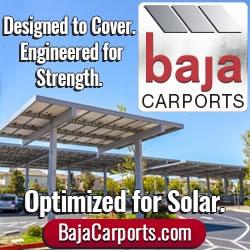 Baja Carports offers an extensive solar support system product line customized to customers' site specifications by in-house engineers, meeting their parking lot coverage, plus optimal PV production needs. Baja's Full Cantilever Tee is often paired with its Semi and Full Cantilever carports to meet live/loads up to 60psf and wind speeds to 160mph. All Baja products are pre-fabricated, bolted connections, pre-galvanized structural steel for fast on-site installation and project aesthetic requirements."