Odyne to supply 1.2-1.7 mil in battery systems for Mexico's 2,000 car fleet to convert to all electric vehicles.
HAUPPAUGE, N.Y. June 28, 2007 -- Odyne Corporation (OTCBB:ODYC), a leading developer of advanced plug-in hybrid electric vehicle powertrain (PHEV) technology for trucks and buses, has signed a strategic supplier agreement to provide battery management system technology for the conversion of Mexico City's 2,000 municipal car fleet.

This agreement with Electro Autos Eficaces de Mexico, S.A. a government supported consortium overseeing the conversion, represents a new market expansion opportunity for Odyne that complements Odyne's primary focus on providing plug-in hybrid electric and electric vehicle powertrains for Class 6,7 and 8 trucks and buses.
The agreement calls for Odyne to supply battery management trays, onboard charging systems and other necessary peripheral technology for the stored energy systems to be used in the conversion of the first 500 of the 2,000 Nissan Tsurus to electric drive within two years and potentially could be extended to include the entire car fleet. Although final pricing and specifications are still being developed, it is estimated that the total award to Odyne for the first 500 vehicles would be between $1.2 and $1.7 million, depending upon the options ordered.
Mexico City Mayor Marcelo Ebrard has made energy efficient vehicles a priority for his city which has significant air pollution problems. Recently, he joined other leaders of the world's largest cities in New York at the Large Cities Summit, a gathering of Mayor's dedicated to reducing carbon emissions and more efficient energy use.
According to EAE's Luis Pérez Quintana, "The EAE is pleased that Odyne Corporation is assisting in such an important program for the climate change challenge, Odyne is contributing expertise in lead acid battery management systems, which we believe is a key factor in the reliability of the fleet conversion project. Without Odyne's expertise, we would not be able to achieve acceptable cycle life of our lead acid batteries."
Discussing the agreement, CEO Roger M. Slotkin said, "We are excited that our proprietary battery management technology is being adapted on such a significant scale." Our technology has been designed to be modular and scalable so it is ideal for application on a lighter, smaller vehicle to provide better functionality, extend battery life and provide more time on the road between charging. Odyne will play a significant role in the expansion of this high profile program and continue the extension of our plug-in electric vehicle technology to other vehicle types."
About Odyne Corporation
Odyne Corporation is a clean technology company that develops and manufactures propulsion systems for advanced Plug-in Hybrid Electric Vehicles (PHEV), specifically for medium and heavy-duty trucks and buses. The company has developed a proprietary system combining electric power conversion, power control and energy storage technology, with standard electric motors, storage batteries and other off the shelf components to create a lower fuel cost, lower operation and maintenance cost, substantially lower emission and quieter vehicle. Visit www.odyne.com for more information.
Forward-Looking Statements
This news release contains certain "forward-looking statements" related to the business of Odyne which can be identified by the use of forward-looking terminology such as "believes," "expects" or similar expressions. Such forward looking statements involve known and unknown risks and uncertainties, including uncertainties relating to product development and commercialization, regulatory actions or delays, the ability to obtain or maintain patent and other proprietary intellectual property protection, market acceptance, future capital requirements, competition in general and other factors that may cause actual results to be materially different from those described herein as anticipated, believed, estimated or expected. Certain of these risks and uncertainties are or will be described in greater detail in our filings with the U.S. Securities and Exchange Commission. Odyne is under no obligation to (and expressly disclaims any such obligation to) update or alter its forward-looking statements whether as a result of new information, future events or otherwise.
Featured Product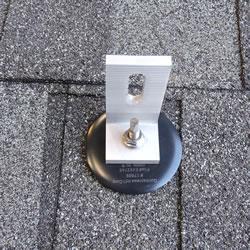 SolarRoofHook's Low Profile QuickBOLT with Microflashingâ"¢ is the industry's affordable, UL Certified Asphalt Shingle mounting system. The Microflashingâ"¢ is compressed by the collar on the bolt to create a water-tight seal. With an installation time of less than one minute, the Low Profile QuickBOLT allows installers to complete more jobs.