DISCUSSES FUNDING FOR UPCOMING HYBRIDIZATION PROJECTS
HAUPPAUGE, NY, July 11, 2007 - Odyne Corporation (OTCBB:ODYC), a leading

developer of advanced plug-in hybrid electric vehicle powertrain (PHEV) technology for trucks and buses, met with Cong. Steve Israel yesterday, and discussed future Clean Cities Program funding which he has supported and advocated an increase for in the upcoming energy bill in Congress.
Attending the Congressman's Clean Alternative Fuel Vehicle Mini Expo event at the N.Y. State Compressed Natural Gas Filling Fueling Station in Hauppauge, NY, were elected officials and representatives from a number of Long Island towns as well as members of the media. At the event, Cong. Israel announced that he successfully advocated for an increase in the Clean Cities Program budget, from $9.5 million to $15.8 million as part of the proposed energy bill now pending in Congress.
Israel also met one-on-one with Odyne Chairman and CEO Roger M. Slotkin about the feasibility of retro-fitting some of the nation's estimated one million class 6,7, and 8 buses and trucks- and more specifically the approximately 250,000 refuse trucks to PHEV, which are mostly powered by polluting and non fuel efficient diesel. During the 30-minute discussion, Slotkin gave the Congressman an introduction to Odyne's technology and toured three of the vehicles on hand that Odyne has already converted for LI municipalities with funding from the Greater Long Island Clean Cities Coalition (GLICCC) or the New York State Energy Research Authority (NYSERDA).
The GLICCC just recently awarded funding for the conversion of four garbage trucks to diesel/electric hybrids using Odyne's PHEV system. The funding went to Sanitation District Six, within the Town of West Hempstead and to the City of Long Beach. Nassau Suffolk Truck, a leading regional medium and heavy-duty truck fleet services company and Odyne's partner will install the Odyne PHEV systems.
"It was exciting to be featured as one of cutting edge clean technology companies in the country, right in our own backyard, while being recognized by Cong. Steve Israel, who is a passionate proponent of alternative energy solutions in our District," states Odyne Chairman and CEO Roger M. Slotkin. "We look forward to participating in additional vehicle conversions funded under the Clean Cities Program, which is receiving a significant increase in funding, thanks to Cong. Israel."
The Congressman has requested a visit to Odyne's facilities in the coming weeks and Slotkin will also meet the Congressman in Washington to help garner additional support for funding of PHEV trucks and buses.
About Odyne Corporation
Odyne Corporation is a clean technology company that develops and manufactures propulsion systems for advanced Plug-in Hybrid Electric Vehicles for medium and heavy-duty trucks and buses by integrating its proprietary electric power conversion, electric power control and energy storage systems with a range of off-the-shelf components including electric motors and storage batteries. Odyne's Plug-in Hybrid Electric Vehicle systems are series configuration hybrids that offer customers significant advantages when compared to the more familiar parallel architecture found in hybrid passenger cars. Odyne's environmentally friendly and cost-effective Plug-in Hybrid Electric Vehicle systems allow vehicles to operate at lower costs and with lower vehicle emissions. Visit www.odyne.com for more information.
Forward-Looking Statements
This news release contains certain "forward-looking statements," related to the business of Odyne which can be identified by the use of forward-looking terminology such as "believes," "expects" or similar expressions. Such forward looking statements involve known and unknown risks and uncertainties, including uncertainties relating to product development and commercialization, regulatory actions or delays, the ability to obtain or maintain patent and other proprietary intellectual property protection, market acceptance, future capital requirements, competition in general and other factors that may cause actual results to be materially different from those described herein as anticipated, believed, estimated or expected. Certain of these risks and uncertainties are or will be described in greater detail in our filings with the U.S. Securities and Exchange Commission. Odyne is under no obligation to (and expressly disclaims any such obligation to) update or alter its forward-looking statements whether as a result of new information, future events or otherwise.
* * *
Featured Product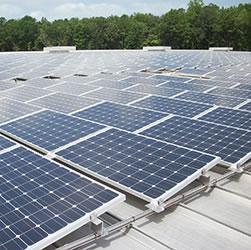 The Power Rail™ Commercial Mounting System is designed with the professional PV solar installer in mind. Both the XD/UD and LD/MD rails feature single tool assembly with the revolutionary patented RAD™ Lock-in-Place bolt for fast and secure module clamping. The high strength marine-grade aluminum rails include an integral wiring channel for securing cables and providing a professional finish.