Bacharach, Inc. has teamed up with a group of other industry leaders to implement programs that address energy cost and global warming.
In the much heated debate over global warming one message is resoundingly clear, there is no debate about how our energy costs keep going up. There is also some agreement that we might all be part of the solution.

Bacharach, Inc. has teamed up with a group of other industry leaders to implement programs that make a difference now, not years from now. They have formed an organization, "THE GREEN MECHANICAL COUNCIL".
For nearly 100 years, Bacharach has earned the reputation as one of the leading manufacturers of instrumentation for the protection of health, property and the environment. Some of the key markets served are the HVAC/R, Automotive, Utilities, Industrial Safety and Environmental Monitoring; Bacharach was born "green" and remains "green" and is proud to be a Founding Member of the Green Mechanical Council.
The additional Founding Members include: Carrier Corporation, the Mechanical Services Contractors of America (MSCA), HVAC Excellence, the Mechanical Contractors Association of America (MCAA), ABCO Refrigeration, Watts-Radiant, United Association of Journeymen and Apprentices (UA), Legend Valve, Floor Heat Company, Ferris State University, Bacharach, Air Doctors, Common Ground, the Carbon Monoxide Safety Association (COSA), Legend Hydronics, ESCO Institute, and the Mechanical Contracting Education & Research Foundation (MCERF).
There is a direct connection between the byproducts of inefficient mechanical systems and global warming and inefficient operation of heating and cooling systems. We can reduce the energy required to maintain our current comfort levels if we make the best with what we have by tune-ups, relatively minor changes and retrofits where needed.
Mechanical systems such as Heating, Ventilation, Air Conditioning (HVAC) that heat and cool our 125 million houses and 5 million commercial buildings are becoming obsolete, worn or may already be obsolete and are one of the largest energy cost for the average consumer and business. So what can be done about it?
Bacharach has a long history of providing instruments and application training to heating technicians for combustion analysis. In 1935, Bacharach patented the Fyrite Orsat Gas Analyzer and for many decades, this product and newer generation analyzers have been the industry standard for flu gas combustion testing and quality control; widely known in the industry as "The Bacharach Test".
Technical schools, fuel companies, training centers and generations of combustion technicians & combustion scientists, learned from the knowledge of Bacharach engineers & service representatives. Training & gathered field service applications resulted in Bacharach leading the way with research and shared technical assistance. Over 100,000 technicians in the HVAC, Energy, IAQ or Health Service fields have attended Bacharach training programs.
Now, Bacharach has joined with a group representing like-minded industry leaders in structural mechanical fields to address the very issues of reducing energy in existing mechanical systems through education and the certifications of technicians and equipment through maintenance and performance verifications. In addressing how to make our systems more energy efficient and greener, the Green Mechanical Council has undertaken the following strategic actions:
• Educate the public about the benefits and value of green mechanical systems, bringing these concepts into the mainstream for new construction and existing building upgrade decisions.
• Protect the legacy of future generations by uniting diverse stakeholders in the advancement and promotion of sustainable, energy efficient and environmentally responsible planning, design, installation, service and operation of mechanical systems.
• Promote the development and implementation of green mechanical system concepts and technologies.
• Establish and adopt standards and certifications for products, technicians, and processes that effectively reduce energy consumption while maintaining and improving current lifestyles.
• Work with government agencies and code writers to develop reasonable and enforceable standards for environmentally sustainable mechanical systems.
• Provide resources and instructive feedback to developers and manufacturers of green products to encourage continuous improvement of their products and systems.
Working as a team, Bacharach and Green Mechanical Council are dedicated to accomplishing these goals.
Learn more about the Green Mechanical Council at www.greenmech.org and learn more about Bacharach at www.bacharach-inc.com
Featured Product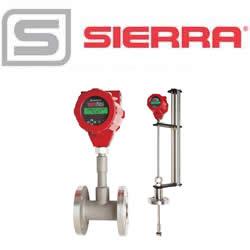 Sierra was the first to introduce a combination volumetric vortex and multivariable mass flow meter in 1997. Today, Sierra's completely redesigned InnovaMass® iSeries™ 240i/241i builds on two decades of success measuring five process variables for gas, liquid and steam with one connection. Now, with the latest hyper-fast microprocessors, robust software applications, field diagnostic and adjustment capability, and a new state-of-the-art flow calibration facility, Sierra's vortex iSeries delivers precision, performance, and application flexibility never before possible.