ABCO Refrigeration Supply Corporation has joined other industry leaders in founding the Green Mechanical Council.
ABCO Refrigeration Supply Corporation, one of the largest independent distributors of air-conditioning and refrigeration equipment, parts, and supplies in the U.S. Founded in 1949, ABCO has locations in Connecticut, Delaware, Massachusetts, New Jersey, New York and Pennsylvania.

The Green Mechanical Council was founded by the following industry leaders: ABCO Refrigeration, Air Doctors, Bacharach Inc, Carbon Monoxide Safety Association (COSA), Carrier Corporation, Common Ground, ESCO Institute, Ferris State University, FloorHeat Company, HVAC Excellence, Legend Valve, Mechanical Contracting Education & Research Foundation (MCERF), Mechanical Contractors Association of America (MCAA), Mechanical Services Contractors of America (MSCA), NIBCO INC., United Assocation (UA), and Watts Radiant.
Working together, these industry leaders will:
• Educate the public about the benefits and value of green mechanical systems, bringing these concepts into the "mainstream" of ideas for new construction and existing building upgrade decisions.
• Protect the legacy of future generations by uniting diverse stakeholders in the advancement and promotion of sustainable, energy efficient and environmentally responsible planning, design, installation, service and operation of mechanical systems.
• Promote the development and implementation of green (environmental friendly) mechanical system concepts, technologies, and principles by Council members.
• Establish and adopt standards and certifications for products, technicians, and processes that effectively reduce energy consumption while maintaining and improving current lifestyles.
• Work with government in developing enforceable standards for environmentally sustainable mechanical systems.
• Provide resources and instructive feedback to developers and manufacturers of green products to encourage continuous improvement of their products and systems.
• Collaborate with and provide technical guidance on building mechanical systems to our various counterparts that provide "Green" evaluative criteria used as benchmarks to rate the environmental impact of products and services.
• Provide Council members with leading-edge educational information via a centralized, content-managed portal.
For more information on the Green Mechanical Council visit them online at www.greenmech.org or call them toll free at 1-(877) 347-3360.
Featured Product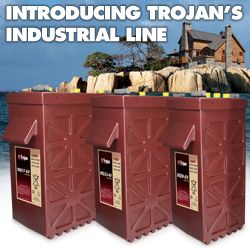 Trojan's deep-cycle batteries provide rugged durability, outstanding performance and long life for use in all types of solar energy installations. With over 90 years of experience, Trojan delivers the world's most reliable and trusted batteries in flooded, AGM, Gel, and Lithium types. These batteries enable solar equipment systems to operate at a peak level of performance in the harshest conditions or the most challenging of locations and are manufactured and tested to IEC standards.