SAVE THESE DATES! WESTSTART-CALSTART EXPANDED CONFERENCE SCHEDULE FOR 2007/2008
Media Advisory

Contact: MK Campbell, 626-744-5602
mkcampbell@calstart.org
SAVE THESE DATES! WESTSTART-CALSTART ANNOUNCES
EXPANDED CONFERENCE SCHEDULE FOR 2007/2008
Blue Sky Award Ceremony Sept. 6, 2007 in Pasadena;
Clean Vehicles Now! Conference Sept. 19, 2007 in Seattle;
HTUF National Meeting Sept. 19-21, 2007 in Seattle;
Clean Heavy Duty Vehicle Conference Feb. 20-22, 2008 in San Diego
Pasadena, Calif. - The near future promises to be a watershed time for clean transportation, between alternative fuels, landmark climate change legislation and tremendous advances in technologies. To support the needs of this expanding industry, WestStart-CALSTART is offering a range of leading-edge clean transportation conferences and events.
Blue Sky Award(tm) Ceremony & Luncheon, September 6, 2007
Who are the leaders in moving clean, efficient fuels and vehicles to market? The Blue Sky Award(tm) spotlights those ahead of the pack. WestStart-CALSTART presents the Blue Sky Award(tm) to individuals and companies to recognize - and reward - outstanding contributions not only to develop clean vehicles and technologies, but also to actively bring them to the marketplace. The Blue Sky Award(tm) ceremony and luncheon serves as the advanced transportation industry's annual clean awards event - a celebration of first-movers and leaders. Come join the industry's top companies and leading policy-makers for this gala benefit ceremony. Past honorees include General Motors, Toyota, Honda, Los Angeles County MTA, Clean Energy, Federal Express, George Survant (Florida Power and Light), ISE Corp, Assemblywoman Fran Pavley, and the California Fuel Cell Partnership.
Save the Date: September 6, 2007, 11:30am - 1:30pm
Blue Sky Award Ceremony & Luncheon
The Athenaeum, California Institute of Technology
Pasadena, CA
Contact: Melanie Savage 626/744-5683 msavage@calstart.org
www.calstart.org
::::::::::::::::::::::::::::::::::::::::::::::
Clean Vehicles Now! September 19, 2007 - A Partnership with King County
The solutions to climate change exist today: we have the efficient, clean vehicles and new fuels to take action now. How do we speed the purchase and use of clean fuels and efficient cars, trucks and buses? Clean Vehicles Now! tackles these issues. The conference is a partnership of King County, one of the most innovative public agencies in the nation for implementing clean transportation, and WestStart-CALSTART. This unique new conference showcases the need, the solutions available now and tackles the barriers to action that will result in placing climate clean vehicles and fuels in service today. The conference will be held the day prior to the HTUF National Meeting.
Save the Date: September 19, 2007, 8am-5pm
Clean Vehicles Now!
Qwest Field
Seattle, WA
Contact: Bill Van Amburg, 626/744-5650, bvanamburg@weststart.org
www.weststart.org or www.metrokc.gov/exec/cleanvehiclesnow/
::::::::::::::::::::::::::::::::::::::::::::::
Hybrid Truck Users Forum (HTUF) National Meeting, September 19-21, 2007
HTUF(tm) is targeted: If you are a leader in developing, building, buying or using heavy-duty hybrid vehicles, you must be involved in the HTUF(tm) National Meeting. It is now the single yearly event where key decision makers in industry, government and the user-community come together to move the market for heavy-duty hybrid vehicles. For the 2007 National Meeting, HTUF will hold its sessions at Qwest Field, home of the Seattle Seahawks, to bring together fleets committed to purchasing hybrids, review the latest performance data on hybrid trucks and buses, outline available purchase incentives and strategies and discuss what more is needed to launch the market, hear briefings on the newest hybrid technologies, and get a chance to touch and drive the medium- and heavy-duty hybrids now in or moving to production. Industry leader Paccar, Inc. serves as the 2007 host.
Save the Date: September 19-21, 2007
HTUF National Meeting
Qwest Field Event Center
Seattle, WA
Contact: Richard Parish, 303/825-7550 x 2, rparish@weststart.org
www.hutf.org
::::::::::::::::::::::::::::::::::::::::::::::
Clean Heavy Duty Vehicle Conference, February 20-22, 2008
The Clean Heavy Duty Vehicle Conference is a nationally-recognized and attended conference on clean technologies and fuels for heavy-duty vehicles and buses. It is a unique multidisciplinary gathering of leaders from business, industry, government, military, and academia to discuss cutting-edge solutions for increasing vehicle efficiency, reducing emissions, and using cleaner fuels in heavy duty vehicles and buses in order to ensure US energy security and reduce global warming. Its high level speakers, audience diversity, technology and vehicle displays provide a tremendous value to attendees, sponsors, and exhibitors alike.
Save the Date: February 20-22, 2008
Clean Heavy Duty Vehicle Conference
The San Diego Hilton Resort
San Diego, CA
Contact: Debby DuBose, 626/744-5653, ddubose@calstart.org
www.cleanheavyduty.org
About WestStart-CALSTART
WestStart-CALSTART is North America's leading advanced transportation technologies consortium. It is a participant-supported organization of approximately 140 firms and organizations worldwide, dedicated to expanding and supporting a high-tech transportation industry that cleans the air, creates jobs and improves energy efficiency. It serves as a strategic broker to spur advanced transportation technologies, systems and the companies that make them.
WestStart-CALSTSTART: 626/744-5600
Featured Product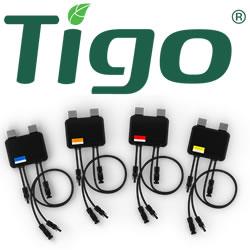 Tigo will announce the new product launch of the patented UHD-Core TS4-A (Advanced Retrofit/Add-on) Platform at SPI 2019. The new TS4-A-M (Monitoring) & TS4-A-S (Safety) units have improved lightweight hardware and lower labor costs to address a range of functions and budgets. The TS4-A-M allows module-level monitoring via Tigo's SMART Website & App. The TS4-A-S is UL-certified as a rapid shutdown solution for residential and C&I PV system. Both units join the Tigo's multivendor solution that works with almost any inverter and smart module in the global PV market. Contact sales@tigoenergy.com for pricing, shipping, and availability in Q4'19.