Growing population and rising dependency on petroleum has pushed the Chinese government to develop crop bases by 2010 and produce enough biomass to meet rising ethanol demand of the country.
With rising population and growing oil consumption, it has become imperative for Chinese government to cut dependency on petroleum. So the country intends to produce around 15 Million Ton of ethanol and 5 Million Ton of biodiesel by 2020. And to reach the target, the Chinese government has aimed to develop several new crop bases by the turn of this decade to provide enough biomass resources to cater to the growing ethanol demand of the country, said the Ministry of Agriculture, reported China Daily on July 4, 2007.

As per the government's Agricultural Biofuel Plan released on July 3, 2007, the new bases will primarily grow sweet sorghum, rape, sugarcane, and cassava to be used as raw material to produce biodiesel and ethanol.
As per the Plan, the cumulative biomass energy production from non-grain crops would increase to half a billion ton of oil equivalent, valued at around RMB 3 Trillion. It will make up for nearly 23% of the country's cumulative energy consumption.
Among all non-grain sources for ethanol, agricultural experts, because of its cost efficient nature and capability to be cultivated on non-arable or wasteland, consider sweet sorghum as the best option. Under the Biofuel plan, sweet sorghum stalks will be used to produce 3.8 Million Tons ethanol annually.
Zhou Dadi, former director, Energy Research Institute of the National Development and Reform Commission, said in a statement, "The new investment is likely to be in plants that produce ethanol without competing with grain supplies or taking up arable land", as published by China Daily on July 4, 2007.
In 2006, says the RNCOS report "Biofuel Market Worldwide (2007-2010)", China had just four ethanol (fuel) production plants. Many provincial governments, because of augmented government interest in biofuel, are contemplating to construct their own biofuel production plants. Under the current biofuel development policies of China, the production of ethanol should scale up to around 4 Million Metric Tons by 2010.
Apart from China, the market research report also studies other leading biofuel producing countries of the world, including Brazil, Canada, US, India, and EU countries in detail. A rational biofuel cost analysis has been provided coupled with future forecast for each country, drivers, opportunities, challenges, and major biofuel projects and plant capacities.
About RNCOS E-Services Pvt Ltd.:
RNCOS, incorporated in the year 2002, is an industry research firm. It has a team of industry experts who analyze data collected from credible sources. They provide industry insights and analysis that helps corporations to take timely and accurate business decision in today's globally competitive environment.
For more information visit: http://www.rncos.com/Report/IM508.htm
Current Industry News: http://www.rncos.com/blog
Featured Product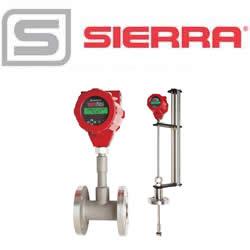 Sierra was the first to introduce a combination volumetric vortex and multivariable mass flow meter in 1997. Today, Sierra's completely redesigned InnovaMass® iSeries™ 240i/241i builds on two decades of success measuring five process variables for gas, liquid and steam with one connection. Now, with the latest hyper-fast microprocessors, robust software applications, field diagnostic and adjustment capability, and a new state-of-the-art flow calibration facility, Sierra's vortex iSeries delivers precision, performance, and application flexibility never before possible.