The Consortium bidding to host the Energy technologies Institute (ETI) in NorthEast England, has been named as one of three short-listed finalists to host the headquarters of this national centre.
The Consortium bidding to host the Energy technologies Institute (ETI) in NorthEast England, has been named as one of three short-listed finalists to host the headquarters of this national centre, which will be responsible for the allocation of approximately £1bn of private and public research funds into renewable and low carbon energy.

The North East Consortium will now face competition from Scotland and the Midlands, at a final selection presentation in London on September 6th. Made up of representatives from industry sponsors and Government, the selection panel will then make their recommendation to the ETI board, with the host location to be formally announced in early October.
Rt. Hon Nick Brown MP, Minister for the North East, underlined his support for the North East's bid at an event to mark the unveiling of the Consortium's plans at Newcastle University's Devonshire Building, the proposed host for the hub. The Minister said: "Of all the projects and programmes underway in our region, the ETI bid is the issue which I think should have top priority, and something which I will advocate most to the government of our country."
The ETI will be set-up almost immediately and if the North East is successful, will establish the region as the energy innovation capital of the UK. More than £6bn planned commercial investment in novel energy projects in the region has already been announced, and the proposal developed in conjunction with One NorthEast and the Science and Industry Council, demonstrates the region's capability across the energy technology spectrum.
Margaret Fay, One NorthEast Chairman, said: "I am delighted that the North East England Consortium's bid to host the ETI has made it through to the final stage of short-listing.
"Consortium members have worked hard to ensure the bid is of the highest quality.
"Together with the expertise of the North East's fast-growing new and renewable energy sector, the region is now in a strong position to be named as the ETI host region when the Government makes its final selection in October."
Professor Chris Brink, Vice Chancellor of Newcastle University, said:
"This is great news for the North East and brings us one step closer to realising our ambition to be the energy capital of the UK.
"We have a huge array of expertise and facilities on our doorstep and I look forward to continuing to work with our partners as I believe that the North East consortium is in a unique position to take this bid forward."
Ahead of their presentation in London, the North East Consortium continues to urge supporters to add statements of their support online at http://eti.ncl.ac.uk/support/. Communicating this enthusiasm and warm welcome for the ETI, will be key influencer in the selection process.
Wyn Jones, managing director of Alcan Aluminium UK Limited, is one such advocate of the North East bid. Wyn explains:
"Secure and sustainable energy supplies are vital to Alcan's operations in North East England. As we look to build on our track record for significant investment in innovative energy solutions, it will become increasingly important for us to demonstrate that our region remains at the forefront of the energy sector. An ETI with its hub in the North East will provide a welcome competitive edge and that is why Alcan wholeheartedly supports this region's bid."
As one of the three short-listed regions hand picked to host the ETI, the energy sector in North East England can look forward to a prosperous future as a key centre for renewable and low carbon energy research and development.
For further information on the North East's proposal please visit http://eti.ncl.ac.uk/index.php or call the ETI team on 0191 246 4951.
Ends
For further information contact Steve Abbott or Laura Foster on 0191 222 0722. Email steve.abbott@admiralpr.com or laura.foster@admiralpr.com.
Notes to editors
North East England's ETI bid team comprises: Newcastle University, Durham University, Northumbria University, CPI and NaREC. The bid is supported by regional development agency One NorthEast.
Other regions short-listed are:
• Midland Consortium - University of Loughborough with Nottingham and Birmingham Universities
• Energy Technology Partnership from Scotland - Universities of Strathclyde, Glasgow, Edinburgh, Aberdeen, St Andrews and Heriot-Watt
More than £6bn has been invested in novel energy projects in the last few years, and recent milestones for the North East energy sector have included:
• The UK's first offshore wind farm established here in 2000.
• Emergence of County Durham-based Romag Holdings plc as one of the largest producers of photovoltaic (PV) modules in Europe.
• Establishment of TWI Ltds' Energy & Materials Technology Centre in Middlesbrough.
• Novel tidal power systems brought to market by Tyneside-based SMD Hydrovision.
• Diversification of The Engineering Business to embrace tidal energy (Stingray), wind turbine access technology (WaterBridge) and a single-lift wind turbine installation system (Merlin).
• Market-leadership in grid solutions for wind farms and other distributed generation by Hexham-based Econnect
• Investment by Norwegian-based oil & gas supplier Seadrill of a new engineering design operation in Blyth, taking advantage of the pool of experienced engineers in the region.
• The country's largest biomass power plant, largest biodiesel plant and largest bioethanol plant (under construction): the region is the UK's largest producer of bio-energy.
• Coastal Energy, a joint venture between Centrica and Progressive Energy, developing an advanced coal power station on Teesside which will capture at least 85% of the CO2 arising and inject this beneath the North Sea. RWE NPower's recent announcement of a new CCS-ready, supercritical coal plant at Blyth further consolidates the region's position at the forefront of clean fossil fuel exploitation.
The region is now on the cusp of developing the world's first regional network for CO2 capture-and-storage: presaged by the recent announcements by RWE npower and Progressive Energy / Centrica of > £3Bn investment in two coal-fired power stations designed for CCS, with storage beneath the North Sea.
Relationship between ETI and Newcastle Science City
• Newcastle Science City has identified energy as a key component of its plans and its partners will invest £200m over 10 years in RD&D for the energy and environment theme.
• Several new facilities are planned as part of this investment in Energy RD&D to include Science Central, the GREAT Institute (Geothermal Research Education and Training Institute), and CREEL (Centre for Renewable Energy from Land) - from which the ETI hub can derive real synergy.
• There is also the opportunity for a new ETI building around 2010, co-located at Science Central with a number of complementary facilities.
Featured Product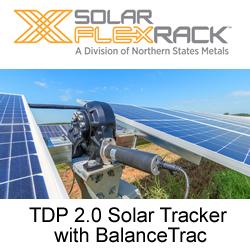 Solar FlexRack's latest solar tracker technology bundles an advanced tracker design with a full team of seasoned engineering and installation experts at your service. The next-generation solar tracker delivers a package of features that both enable increased energy yields for commercial and utility-scale solar installations, and significantly reduce project risks. That translates to smart installation cost-savings across your project budget.