Spain is the leading European country in terms of producing power from renewable sources. Environmental activists are stressing Spanish government to switch the country on renewables completely by 2050.
According to an international environmental organization, Greenpeace, around 4,000 environmental activists assembled in Barcelona on June 16, 2007 to urge the Spanish government to commit the country to completely switch to renewable sources of energy by 2050.

In February this year, Greenpeace initiated a campaign to press Spain to raise the use of renewable sources (despite the fact that Spain is already a leading name in this field in Europe). Eva Salana, spokesperson, environmental pressure group, told the Europa Press news agency, "it is technically and economically possible" to get the aim, as reported by the Peninsula on June 17, 2007.
The economy of Spain ascended by 3.9% in 2006 while the primary use of energy slumped by 1.3%, showing the country became an efficient energy user. Currently, Spain has eight working nuclear plants, comparatively less than countries like Britain, Germany, and France.
In March, the Spanish government disclosed that El Hierro's Canary Island would draw 100% of its electricity from renewables through a combination of wind power and hydroelectricity. Spain has the second highest (first is Germany) installed wind power capacity. EU States have recently aimed a 20% share of total energy production for the bloc by the end of the decade.
The electricity consumption in Spain has been rising at an annual rate of around 6%. And to secure the energy supply, it is imperative to build power-generation capacity and infrastructure and make new relations and retain existing ones with neighboring nations.
Given its huge potential, Spain is the most attractive country to invest in renewable energy, according to the RNCOS report, "Spain Energy Sector Outlook". It says that renewable energy, growing at a rate of more than 4.25% since 2001, has grown beyond expectations. The Growth and Strategy Plan for the timespan 2004-2012 is formulated by the government with the aim to boost energy efficiency by further investing in renewables, particularly by building the wind farms.
The market research report gives an overview of Spanish energy market, the energy sources it use with focus on renewable sources, electricity supply and consumption pattern, the forces pushing the market, opportunities, and growth deterring factors. The report also presents a future outlook of the market based on present market scenario.
About RNCOS E-Services Pvt Ltd.:
RNCOS, incorporated in the year 2002, is an industry research firm. It has a team of industry experts who analyze data collected from credible sources. They provide industry insights and analysis that helps corporations to take timely and accurate business decision in today's globally competitive environment.
For more information visit: http://www.rncos.com/Report/IM519.htm
Current Industry News: http://www.rncos.com/blog
Featured Product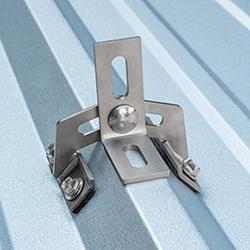 Error-Proof Compression: The QB2 doesn't leave any room for user error when it comes to Microflashing® compression. Once the Dual Drive Shoulder Screw is secured, the Microflashing® is compressed. Only 3 Components: The QB2 is comprised of Microflashing®, an L-foot and a Dual Drive Shoulder Screw. No more Nuts needed to tighten and secure the L-foot! Not only does this simplify the installation process, it also cuts down the installation time.