Xantrex Technology Inc. today announced its participation as the exclusive supplier of solar inverter technology to installers of solar energy grid-tie systems purchased at Home Depot Canada.
VANCOUVER, B.C., September 5, 2007 - Xantrex Technology Inc. (TSX:XTX) today announced its participation as the exclusive supplier of solar inverter technology to installers of solar energy grid-tie systems purchased at Home Depot Canada. The program will provide Greater Toronto homeowners with convenient access to industry-leading renewable energy products and services.

Xantrex GT Series Grid Tie Solar Inverters are a key component in a photovoltaic (PV) installation package available to Home Depot customers, with installation and service provided by Solera Sustainable Energies Company®, of Ontario.
Homeowners that purchase a Home Depot system can participate in the recently implemented Ontario Renewable Energy Standard Offer Program (RESOP) - a renewable energy initiative launched last year by the Ontario Power Authority. The program provides homeowners with a financial incentive to install residential solar energy systems.
Under the Home Depot program, homeowners can purchase a PV system from select Home Depot stores. A consultant will visit the home and provide a full assessment with the home owner to determine the requirements for a solar system, including solar panels and a Xantrex inverter. The Xantrex inverter converts DC energy generated by the solar panels into clean, useable AC power, which is sold back to the utility electrical grid at a price nearly four times higher than the homeowner pays the utility for the electricity used in their home.
"Homeowners throughout the Greater Toronto Area now have the option to install a grid-tie solar energy system through Home Depot Canada, a familiar and dependable retailer," said Leonard Allen, President and CEO, Solera Sustainable Energies Company®. "With the additional incentive of the Ontario Standard Offer Program, high-quality components such as Xantrex GT Series Grid Tie Solar Inverters, and installation provided by Solera, we hope to accelerate consumer adoption and drive awareness of solar energy systems as part of our responsibility as a community business."
"This market breakthrough represents a milestone for the Canadian renewable energy market and for our company," said Xantrex CEO, John Wallace. "Our unique position as the exclusive inverter supplier for Home Depot installation partners ensures that consumers will receive the highest quality and most efficient solar inverters currently available on the market."
The province of Ontario recently enacted the RESOP feed-in tariff system, to help enable the reduction of global warming through support of alternative energy solutions and ultimately offset electrical grid usage. This system will allow homeowners to receive payment for the electricity that they produce which is fed back into the utility grid. Residential solar PV systems will be eligible for a feed-in tariff rate of CAD $0.42 or approximately USD $.40 cents per kilowatt-hour (kWh) of electricity.
The first of its kind in Canada, the program makes Ontario's support of solar power installations one of the highest in North America. Projects that comply with the Standard Offer Program may also qualify for a variety of federal and provincial incentive programs and grants under Renewable Energy Development in Ontario (REDO).
For more information about solar energy grid-tie systems purchased at Home Depot Canada, please call 1-800-466-3337.
For more information on Xantrex GT Series Grid Tie Solar Inverters, please visit www.xantrex.com/GTsinglephaseNA
For information about the Ontario Power Authority Standard Offer Program please visit www.powerauthority.on.ca/sop/
About Xantrex
Xantrex Technology Inc. (www.xantrex.com) is a world leader in the development, manufacturing and marketing of advanced power electronic products and systems for the renewable, programmable, mobile, and portable power markets. The company's products convert and control raw electrical power from any central, distributed, renewable, or backup power source into high-quality power required by electronic and electrical equipment. Headquartered in Vancouver, British Columbia, the company has facilities in Arlington, Washington; Livermore and San Diego, California; Elkhart, Indiana; Barcelona, Spain; and Reading, England. Xantrex is listed on the Toronto Stock Exchange under the ticker symbol "XTX".
About Solera Sustainable Energies Company®
Solera Sustainable Energies Company® is a leading provider of utility-grid connected solar power in Canada. The company has been providing clean, reliable, maintenance-free electricity for residential, commercial and institutional applications for more than 15 years. Solera offers the marketplace proven capabilities in renewable energy and backup power system design, engineering, manufacturing, service and installation.
Through innovative products and services, Solera is empowering clients to adopt cleaner, safer, renewable energy technologies to assist in creating a better planet for future generations. For more information, go to www.soleraenergies.com.
Note that this news release contains forward-looking statements related to Xantrex Technology Inc. Such statements reflect the current views of Xantrex with respect to future events and are subject to risks and uncertainties that could cause actual results to differ materially from those contemplated in these forward-looking statements.
For further information, please contact:
Laura Taylor
A&R Edelman
202-271-8216
Laura.taylor@ar-edelman.com
Bob Neudecker
Xantrex Technology Inc.
604-422-2589
bob.neudecker@xantrex.com
Featured Product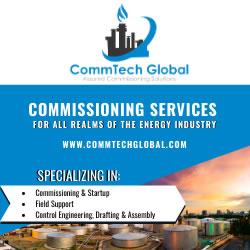 CommTech Global Solutions, LLC, provides professional and reliable commissioning services to customers in all realms of the energy industry. We blend our skills in engineering and technology with innovative business models, offering a complete range of services to assist you for a successful and in compliance operational startup. Consolidation of all our service domains gives our clients a comprehensive set of expertise and far-reaching experience on each project.