Clean geothermal energy from the Earth is the most reliable and consistent source of renewable energy. This message will be heard at the Geothermal Resources Council 2007 Annual Meeting, on Oct. 1-3, at John Ascuaga's Nugget in Sparks, Nevada.
GEOTHERMAL RESOURCES COUNCIL

2001 Second Street
Davis, CA 95617
Phone (530) 758-2360
Cell 9/28-10/3: (530) 902-2787
Fax (530) 758-2839
Press Advisory
Contact: Curt Robinson, Executive Director
Phone: (530) 758-2360
FOR IMMEDIATE RELEASE
9 A.M. PST, September 17, 2007
Geothermal Energy Development
Highlights of the Geothermal Resources Council's 2007 Annual Meeting and
Geothermal Energy Association Trade Show
Industry and Government Forum will Discuss Issues Important to the Development of Geothermal Energy In the United States
"Clean, renewable geothermal energy from deep within the Earth produces as much electricity for the United States as the wind - and it is more reliable and consistent. As the Nation seeks secure, inexpensive and sustainable supplies of domestic energy, geothermal heat will be increasingly important to the energy future of the United States."
That's the message that will be heard from senior energy officials from the U.S. Department of Energy, geothermal companies, and political officials at the Geothermal Resources Council (GRC) 2007 Annual Meeting, on October 1-3, at John Ascuaga's Nugget Casino and Resort in Sparks, Nevada. With the companion Geothermal Energy Association (GEA) Trade Show, the event is expected to attract more than 700 participants from science, education, government, and industry.
Representatives of the news media are cordially invited to attend this important event, where they can learn firsthand from leading energy experts about the reliability of environmentally clean and renewable geothermal resources.
Of special interest will be the GRC 2007 Annual Meeting Opening Session, from 8:00 a.m. to noon on Monday, October 1. The event's invited Keynote Speakers include:
 Alexander Karsner, Assistant Secretary, US Department of Energy
 Jim Gibbons, Nevada Governor
 Michael Olsen, Deputy Assistant Secretary, US Department of Interior
 Paul Brophy, Geothermal Resources Council President (2007-08)
 Michael Yackira, CEO, Sierra Pacific Resources
More than 150 scientific and technical reports will be shared through technical and poster sessions October 1-3.
Also of special interest will be the GEA Geothermal Energy Trade Show (at the Nugget). It is the only annual event of its kind in the world, featuring more than 70 exhibitors of geothermal developments, supplies, and equipment.
Members of the news media are also invited to attend the GRC Annual Awards Luncheon on Wednesday, October 3 (12:00 - 2:00 pm) at the Poolside Terrace of the Nugget where the best and brightest of the geothermal development community will be honored.
Two pre-conference workshops will be held on September 28-29. One workshop will address Geophysical Techniques in Geothermal Exploration. The other workshop will be Land, Lease, and Unitization Legal Issues.
Three field trips will also be available: Long Valley Caldera Geothermal and Magmatic Systems; Steamboat Hills Geothermal Power Complex; and Blue Mountain, Brady's Hot Springs, and Desert Peak Geothermal Geology.
Interested members of the press will be admitted free-of-charge to the GRC 2007 Annual Meeting and companion GEA 2007 Geothermal Energy Trade Show. Please contact our Registration Desk in front of the foyer on the 2nd floor of the Nugget for your pass. To assist you in developing stories, we will be happy to put you in contact with our Keynote Speakers and other experts on geothermal energy.
Last year's event drew more than 1,000 attendees from the US and 10 foreign countries.
######
GRC OPENING SESSION - OCTOBER 1, 2007
8:00 - 8:15 a.m. Welcome by Jim Combs, Annual Meeting General Chairman
8:15 - 8:30 Paul Brophy, President, GRC
8:30 - 8:35 Introduction of Keynote Speakers, Dan Schochet
8:35 - 8:50 Jim Gibbons, Governor of Nevada
8:50 - 9:10 Michael Olsen, Deputy Assistant Secretary of the Interior
9:10 - 9:30 Andy Karsner, Assistant Secretary DOE
9:30 - 9:45 Karl Gawell, Executive Director, GEA
9:45 - 10:05 Break
10:05 - 10:25 Industry Perspectives - Platinum Sponsors
10:25 - 11:05 Investor Owned Utility Panel - SPR, SCE, PG&E, Nevada Power
11:05 - 11:25 Michael Yackira, CEO Sierra Pacific Resources
11:25 - 11:45 California Legislator [invited]
11:45 - 12:00 Curt Robinson, Close of Session
Just a Few Facts About Geothermal Energy.
"The Earth houses a vast energy supply in the form of geothermal resources. Domestic resources are equivalent to a 30,000-year energy supply at our current rate for the United States!," according to a 2006 report issued by the US Department of Energy. Geothermal energy is a reliable and constant source of energy. Geothermal energy resource development has improved greatly over the years and currently produces about 2800 MW of energy (enough to satisfy the needs of approximately 9 million Americans). Another 3000 MW are in development.
Using current technologies, conservative estimates suggest that another 6000 MW of additional power can be produced in the western states alone over the next 10 years (enough to provide energy for another 18 million Americans).
Geothermal energy is an important part of our strategic renewable energy portfolio, as it currently has the potential to provide energy for 10% of the U.S. population between now and 2015.
In addition, it is predicted that another 6000 MW can be developed between 2015-2025. In 20 years, the US could be producing enough energy for as many as 45 million Americans.
Geothermal energy production is an important and viable renewable, efficient, clean, and reliable source of energy that has and will continue to benefit the lives of millions of Americans in the years ahead.
About the Geothermal Resources Council.
The Geothermal Resources Council (GRC) has built a solid reputation as the world's premier geothermal association. Founded in 1970, the GRC serves as a focal point for continuing professional development for its members through its outreach, information transfer, and education services.
The GRC is a tax-exempt, 501(c)(3) non-profit, educational association. With members in 30 countries, the GRC actively seeks to expand its role as a primary professional educational association for the international geothermal community.
The goals of the GRC are to:
• Encourage worldwide development of geothermal resources through the collection and timely distribution of data and technological information.
• Promote research, exploration and development of geothermal energy in ways compatible with the environment.
• Serve as a public forum for the world geothermal community, providing transfer of objective and unbiased information on the nature of geothermal resources and techniques of geothermal development.
• Cooperate with national and international academic institutions, industry and government agencies to encourage economically and environmentally sound development and utilization of geothermal resources.
Featured Product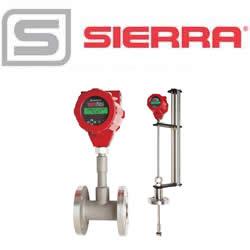 Sierra was the first to introduce a combination volumetric vortex and multivariable mass flow meter in 1997. Today, Sierra's completely redesigned InnovaMass® iSeries™ 240i/241i builds on two decades of success measuring five process variables for gas, liquid and steam with one connection. Now, with the latest hyper-fast microprocessors, robust software applications, field diagnostic and adjustment capability, and a new state-of-the-art flow calibration facility, Sierra's vortex iSeries delivers precision, performance, and application flexibility never before possible.