Innovative Products Usher In an Integrated Solar Lifestyle
MONTREAL, September 25 - ICP Solar Technologies Inc. (OTCBB: ICPR,
FRANKFURT: K1U.F), a developer, manufacturer and marketer of solar cells and
products, today announced that ICP senior management, led by CEO and Chairman
Sass Peress, will introduce the Company's amorphous Thin-Film Solar Tile and
Greenmeter(TM) at the 4th annual Solar Power Conference and Expo being held
September 24-27 at the Long Beach Convention and Entertainment Center in Long
Beach, California.
The Sunsei amorphous Thin-Film Solar Tile is designed for seamless
integration into a roof system. It comes with an easy interlocking system and
in different colors and finishes. The amorphous technology allows for high
performance even under low light or high temperature conditions.
"Our Thin-Film Solar Tiles are designed to be appealing to architects,
contractors and most importantly, the home owners," said Laurent Lafite VP
Marketing & Global Strategy. "Our tiles come in different colors and finishes
and integrate into the existing roof system without additional mounting
systems. These features make them easy to install and visually pleasing."
The Wireless Sunsei GreenMeter(TM) monitors customer's solar energy
production and energy consumption. Used in conjunction with an existing solar
panel system it can be used as a peak shaving device which will allow
customers to secure electrical energy at the lowest possible rate.
"Our Thin-Film Solar Tile and GreenMeter products now allow us to address
the rapidly expanding residential and power generation markets," said Sass
Peress, ICP CEO and Chairman. "For two decades ICP's customer-centric approach
has been critical in driving market adoption for our consumer products. It is
this experience that can now be brought to bear in order to recreate similarly
positive experiences for homeowners. We want our products to make those solar
lifestyle moments simple, measurable and enjoyable."
<<
WHO: ICP Solar Technologies Inc.
WHAT: Solar Power 2007 Conference, America's largest solar event
WHEN: Monday, Sept. 24 - Thursday, Sept. 27
WHERE: Long Beach Convention Center, Booth #1212
WHY: ICP Introduces the Sunsei Greenmeter(TM) and Their Thin-Film
Solar Tile. Meet Ted Turner's Captain Planet and learn about
innovative programs that empower children and youth around the
world to work individually and collectively to solve
environmental problems in their neighborhoods and communities.
>>
Solar Power 2007 will feature more than 200 solar exhibitors, including
manufacturers, installers, and investors. There will be 125 guest speakers at
the conference and 10,000 attendees from both inside and outside solar
industry.
About ICP Solar Technologies, Inc.
ICP Solar is a developer, manufacturer and marketer of solar cells and
solar cell based products and building materials. Through the application of
next-generation technologies and use of proprietary intellectual design the
Company aims to be the industry's innovation leader. For the past 19 years,
ICP Solar has led the consumer market through innovation and has now begun to
apply that same philosophy to the OEM, rooftop and power generation segment of
the solar industry .ICP Solar's management has over 50 years of experience in
the renewable energy sector. The company's headquarters are located in
Montreal, Canada, with additional locations in the USA, Spain, Ireland and
France.
Corporate information may be found at www.icpsolar.com
The forward-looking statements herein include, but are not limited to,
the expected expansion of our solar solutions into Europe Middle East, Asia
and Africa. Our actual results may differ materially from those implied in
these forward-looking statements as a result of many factors, including, but
not limited to, overall industry environment, customer acceptance of our
products, delay in the introduction of new products, further approvals of
regulatory authorities, adverse court rulings, production and/or quality
control problems, the denial, suspension or revocation of permits or licenses
by regulatory or governmental authorities, termination or non-renewal of
customer contracts, competitive pressures and general economic conditions, and
our financial condition. These and other risks and uncertainties are described
in more detail in our most recent SB-2 filing with the Securities and Exchange
Commission. Forward-looking statements speak only as of the date they are
made. We undertake no obligation to update or revise such statements to
reflect new circumstances or unanticipated events as they occur, except as
required by applicable laws, and you are urged to review and consider
disclosures that we make in the reports that we file with the Securities and
Exchange Commission that discuss other factors germane to our business.
For further information: ICP Solar Laurent Lafite, 514-270-5770
Llafite@icpsolar.com or Lippert Heilshorn Jody Burfening/Elric Martinez
212-838-3777 emartinez@lhai.com
Featured Product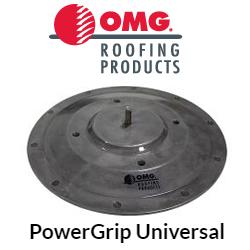 Eliminate Solar Rack Ballast and Reduce Rooftop Material Handling. PowerGrip™ Universal (PGU) is a commercial roof mount system designed to secure solar racks and other equipment to any type of commercial roofing system. PGU provides a secure connection directly to the roof deck or structural members and is designed to reduce or eliminate ballast in solar racking systems, so there's less weight on the roof and less material handling. Made of heavy-duty cast aluminum, PGU units include a base ring which is secured through the roofing cover and into the structural roof deck, and a waterproof top plate.