Hamilton Park Development's 47 solar-powered homes selling rapidly
SHARP DELIVERS SOLAR ELECTRICITY SYSTEMS TO NEW CLARUM HOMES COMMUNITY IN MENLO PARK, CA

Hamilton Park Development's 47 solar-powered homes selling rapidly
HUNTINGTON BEACH, Calif., Oct. 31, 2007 - Sharp, the world's leading provider of solar electric solutions, designed and provided the solar electricity systems for all of the residences in Clarum Homes' new Hamilton Park community in Menlo Park, California near Stanford University. These new Clarum Homes feature the visually appealing Sharp OnEnergyTM solar systems as standard features so that homeowners can produce clean, renewable solar energy to meet their energy needs.
The solar-powered homes have been selling very quickly - 44 of the 47 Hamilton Park homes have been purchased and occupied since the homes were put on the market this summer. Coupled with other energy-saving features, the incorporation of solar arrays on the new Clarum residences will help homeowners reduce their utility bills significantly.
"A solar electricity system adds tremendous value to the homes we build. By providing homeowners with attractive solar systems that generate electricity right on their rooftops and incorporating other energy efficiency features, we're enabling them to save 50 percent or more on their utility bills," said John Suppes, president of Clarum Homes and Byldan Corporation. "We set out to provide exceptional value for our customers by making solar power available and in the process, we did something that helps grow our business as well by differentiating the homes we build from others in the marketplace."
The Hamilton Park homes use Sharp's new OnEnergy solar system which is designed to make system installation simpler, more cost-effective and more aesthetically pleasing. It features all the necessary components for emissions- and maintenance-free operation, including a meter that allows homeowners to monitor system performance. OnEnergy eliminates the need for separate module-to-module grounding throughout the entire array, and saves on installation time as well as material costs. The system's anodized aluminum frames and skirts assure the system is a long-lasting and attractive array on a residential rooftop. Additionally, OnEnergy's internet-based CAD (computer aided design) software enables installers to design, customize, confirm and then simply click to order their solar power system. Any excess electricity generated goes back into the utility grid - thereby spinning the meter backward, and accruing credit on the homeowner's utility bill.
"By building homes that include solar electric power as a standard feature, Clarum is leading the way among homebuilders for the new energy standard in residential construction," said Ron Kenedi, vice president of Sharp's Solar Energy Solutions Group. "We're delighted that these homes are in such demand by discerning homebuyers that are concerned about their energy usage."
Founded in 1994, and headquartered in Palo Alto, California, Clarum Homes is a family-owned development company devoted to building exceptional new home communities and apartments in California. In addition to incorporating Sharp's solar electricity solutions in Menlo Park, Clarum is deploying Sharp solar electricity systems at 24 new townhouses at Liberty Pointe in San Leandro, California and at ten new custom homes at the Hansen Lane community in Danville, California. In 2006, Clarum Homes won the Governor's Economic & Environmental Leadership Award for Sustainable Communities for their efforts at Vista Montaña in Watsonville, California - the nation's largest zero energy home community, which also features Sharp solar electricity systems.
Sharp's Solar Energy Solutions Group, based in Huntington Beach, CA, is a unit of Sharp Electronics Corporation, the U.S. subsidiary of Sharp Corporation, Osaka, Japan. Sharp is the world market leader in solar panel production, and offers both standard and integrated roof modules for home applications. Sharp also is the U.S. market leader and maintains solar panel assembly operations at its manufacturing facility in Memphis, Tennessee. The solar manufacturing facility assembles a variety of panels for residential and commercial installations.
Further information on Sharp's commitment to solar energy, its product line and the ways in which Sharp makes it easy to go solar is available online at www.solar.sharpusa.com
.

# # #

Sharp Electronics Corporation is the U.S. subsidiary of Japan's Sharp Corporation, a worldwide developer of one-of-a-kind home entertainment products, appliances, networked multifunctional office solutions, solar energy solutions and mobile communication and information tools. Leading brands include AQUOS® Liquid Crystal Televisions, 1-Bit' digital audio products, SharpVision® projection products, Insight® Microwave Drawers®, IMAGER' digital multifunctional systems, and Notevision® multimedia projectors. For more information visit Sharp Electronics Corporation at www.sharpusa.com
Featured Product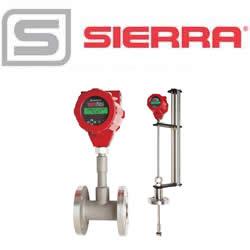 Sierra was the first to introduce a combination volumetric vortex and multivariable mass flow meter in 1997. Today, Sierra's completely redesigned InnovaMass® iSeriesâ"¢ 240i/241i builds on two decades of success measuring five process variables for gas, liquid and steam with one connection. Now, with the latest hyper-fast microprocessors, robust software applications, field diagnostic and adjustment capability, and a new state-of-the-art flow calibration facility, Sierra's vortex iSeries delivers precision, performance, and application flexibility never before possible.