Hydro, in collaboration with Ascent Solar Technologies, will introduce at Batimat 2007 in Paris a new way of using photovoltaics in its aluminium building systems, which can achieve significant savings in energy consumption.
Hydro (NYSE:NHY) in collaboration with Ascent Solar Technologies, Inc. (Nasdaq:ASTI) will introduce at Batimat 2007 in Paris a new way of using photovoltaics in its aluminium building systems, which can achieve significant savings in energy consumption.

The prototype "solar systems" are among the collection of new products that Hydro will showcase at the international building exhibition, which begins November 5 and continues through November 10 at the Paris Expo.
"There are innovations in these products that can bring the future closer to today," says Lars Hauk Ringvold, who is responsible for Hydro's aluminium building systems activities.
Visitors to the company's displays at Batimat will see windows, doors, balcony railings and facades that have integrated photovoltaic systems. "With such systems built into relevant products, we have the potential to achieve energy savings above 60 percent," says Ringvold.
The prototypes are the result of a successful pre-project between Hydro and Ascent Solar Technologies, a Denver-based company which manufactures the flexible thin-film photovoltaic modules. Hydro owns 23 percent of Ascent Solar.
"Ascent's solar modules provide a simple, elegant and architecturally attractive means to incorporate photovoltaics into buildings," says Ringvold.
Matthew Foster, Ascent Solar's president and CEO, says the company is "excited about all the innovative applications that Hydro has already envisioned for our modules. Our collective vision is to make solar power a transparent and pervasive element in the everyday lives of people throughout the world."
Please follow the link below to view the video regarding this unique relationship:
http://hydro.com/en/Press-room/Videos/Thinking-Ahead/
More debuts at Batimat
Hydro will be represented by three of its brands - Architectural Systems, Technal, Wicona - at the French exhibition. All three will feature integrated solar module building systems.
However, the brands will also introduce other new products, each in line with Batimat's theme of sustainable development. These include:
Windows with motorized systems for functionally disabled
Energy-saving surface treatment solutions
Modular concepts for residential homes
Batimat is the world's largest building exhibition, with construction equipment and materials suppliers together under one roof. The theme of year's event, which will draw some 2,700 exhibitors from 49 countries, is sustainable development.
Hydro is Europe's preferred supplier of aluminium building systems, and delivers to scores of other countries around the globe. Its three international brands - Domal, Technal and Wicona - cover the whole range of system products.
Based on its long experience in materials technology and renewable energy, Hydro is also investing in solar energy with partner companies, such as Ascent Solar, to develop new technologies and manufacturing processes at facilities in Europe and the US.
About Hydro:
Hydro is a Fortune Global 500 supplier of aluminium and aluminium products. Based in Norway, the company employs 25,000 people in more than 30 countries and has activities on all continents. Rooted in a century of experience in renewable energy production, technology development and progressive partnerships, Hydro is committed to strengthening the viability of our customers and communities we serve.
About Ascent Solar Technologies:
Ascent Solar Technologies, Inc. is a developer of state-of-the-art, thin-film photovoltaic modules and is located in Littleton, Colorado. Please visit our website for additional information at www.ascentsolar.com.
Statements in this press release that are not statements of historical or current fact constitute "forward-looking statements." Such forward-looking statements involve known and unknown risks, uncertainties and other unknown factors that could cause the Company's actual operating results to be materially different from any historical results or from any future results expresses or implied by such forward-looking statements. In addition to statements that explicitly describe these risks and uncertainties, readers are urged to consider statements that contain terms such as "believes," "belief," "expects," "expect," "intends," "intend," "anticipate," "anticipates," "plans," "plan," to be uncertain and forward-looking. The forward-looking statements contained herein are also subject generally to other risks and uncertainties that are described from time to time in the Company's filings with Securities and Exchange Commission.
Contacts
Ascent Solar Technologies, Inc.
Investor Relations Contact:
Brian Blackman, 832-515-0928
bblackman@ascentsolar.com
or
Media Contact:
Brand Fortified Public Relations
Kelly Brandner, 303-289-4303
kellybrandner@msn.com
Featured Product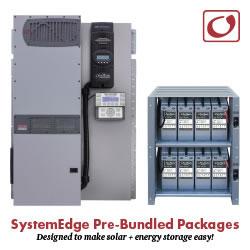 Each pre-bundled package is designed to make solar plus energy storage easy. By combining OutBack's most popular FLEXpower pre-wired systems with matched OutBack energy storage, SystemEdge takes the guesswork out of installing solar plus storage. Every SystemEdge package includes a FLEXpower factory pre-wired system, application-specific EnergyCell batteries and racking, FLEXware ICS Plus combiner and all the necessary connection hardware.