Opel International, a leading, global developer and supplier of concentrating photovolatic panels (CPVs), today announced it has entered into an exclusive agreement with FEiNA SCP.
News Release

FOR IMMEDIATE RELEASE
Contact: Bill Blase or Cathy Loos
W.T. Blase & Associates, Inc.
Tel: 212-221-1079
nfo@wtblase.com
Opel International Signs Exclusive Solar Tracker OEM Agreement
Toronto, November 7, 2007 - Opel International, a leading, global developer and supplier of concentrating photovoltaic panels (CPVs), today announced it has entered into an exclusive agreement with FEiNA SCP to OEM and market FEiNA's full line of solar trackers in Canada, the United States, Mexico and Brazil.
The solar trackers designed by FEiNA provide an exceptionally high degree of accuracy in tracking the sun's movement and maximizing the performance of all types of solar panels. These solar trackers can be used in combination with both conventional silicon flat plate panels as well as with different types of CPVs.
In commenting on the announcement, Frank Middleton, Vice President of Marketing for Opel International, noted that Opel has been using FEiNA trackers in combination with its CPVs for the past year.
"When combined with Opel's high efficiency CPVs, FEiNA's trackers provide one of the most cost-effective solutions for generating electricity from the sun," Middleton said. "Beside their accuracy and reliability, we have also found that FEiNA's trackers are easy to install and are virtually maintenance free."
The use of standard solar trackers in combination with conventional silicon flat plate panels can increase the amount of energy out of those panels by as much as 40 percent, depending on the particular location of the panel. The FEiNA trackers range in capacity from a few hundred watts for roof top or small installations, to several thousand watts for solar farm applications.
"Our partnership with Opel opens up great market potential for our products," Ignasi Sivillá, President of FEiNA, said. "Opel's expertise in this market place also provides FEiNA with better insight into market needs. We're very excited and looking forward to continuing what has been a mutually beneficial relationship as the use of solar power continues to grow dramatically around the world."
-more -
Opel International Signs Exclusive Solar Tracker OEM Agreement
Page 2 of 2 Pages
About Opel
Opel International, Inc., designs, manufactures and markets innovative, state-of-the-art solar technology products designed to convert solar energy into electricity - at the least possible cost and greatest efficiency. Used in industry and commercial applications globally, Opel's high performance concentrating photovoltaic products generate up to 40 percent more kilowatt-hours than conventional fixed solar panels.
A public company, Opel trades on the Toronto Venture Exchange ["TSXV"]. For more information about Opel, please visit the company's website at www.Opelinc.com.
About FEiNA
FEiNA SCP is dedicated to the design, engineering and marketing of renewable energy equipment. FEiNA's products are devices that follow the sun to obtain the best performance from solar power, together with electronic controls for solar thermal energy and the first solar panel anti-theft systems. FEiNA's philosophy is to offer reliable products at competitive prices, to reduce the cost of generating solar power, while contributing to the creation of a cleaner world.
FEiNA SCP is headquartered in Manresa, Barcelona and has been a leading producer of precision solar trackers for more than 10 years. For more information on FEiNA SCP, please visit the FEiNA web site at www.tracker.cat.
###
The TSXV has not reviewed and does not accept responsibility for the adequacy or accuracy of this release.
Investors are cautioned that except for statements of historical facts, certain statements contained in this news release may include forward-looking information with respect to the Company. Such forward-looking statements or information are based on current expectations, estimates and projections formulated using assumptions currently believed to be reasonable and involving a number of risks and uncertainties which could cause actual results to differ materially from those anticipated. The Company does not undertake any obligation to update publicly or revise any forward-looking statements or information, whether as a result of new information, future events or otherwise, unless so required by applicable securities laws.
This news release does not constitute an offer to sell or a solicitation of an offer to buy securities in the United States. The Company's securities have not been and will not be registered under the United States Securities Act of 1933, as amended or any state securities laws and may not be offered or sold within the United States or to any U.S. Person unless registered under the U.S. Securities Act and applicable state securities laws or an exemption from such registration is available.
NOT FOR DISTRIBUTION TO U.S. NEWS WIRE SERVICES OR DISSEMINATION IN THE U.S.
Featured Product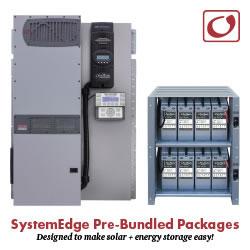 Each pre-bundled package is designed to make solar plus energy storage easy. By combining OutBack's most popular FLEXpower pre-wired systems with matched OutBack energy storage, SystemEdge takes the guesswork out of installing solar plus storage. Every SystemEdge package includes a FLEXpower factory pre-wired system, application-specific EnergyCell batteries and racking, FLEXware ICS Plus combiner and all the necessary connection hardware.