$200,000 Cash for Top Prize to be Awarded by NSTAR and US DOE Based on Rigorous Competition
BOSTON, Mass.—The MIT Clean Energy Entrepreneurship Prize of $200,000 is being announced today, kicking off a program to help develop and motivate the next generation of energy entrepreneurs. This nationwide competition is sponsored by the Massachusetts Institute of Technology, NSTAR Electric & Gas Corporation and the United States Department of Energy (US DOE).

"Working together with visionary leaders such as Tom May and Andy Karsner demonstrates our shared commitment to catalyzing the development of the next generation of energy entrepreneurs," said MIT President Susan Hockfield. "The ultimate goal of this contest is to find innovative solutions to transform today's energy systems into tomorrow's sustainable energy future."
This prestigious prize was established by building off the very strong base of two existing and nationally recognized MIT competitions—the MIT $100K Entrepreneurship Competition and the Ignite Clean Energy Competition.
Funding for the award is provided by NSTAR and US DOE. This expanded competition and more significant pool of prize money is designed to accelerate the pace of bringing innovation to market. Entrepreneurial teams of all backgrounds and experience levels are being encouraged to participate, as the competition is open to both student and non-student teams that meet eligibility requirements. Teams will undergo a rigorous mentoring, coaching and selection process as the competition progresses.
The semifinalists and finalists from the competition will present and defend a full business plan before a distinguished panel of clean energy industry experts and venture capitalist judges for the awarding of the MIT Clean Energy Entrepreneurship Prize and runner-up prizes in May 2008.
"DOE is proud to support the work of America's best and brightest on one of our most important and pressing challenges—clean energy," said Assistant Secretary of Energy for Energy Efficiency and Renewable Energy Alexander Karsner. "The President has set out aggressive goals for renewable and clean energy technologies. We need America's dynamic and innovative entrepreneurs to be the agents of change for clean energy."
The proposed business plans for clean energy solutions involve products or technologies that promote, enhance or advance diversity of supply sources/transmission; efficiency in resource use; and/or reduction in greenhouse gas emissions.
"Our customers are looking to meet their energy needs in the cleanest, most efficient way possible and that requires innovation," said NSTAR Chairman, President and CEO Tom May. "We want to help these entrepreneurs get their great ideas and possible solutions to the nation's energy needs off the drawing boards and into the homes and businesses of our customers."
Additional information regarding the MIT Clean Energy Entrepreneurship Prize and the full competition is available at www.mitceep.com. Updates on the progress of teams participating in the competition will be available on the web site over the coming months.
The MIT Energy Initiative (MITEI) is a key driver of the competition. The campus-wide energy initiative is designed to help transform the global energy system to meet the challenges of the future through research, education and outreach activities. "Meeting the world's energy needs requires much more than great ideas—we also need creative approaches," said Professor Ernest Moniz, director of MITEI. "This competition provides another tool to meet the enormous challenges of the 21st century."
Further support for the MIT Clean Energy Entrepreneurship Prize and competition is provided by the Ewing Marion Kauffman Foundation (www.kauffman.org).
For more background, please visit the following web sites:
• Ignite Clean Energy: www.ignitecleanenergy.com
• MIT $100K Entrepreneurship: www.mit100k.org
• MIT Energy Initiative: web.mit.edu/mitei
• MIT Entrepreneurship Center: entrepreneurship.mit.edu
About the Massachusetts Institute of Technology (MIT)
MIT is a top-ranked, world-class education institute committed to advancing knowledge and educating students in science, technology, management and other areas of scholarship that will best serve the nation and the world in the 21st century. MIT has a longstanding reputation for working closely with business and government. Founded in 1865, MIT is organized into five schools that contain 34 academic departments, divisions and degree-granting programs, as well as numerous interdisciplinary centers, laboratories and programs whose work cuts across traditional departmental boundaries.
About NSTAR
NSTAR is the largest Massachusetts-based, investor-owned electric and gas utility. The company transmits and delivers electricity and natural gas to 1.4 million customers in Eastern and Central Massachusetts, including more than one million electric customers in 81 communities and 300,000 gas customers in 51 communities. For more information, visit www.nstar.com.
About the United States Department of Energy (DOE)
The Office of Energy Efficiency and Renewable Energy (EERE) manages the Department of Energy's (DOE) $1.47 billion applied science, research, development and deployment portfolio, which promotes marketplace integration of renewable and environmentally sound energy technologies. EERE also bears primary responsibility for education, conservation, regulation and efficient use of our nation's energy resources, including federal energy management, building codes, appliance standards and the Energy Star program, among others.
Featured Product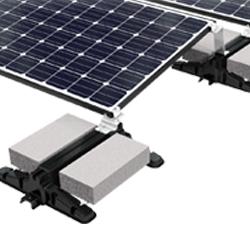 The Power Rail™ Commercial Mounting System is designed with the professional PV solar installer in mind. Both the XD/UD and LD/MD rails feature single tool assembly with the revolutionary patented RAD™ Lock-in-Place bolt for fast and secure module clamping. The high strength marine-grade aluminum rails include an integral wiring channel for securing cables and providing a professional finish.