First Formal Endorsement of the Policy in the USA
(Sacramento, Calif.) In a dramatic about face from previous policy, the California Energy Commission is expected Wednesday to recommend that the state adopt feed-in tariffs to spur renewable energy development.

The recommendation is contained within the Energy Commission's 2007 Integrated Energy Policy Report. The Energy Commission is expected to approve the report December 5 at its regularly-scheduled meeting.
The 300-page report concludes in part that the state's current programs have failed to deliver significant amounts of new renewable generation and California will not meet its renewable energy objectives unless corrective action is taken soon.
Feed-in tariffs are widely used in Europe, notably in Germany, France, and Spain.
Renewable sources of energy now supply nearly 12% of Germany's electricity, much of which was installed as a result of the country's groundbreaking Renewable Energy Sources Act or feed-in law.
Under the German program, renewable energy producers are paid a fixed-price for feeding their electricity into the grid. This has led to a boom in the construction of wind turbines, rooftop solar systems, and on-farm biogas plants.
Feed-in tariffs "turn homes, farms, and businesses into entrepreneurs who will accelerate our path to clean energy," says Terry Tamminen about the Energy Commission's recommendation. Tamminen is a former Secretary of the California Environmental Protection Agency and was the Chief Policy Advisor to Governor Arnold Schwarzenegger.
The Energy Commission's policy reversal follows the poor results from several years of unfulfilled expectations for renewable energy development in California. Since current state policies were implemented, only 242 MW of renewable energy has been developed.
In 2006 alone, German farmers installed 300 MW of solar photovoltaics on barn roofs. German homeowners installed an equal amount. Altogether, Germans installed 4,000 MW of new renewables last year.
In contrast, California installed about 200 MW of wind energy in 2006, and 60 MW of solar photovoltaics.
The Energy Commission report concludes that at the current pace the state will not meet its target of 33% renewables by 2020. "To scale the program toward reaching the 33% goal," says the report, "California must move to a new system, such as the expanded use of feed-in tariffs."
The report recommends immediate adoption of feed-in tariffs for renewable energy projects of less than 20 MW, and that the Energy Commission and the California Public Utility Commission collaborate on a study of feed-in tariffs for larger projects.
"We have no time to lose if California is going to meet its renewable energy goals. The Energy Commission has called for a dramatic change in direction. The Sierra Club supports their call for feed-in tariffs. This policy has been remarkably successful elsewhere. It's being used in Ontario, Canada and Michigan is considering it as well. We need this kind of policy leadership in California too," says Carl Zichella, the Sierra Club's regional field director for California, Nevada and Hawaii.
Background
The California Energy Commission is required by statute to issue a report every two years on the state's energy supply.
Further information on the Energy Commission's 2007 Integrated Energy Policy Report can be found at http://www.energy.ca.gov/2007_energypolicy/index.html. The full report can be downloaded at http://www.energy.ca.gov/2007publications/CEC-100-2007-008/CEC-100-2007-008-CTF.PDF .
The Energy Commission's 2007 report follows suggestions in its 2006 Integrated Energy Policy Report Update where feed-in tariffs were first discussed. This report can be downloaded at http://www.energy.ca.gov/2006publications/CEC-100-2006-001/CEC-100-2006-001-CMF.PDF .
California's Renewable Portfolio Standard, the state's current program intended to develop renewable energy, was passed as SB 1078 in 2002. SB1078 set a target of 20% renewables by 2017. Though thousands of megawatts of new renewable generation has been contracted in the five years since the program was launched, only 242 MW has actually been built.
In 2005, Governor Schwarzenegger and the state's Public Utility Commission endorsed the Energy Commission's enhanced target of 33% renewables by 2020.
No state or province in North America has implemented a full system of feed-in tariffs like those used in Germany, France, Spain and a dozen other European countries.
In the spring of 2006, the province of Ontario, Canada introduced a stripped-down version of feed-in tariffs referred to as Standard Offer Contracts. The Ontario program has been called the most progressive renewable energy policy in North America in two decades. Currently, Ontario's program pays the highest tariffs (prices) for wind and solar energy on the continent.
In September, Michigan State Representative Kathleen Law introduced HB 5218 (2007) that calls for a full system of Advanced Renewable Tariffs modelled after those in Germany. HB 5218 (2007) would pay substantially more for solar energy and biogas generation than that in Ontario. Representative Law introduced HB 5218 (2007) to create new job opportunities in the state.
Germany's booming renewable energy industry has created 214,000 new jobs since the Renewable Energy Sources Act was introduced.
In October, British Columbia Premier Gordon Campbell's Technology Council recommended that the Canadian province adopt feed-in tariffs for new sources of renewable energy.
Wisconsin Governor Jim Doyle's global warming task force will soon begin seeking comments on a proposal that the Public Service Commission launch development of a policy for Advanced Renewable Tariffs in the state.
Worldwide, countries using policies of feed-in tariffs have installed more wind, solar, and biogas generation than countries using any other program.
For more information on feed-in tariffs, feed laws, or Advanced Renewable Tariffs, visit http://www.wind-works.org/articles/feed_laws.html.
Featured Product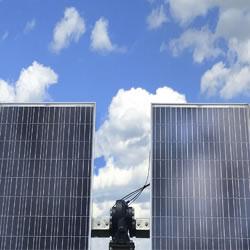 Solar FlexRack's latest solar tracker technology bundles an advanced tracker design with a full team of seasoned engineering and installation experts at your service. The next-generation solar tracker delivers a package of features that both enable increased energy yields for commercial and utility-scale solar installations, and significantly reduce project risks. That translates to smart installation cost-savings across your project budget.