ODYNE CORP. RECEIVES PURCHASE ORDER FOR TWENTY FIVE PLUG-IN HYBRID AERIAL LIFT TRUCK SYSTEMS
HAUPPAUGE, NY December 19, 2007 -- Odyne Corporation (OTCBB:ODYC), a leading developer of plug-in hybrid electric vehicle technologies, today announced it had received a purchase order for 25 plug-in hybrid electric vehicle systems from Dueco, Inc., one of the nation's largest utility equipment manufacturers.

The systems will be installed by Dueco, Inc., to power the first plug-in hybrid electric aerial lift trucks, "bucket trucks," used by utility companies to maintain electric, telephone and cable lines.
Dueco, Inc. has been accepting orders for these vehicles since the launch of this new technology at the ICUEE trade show in October.
Odyne and Dueco have developed the plug-in hybrid electric vehicle (PHEV) propulsion system that uses low cost, domestically produced energy from the nation's electric grid to off-set fuel consumption and reduce emissions. The new aerial trucks can recharge at off-peak hours using low cost electricity from the nation's electric grid. The system can also maintain charge or be recharged at any point with the conventional diesel engine while driving or stationary.
The system will provide the fuel efficiency and emission enhancements, typical of a hybrid vehicle, while the truck is traveling to and from the work site. While at the work site, the Odyne Stored Energy System will power all of the necessary job-site related equipment directly, including the aerial lift device, air conditioning and heating, with the engine off.
Odyne and Dueco estimate that the vehicles will reduce fuel consumption by approximately 6-10 gallons per day, eliminate on-site engine emissions, as well as eliminate on-site noise.
"Since the introduction of the Dueco-Odyne hybrid vehicle, the response has been very positive," says Odyne CEO Alan Tannenbaum. "Utility companies particularly value the opportunity to utilize their own low-cost, off-peak grid power to charge the vehicles overnight, while creating a safer and healthier environment for their employees and the community."
"We estimate that nationwide, there are more than 30,000 aerial lift trucks in operation," explains Joe Dalum, Vice President of Dueco, Inc.
"We believe this is an excellent application for our advanced PHEV technology and that the utility industry and municipalities are eager to upgrade their fleets in order to respond to higher fuel costs and transition to more environmentally friendly vehicles."
"We believe that the utility industry and municipalities are particularly enthusiastic about using the large on-board battery system to store electrical power that is generated from renewable energy sources and other sources with very low greenhouse gas emissions during the night," said Mr. Dalum. "The clean energy is then used during the day, instead of running the engine - effectively displacing the use of petroleum with cleaner electricity."
About DUECO Inc.
DUECO, the largest privately owned final stage manufacturer of Terex Utilities and Hi-Ranger products in the country, is a family company with over 50 years of experience in the sale and service of aerial devices, digger derricks, cranes and other equipment. The company also provides its customers with conductor handling equipment, pullers and tensioners, trailers, excavators, loader backhoes, and wheel loaders. Committed to customer satisfaction, DUECO is the source for electric utility, telecommunications, contractor, electric cooperative, municipality, railroad and tree care needs in a 14-state region that reaches from the Midwest to the East Coast. Visit www.Dueco.com for more information.
About Odyne Corporation
Odyne Corporation is a clean technology company that develops and manufactures propulsion systems for buses, trucks and other hybrid electric vehicles. The company has developed a proprietary system combining electric power conversion, power control and energy storage technology, with standard electric motors, storage batteries and other off the shelf components to create a lower fuel cost, lower operation and maintenance cost, substantially lower emission and quieter vehicle. Visit www.odyne.com for more information.
# # #
Forward-Looking Statements
This press release contains certain "forward-looking statements" related to the business of Odyne which can be identified by the use of forward-looking terminology such as "believes," "expects" or similar expressions. Such forward looking statements involve known and unknown risks and uncertainties, including uncertainties relating to product development and commercialization, regulatory actions or delays, the ability to obtain or maintain patent and other proprietary intellectual property protection, market acceptance, future capital requirements, competition in general and other factors that may cause actual results to be materially different from those described herein as anticipated, believed, estimated or expected. Certain of these risks and uncertainties are or will be described in greater detail in our public filings with the U.S. Securities and Exchange Commission. Odyne is under no obligation to (and expressly disclaims any such obligation to) update or alter its forward-looking statements whether as a result of new information, future events or otherwise.
* * *
Featured Product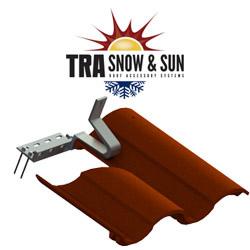 You haven't installed a tile mount that is easier to install than the Solar Tile Mount manufactured by TRA Snow and Sun. Solar Tile Mount is used on all tile roof profiles: flat, mid, and high. It is made in the USA of aluminum alloy for strength and excellent corrosion resistance. Solar Tile Mount is built to allow more ease in installation with more rise from the tile surface to the rail for better air flow below panels. The adjustable base is longer than most allowing attachment 6" to the left or right to have the bracket in the base of the pan of the tile and still fasten to the rafter. Solar Tile Mount is adjustable for counter batten systems from ¾" to 3". The horizontal rail is directly above base fasteners giving greater uplift resistance than any other system. For superior waterproofing apply TRA Snow and Sun's butyl backed VersaFlash aluminum flashing. No tile flashing is needed on top of the tile for greater labor and material cost savings.