2008 Sunsei Panels To become Lighter and Deliver 25% more Power
ICP Solar Signs Supply Agreement with SCHOTT Solar Gmbh

2008 Sunsei® Panels To become Lighter and Deliver 25% more Power
Press Release from ICP Solar Technologies
jan 28,2008 Montreal Quebec Canada
Montreal, Canada, January 28, 2008 - ICP Solar Technologies Inc. (OTCBB: ICPR, FRANKFURT: K1U.F), a developer, manufacturer and marketer of solar products, announced today it has signed a multi-year agreement with SCHOTT Solar GmbH to use SCHOTT Solar's thin film technology plates starting with the 2008 edition of its Sunsei® Product line. Headquartered in Alzenau, Germany, SCHOTT Solar GmbH is a leading manufacturer of wafers, cells and modules for photovoltaic generation of energy.
"Uniting the SCHOTT Solar thin film plate technology with our non-glass backed modules, which ICP Solar is pioneering for the recreational off-grid market, makes our panels lighter and more powerful," said ICP Solar CEO and Chairman, Sass Peress. "As part of our strategy, we are continually trying to secure the best suppliers and components in order to create best-in-class consumer solar products. This agreement, with one of the largest thin-film makers in the world, comes on the heels of other such agreements which secure supply for our growing customer base."
"We are constantly in touch with our customers and they are demanding more features and portability from our products," said Laurent Lafite, Vice President Marketing and Global Strategy. "The addition of these plates, which contain no toxic materials, now allows us to make our 2008 Sunsei products better for the environment and SCHOTT's thin film technology makes them lighter and more durable while at the same time delivering 25% more power. Reducing the weight of our panels also helps to improve the carbon footprint of customers who are installing them on RVs and boats, as well as reducing freight costs for our trade partners."
About ICP Solar Technologies, Inc.
ICP Solar is a developer, manufacturer and marketer of solar cells and solar cell based products and building materials. Through the application of next-generation technologies and use of proprietary intellectual design the Company aims to be the industry's innovation leader. For the past 19 years, ICP Solar has led the consumer market through innovation and has now begun to apply that same philosophy to the OEM, rooftop and power generation segment of the solar industry .ICP Solar's management has over 50 years of experience in the renewable energy sector. The company's headquarters are located in Montreal, Canada, with additional locations in the USA, Spain, Ireland and France.
Corporate information may be found at www.icpsolar.com
About SCHOTT Solar GmbH :
SCHOTT Solar GmbH is a leading manufacturer of wafers, cells and modules for photovoltaic generation of energy. Combining innovation and quality, SCHOTT Solar GmbH effectively utilizes the potential of the sun as an inexhaustible source of energy. The company, headquartered in Alzenau in Bavaria, employs a staff of around 900 worldwide.
Corporate information maybe found at www.schott.com
The forward-looking statements herein include, but are not limited to, the expected expansion of our solar solutions into Europe Middle East, Asia and Africa. Our actual results may differ materially from those implied in these forward-looking statements as a result of many factors, including, but not limited to, overall industry environment, customer acceptance of our products, delay in the introduction of new products, further approvals of regulatory authorities, adverse court rulings, production and/or quality control problems, the denial, suspension or revocation of permits or licenses by regulatory or governmental authorities, termination or non-renewal of customer contracts, competitive pressures and general economic conditions, and our financial condition. These and other risks and uncertainties are described in more detail in our most recent SB-2 filing with the Securities and Exchange Commission. Forward-looking statements speak only as of the date they are made. We undertake no obligation to update or revise such statements to reflect new circumstances or unanticipated events as they occur, except as required by applicable laws, and you are urged to review and consider disclosures that we make in the reports that we file with the Securities and Exchange Commission that discuss other factors germane to our business.
Contact:
ICP Solar Technologies Inc.
Laurent Lafite, 514-270-5770 Ext. 120
Llafite@icpsolar.com
or
Lippert/Heilshorn & Associates
Jody Burfening/Elric Martinez, 212-838-3777
emartinez@lhai.com
Featured Product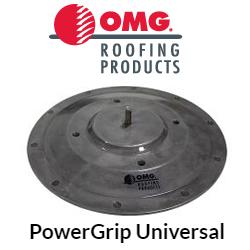 PowerGrip Plus Roof Mount System, a watertight structural attachment system used to secure ballasted solar racks and other equipment to roofs covered with thermoplastic (TPO and PVC) membranes. PowerGrip Plus is designed with wind performance in mind and offers ultimate tensile strength of 2,000 lbf. and ultimate shear strength of 1,075 lbf. Properly installed PowerGrip Plus units reduce rack movement and remaining watertight. PowerGrip Plus units are easy to install, saving both time and labor when compared to alternative options. A wide membrane skirt promotes easy welding in place, and the 15/8 diameter and 1/2 inch tall mount provides an optimal perch for securing brackets or struts. The exposed 1 inch tall and 3/8 inch diameter bolt and mounting stand are made from corrosion-resistant stainless steel and aluminum alloy for superior long-term performance.