OPEL International Inc., a manufacturer of state-of-the-art concentrating photovolatic solar products designed to convert solar energy into electricity announced the appointment of Dr. Javier Berrios as Vice President of Engineering.
NEWS RELEASE

OPEL International Appoints Dr. Javier Berrios as Vice President of Engineering
Toronto, ON, February 4, 2008 - OPEL International Inc. (TSXV: OPL), a manufacturer of state-of-the-art concentrating photovoltaic solar products designed to convert solar energy into electricity, today announced the appointment of Dr. Javier Berrios as Vice President of Engineering.
In commenting on the appointment, Bob Pico, OPEL's Chief Executive Officer said: « We are excited to have Javier's broad experience in developing and managing high tech projects and feel it will add greatly to the capabilities of our management team. His proven track record in successful startup environments will also be invaluable to the continued growth and success of our company. »
Dr. Berrios comes to OPEL International following two years as co-founder and Vice President of Engineering of Tego, Inc., a startup designer of next generation Radio Frequency Identification (RFID) UHF passive tags. Prior to his work at Tego, Inc., Dr. Berrios spent ten years at TranSwitch Corporation (Nasdaq-TXCC) a provider of high-speed semiconductors for voice, data and video communications, concentrating on product delivery, and engineering project management in the field of digital communications.
From 1997 to 1999, Dr. Berrios worked at PairGain Technologies (Nasdaq-PAIR) developing a Digital Subscriber Line Access Multiplexer (DSLAM) system. He earned a technology excellence award for the successful in-time implementation of a fast CellBus switching fabric that was the backbone for an ATM-based ADSL/HDSL multi-service system for central offices. Dr. Berrios received his BSEE from La Salle Bonanova (Spain), and his MSEE and PhD EE from Union College and Worcester Polytechnic Institute, respectively.
About OPEL
OPEL's operations are headquartered in Shelton, CT. Its products are based on technology developed in cooperation with the University of Connecticut (Storrs, CT) and the Canadian National Research Centre (Ottawa, ON). A leader in gallium arsenide and solar photovoltaic technology, the Company has been awarded 21 patents and has 25 more patents pending.
OPEL designs, manufactures and markets innovative, state-of-the-art solar technology products designed to convert solar energy into electricity - at the least possible cost and greatest efficiency. A public company, OPEL trades on the TSX Venture Exchange under the symbol "OPL". For more information about OPEL, please visit the Company's website at www.opelinc.com.
Dated: February 4, 2008
ON BEHALF OF THE BOARD OF DIRECTORS
Michel Lafrance, Secretary
For inquiries please contact:
Bill Blase or Cathy Loos Michael C. McCoy, C.F.O
W.T. Blase & Associates, Inc. Tel: 203-612-2366 ext 2229
Tel: 212-221-1079 Fax: 203-944-0800 or 416-861-0749
Email: info@wtblase.com Email: m.mccoy@opelinc.com
The TSXV has not reviewed and does not accept responsibility for the adequacy or accuracy of this release.
Investors are cautioned that except for statements of historical facts, certain statements contained in this news release may include forward-looking information with respect to the Company. Such forward-looking statements or information are based on current expectations, estimates and projections formulated using assumptions currently believed to be reasonable and involving a number of risks and uncertainties which could cause actual results to differ materially from those anticipated. The Company does not undertake any obligation to update publicly or revise any forward-looking statements or information, whether as a result of new information, future events or otherwise, unless so required by applicable securities laws.
This news release does not constitute an offer to sell or a solicitation of an offer to buy securities in the United States. The Company's securities have not been and will not be registered under the United States Securities Act of 1933, as amended or any state securities laws and may not be offered or sold within the United States or to any U.S. Person unless registered under the U.S. Securities Act and applicable state securities laws or an exemption from such registration is available.
NOT FOR DISTRIBUTION TO U.S. NEWS WIRE SERVICES OR FOR DISSEMINATION IN THE U.S.
Featured Product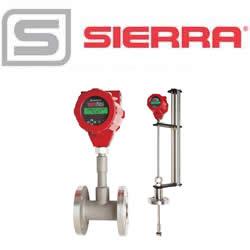 Sierra was the first to introduce a combination volumetric vortex and multivariable mass flow meter in 1997. Today, Sierra's completely redesigned InnovaMass® iSeriesā"¢ 240i/241i builds on two decades of success measuring five process variables for gas, liquid and steam with one connection. Now, with the latest hyper-fast microprocessors, robust software applications, field diagnostic and adjustment capability, and a new state-of-the-art flow calibration facility, Sierra's vortex iSeries delivers precision, performance, and application flexibility never before possible.