Executives from SCHOTT AG of Mainz, Germany (SCHOTT), Governor Bill Richardson (D - NM) and local dignitaries ceremonially broke ground today for the company's new manufacturing facility for SCHOTT Solar, Inc., a wholly owned subsidiary of SCHOTT.
March 3, 2008 (Albuquerque, N.M.) - Executives from SCHOTT AG of Mainz, Germany (SCHOTT), Governor Bill Richardson (D - NM) and local dignitaries ceremonially broke ground today for the company's new manufacturing facility for SCHOTT Solar, Inc., a wholly owned subsidiary of SCHOTT. The site, located in the Mesa del Sol region of Albuquerque, NM, will produce both photovoltaic (PV) modules and receivers for concentrated solar thermal power plants (CSP). Production is expected to begin as early as spring 2009.

Initially, the company will construct a 200,000 square-foot facility, which will employ 350 people. SCHOTT Solar will invest approximately $100 million to start production in New Mexico.
Anticipating the need to increase production of its solar power technologies as the market for renewable energy in the US grows, the new site is designed to support expansion of both its photovoltaic module and solar receiver lines. Long term plans call for the building to expand to 800,000 square feet with employment reaching 1,500 people, representing a total investment of $500 million.
"Today is an extremely proud day for SCHOTT," said Dr. Udo Ungeheuer, Chairman of SCHOTT's Board of Management. "With the groundbreaking in New Mexico, SCHOTT is further demonstrating the company's position as a global leader in solar technology and our ongoing commitment to developing the North American market through strategic investment."
"Recently I announced that SCHOTT Solar was coming to New Mexico and would build a new $500 million-dollar facility to Mesa Del Sol," said Governor Richardson. "Just weeks later - I am pleased to say - SCHOTT Solar has officially broken ground on their new solar manufacturing facility. SCHOTT is one of the largest, most prestigious solar companies in the world and I am honored to welcome them to New Mexico."
High Quality Jobs with an Employer of Choice
SCHOTT Solar has already begun the hiring process for the Albuquerque facility with staffing of human resources positions. In the next phase, the company will begin hiring experienced engineers and managers. Starting this summer, CSP receiver and PV manufacturing line positions will begin to be filled.
Job vacancies will be posted on the company's website and advertised in the local media. The company is working with the New Mexico and Albuquerque Economic Development Departments to develop a training and recruitment program.
"SCHOTT Solar is committed to creating stable jobs with competitive pay and benefits for Albuquerque," said Mark Finocchario, President and CEO of SCHOTT Solar, Inc. "Our mission is to become an employer of choice within the region."
A Timeline for Ambitious Growth
At the groundbreaking, SCHOTT Solar unveiled the ambitious timeline for the opening of the facility, which sits on 80 acres of land. Currently, the site is being graded and prepared for construction. Immediately following the completion of the permitting and approval process, the physical structure will start to be erected. The building is scheduled to be completed at the end of
the summer. From there, installation of the manufacturing equipment will take place and the interior will be prepped.
In March 2009, the first receiver, a critical component for concentrated solar power plants is expected to be available for sale. The PTR-70 receivers represent the latest in technological advancements for the surging CSP industry. The receiver contains an outer "envelope" glass tube which has an anti-reflective coating. Inside, in an evacuated, sealed environment, is a steel tube covered by an absorptive coating. It is inside this steel tube that a heat transfer fluid (HTF) flows when heated by the sun. This fluid, when heated by the sun, is then used to turn water into steam, which drives a turbine, generating electricity.
In April 2009, the first photovoltaic panel manufactured for sale is scheduled to roll off the production line. The 220-watt single-pane PV panel will be similar to products produced at the company's European manufacturing facilities. The Albuquerque site will have an initial annual production capacity of 64MW of PV panels. Additional PV manufacturing lines will be added to the facility to meet market demand.
Initially, the 190,000 square-foot facility will have 175,000 square feet allocated to production and 15,000 square feet of office space. The receiver line will occupy nearly double the space of the PV line (115,000 / 60,000 respectively). Future growth at the facility is planned by SCHOTT Solar, which will bring total employment up to 1,500, and SCHOTT's total investment to approximately $500M.
High resolution photographs of both photovoltaic and solar thermal installations, products, and manufacturing can be downloaded to accompany this release at www.schott-pictures.net. Video of CSP and PV technology can be accessed via www.schott-video.com.
About SCHOTT
SCHOTT is a technology-driven, international group that sees its core purpose as the lasting improvement of living and working conditions through special materials and high-tech solutions. Its main areas of focus are the household appliance industry, pharmaceutical packaging, optics and opto-electronics, information technology, consumer electronics, lighting, automotive engineering and solar energy.
SCHOTT has a presence in close proximity to its customers through highly efficient production and sales companies in all of its major markets. The company has approximately 17,000 employees producing worldwide sales of approximately $3 billion. In North America, SCHOTT's holding company SCHOTT Corporation and its subsidiary SCHOTT North America, Inc. and their affiliates employ about 2,500 people in 10 production operations.
The company's technological and economic expertise is closely linked with its social and ecological responsibilities.
Press Contact:
Brian Lynch
SCHOTT North America, Inc.
P: (914) 831-2287
C: (914) 356-7785
brian.lynch@us.schott.com
Background information about the products being produced at the site
CSP: The PTR-70 receivers that will be produced at SCHOTT's facility are advanced, specially coated absorber tubes embedded in evacuated glass envelopes. These receivers will be used in Concentrated Solar Power (CSP) plants. In these utility-scale power plants, hundreds of trough-shaped parabolic mirrors are continuously adjusted to face the sun. These parabolic mirrors concentrate the sun's thermal energy onto SCHOTT's receivers, located along the mirrors' focal points.
The concentrated solar radiation increases the temperature of the thermo-oil Heat Transfer Fluid (HTF), flowing through SCHOTT's receivers, to approximately 750° F. This super-hot fluid is then used to turn water into steam, which drives a turbine, generating electricity. The capacity of these power plants is generally over 50MW, which allows them to produce enough electricity to meet the energy needs of thousands of homes.
PV: Photovoltaic (PV) power is a term used to describe the process of converting sunlight into electricity with solar cells. These cells are specially constructed from semiconductor materials and are treated to generate a flow of electricity when sunlight shines on them.
Solar cells are solid-state devices in which photons (or packets of light) collide with atoms. This process transforms the resulting energy into electrons. These electrons flow into wires connected to the cell, thus providing electric current to appliances, lighting systems or other electrical loads. All of the power produced by the cell comes directly from the sun.
Solar modules (also commonly referred to as solar panels) are series of solar cells, wired together and enclosed in self-contained glass units to protect them from the environment.
Featured Product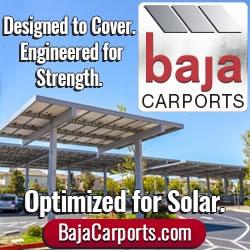 Baja Carports offers an extensive solar support system product line customized to customers' site specifications by in-house engineers, meeting their parking lot coverage, plus optimal PV production needs. Baja's Full Cantilever Tee is often paired with its Semi and Full Cantilever carports to meet live/loads up to 60psf and wind speeds to 160mph. All Baja products are pre-fabricated, bolted connections, pre-galvanized structural steel for fast on-site installation and project aesthetic requirements."