Energy efficient tote heaters, used in thinning viscose substances in the chemical storage industry, could save businesses millions of dollars on a yearly basis in addition to having a positive effect in protecting the environment,
USA, 29 February 2008, ( Earthytoys ) - Energy efficient tote heaters could save the chemical storage industry millions of dollars every year, according to a study compiled by niche heater retailer HeatingYourTanks.com, whilst also proving a more environmentally friendly choice for businesses of all sizes.

The report alleged that simply by changing existing heaters to more energy efficient models, individual businesses could in fact save money year on year on their energy costs, without having any substantial initial outlay whilst also generating a positive public relations effect from using more energy efficient units.
The USA based heating supplies retailer, which specialise in a range of industrial heaters and heating products, have suggested that through switching to energy efficient heaters en masse, the industry could save literally millions every year. Furthermore, with the growing awareness of environmental issues and individual carbon footprints there is also a tangible marketing benefit to be derived from the use of more environmentally-friendly appliances.
Kirk Rogers of
HeatingYourTanks.com
said that whilst the industry has been slow to recognise the benefits of switching to more efficient heaters, there is still much scope for realising savings on an annual basis for businesses of all sizes across the sector.
"Businesses of all sizes within the chemical storage industry rely on tote heaters to thin thick liquids and protect volatile chemicals in extreme weather conditions. As a result, there is a knock on effect on energy costs, which could be dramatically reduced with a simple switchover to a more energy efficient heater not to mention the environmental benefits of using less energy. Replicated across the entire industry, this could literally save millions year on year."
"Many of the major players in the industry have been slow to figure the benefits of switching their heaters, and smaller businesses are certainly leading the way. Fortunately, it seems like only a matter of time before the industry as a whole changes to more energy efficient models for both the environmental and direct financial benefits of doing so."
Chemical storage businesses are required to use tote heater to protect chemicals during the winter months whilst thinning viscose substances. Improving energy efficiency can give rise to both cost savings and environmental benefits from using less electricity, which could have a positive financial impact on both large and small businesses within the chemical storage industry.
About:
HeatingYourTanks.com
is an online specialist heater retailer, specialising in tote heaters for the chemical storage industry during the winter months and in thinning viscose liquids. Based in USA, HeatingYourTanks.com are recognised at the forefront of the mobile heating industry, and have made impressive strides towards promoting the use of energy efficient units throughout the chemical storage industry.
Contact:
Kirk Rogers
Web Business Secrets LLC
676A 9th Avenue
NY,10036
sales@heatingyourtanks.com
Phone: 702-508-4427
###
Featured Product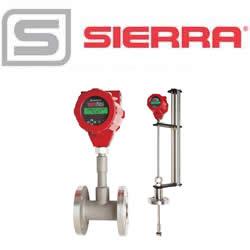 Sierra was the first to introduce a combination volumetric vortex and multivariable mass flow meter in 1997. Today, Sierra's completely redesigned InnovaMass® iSeries™ 240i/241i builds on two decades of success measuring five process variables for gas, liquid and steam with one connection. Now, with the latest hyper-fast microprocessors, robust software applications, field diagnostic and adjustment capability, and a new state-of-the-art flow calibration facility, Sierra's vortex iSeries delivers precision, performance, and application flexibility never before possible.