CEO of XsunX, Inc. Provides Comparison of Amorphous Silicon with Silicon Wafer Technology
POINT ROBERTS, WA and DELTA, BC—March 11, 2008 -- www.RenewableEnergyStocks.com,

a leading investor news and research portal for the renewable energy sector within Investorideas.com, presents a sector close-up audio interview on solar stocks with
Tom Djokovich, CEO of XsunX, Inc. (OTCBB: XSNX).
Mr. Djokovich provides valuable solar technology insight with his comparison of their amorphous silicon with conventional silicon wafer technology. He stated, "Amorphous silicon has certain properties that make it a better solar absorber than silicon wafer. The bottom line is that on a watt per watt basis, it outperforms many other technologies, specifically silicon wafer because it starts working earlier in the morning, works later into the evening, is more efficient in cloud cover and at the same time has minimal thermal degradation during the warmest parts of the day."
Mr. Djokovich goes on to discuss XsunX's phased roll out of production capacity, growing manufacturing capacities to over 100 megawatts by 2010 and what that means for investor's patient enough to wait it out. He also provides an update on the current status of the production facility and insight into the company's target markets and competitive strengths in the solar industry.
To hear full audio interview click here:
http://s3.amazonaws.com/static.investorideas.com/podcasts/2008/030408b.mp3
* All interview content is based on previously disclosed public information in SEC filings and press releases.
XsunX, Inc.(OTCBB:XSNX) will also be presenting in the upcoming Investorideas.com online Greentech investor conference, March 20, 2008, giving investors free online access to industry and investing perspective in the green and renewable sector.
Featured Showcase Solar Company XsunX (OTCBB: XSNX): Based in Aliso Viejo, Calif., XsunX is developing amorphous silicon thin film photovoltaic (TFPV) solar cell manufacturing processes to produce TFPV solar modules. To deliver its products the Company has begun to build a multi- megawatt TFPV solar module production facility in the United States to meet the growing demand for solar cell products used in large scale commercial projects, utility power fields, and other on-grid applications. Employing a phased roll out of production capacity, it plans to grow manufacturing capacities to over 100 megawatts by 2010. More info on XsunX, Inc. can be found on our media profile at: http://www.investorideas.com/co/xsnx/default.asp or http://www.xsunx.com/
About Our Green Investor Portals:
www.RenewableEnergyStocks.com® is one of several green investor portals within Investorideas.com and provides investors with stock news, exclusive articles and financial columnists, audio interviews, investor conferences, Blogs, and a directory of stocks within the renewable energy, clean tech and fuel cell sectors.
Disclaimer: Our sites do not make recommendations. Nothing on our sites should be construed as an offer or solicitation to buy or sell products or securities. We attempt to research thoroughly, but we offer no guarantees as to the accuracy of information presented. All Information relating to featured companies is sourced from public documents and/ or the company and is not the opinion of our web sites. This site is currently compensated by featured companies, news submissions and online advertising. XsunX compensate the website $5000 per month.
www.InvestorIdeas.com/About/Disclaimer.asp
For more information contact:
Dawn Van Zant 800.665.0411
Email: dvanzant@investorideas.com,
Source: RenewableEnergyStocks.com, XsunX
Featured Product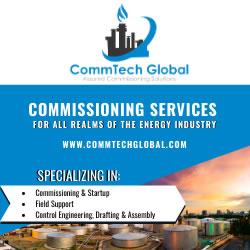 CommTech Global Solutions, LLC, provides professional and reliable commissioning services to customers in all realms of the energy industry. We blend our skills in engineering and technology with innovative business models, offering a complete range of services to assist you for a successful and in compliance operational startup. Consolidation of all our service domains gives our clients a comprehensive set of expertise and far-reaching experience on each project.