Monitis Inc., a leading provider of web applications, systems and network monitoring and analytics service, announces upgrade of its systems monitoring service. The new launch is in line with Monitis strategy to serve as one-stop monitoring destination for IT and business users.
Network, systems and application monitoring are essential utilities to insure high website ROI. While external monitoring measures web user experience, internal monitoring ensures proactive problem fixing for better end-user experience. Poor web availability may significantly impact web generated profit, company reputation and its operations. Monitoring as a Service offers significant advantages over in-house monitoring software, such as no installations, no license fees, no support personnel, no dedicated servers, access from anywhere, support for distributed infrastructure like regional offices and dispersed data centers.

Internal or systems monitoring is one of Monitis monitoring products for visualizing Windows and Linux (Sun support will be available soon) servers resource utilization and performance metrics, such as CPU and processes. Beside other improvements, the latest release of the Windows agent can run as a Windows service (one of the most demanded feature). Linux agent was also enhanced to collect additional server metrics such as caches and buffered memory metrics. Combined with external performance metrics, systems monitoring captures systems performance bottlenecks, for example how low memory or high CPU utilization affect web site response time. The upgrade of the feature will be done automatically for existing users.
"Monitis personal dashboard provides performance metrics important both for IT and businesses users", says Hovhannes Avoyan, Monitis CEO and Founder "Different user roles within enterprise will find critical information for better decisions making and improving operations efficiency. It appears to be a unique service mix at the market"
Monitis will have series of new announcements next weeks.
About Monitis
Monitis is a leading provider of complete web monitoring and analytics. Companies use Monitis website performance monitoring to gain competitive advantage through efficient business execution, quality user experience and nonstop operations. Monitis checks and measures website performance metrics from global and local perspectives twenty four hours a day seven days a week. The company serves more than 20,000 users and monitors more than 75,000 sites and devices.
Contact: Gayane Dallakyan, Sales and Marketing
Email: gdallakyan@monitis.com, Phone: 1-408 512 3921
Web: http://mon.itor.us Mon.itor.Us - Free Website Monitoring and Visitor tracking
Web: http://monitis.com - Monitis - Professional website performance management
Featured Product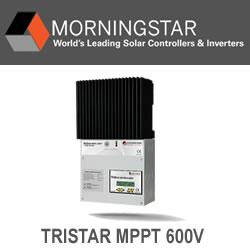 Morningstar's TriStar MPPT 600V charge controller leverages Morningstar's innovative TrakStar™ MPPT technology and our 20+ years of power electronics engineering excellence, to enable the widest input operating voltage range available from a solar array, wind turbine or hydro input. This controller's standard and DB versions are for off-grid applications, and the TR versions were developed to enable retrofitting grid-tied systems with battery backup.