In this newly created position at CSG, Moreland will oversee the development and implementation of residential energy effficiency programs throughout the City.
FOR IMMEDIATE RELEASE

CONSERVATION SERVICES GROUP NAMES TERRYL
MORELAND NEW YORK CITY DIRECTOR
WESTBOROUGH, Mass., April 25, 2008 -- Conservation Services Group (CSG) today announced Terryl A. Moreland as New York City director of residential utility programs, according to Mark Dyen, senior vice president. In this newly created position, Moreland is responsible for the operation of CSG's local residential energy efficiency programs, from design and planning, to day-to-day implementation.
Moreland comes to CSG after 14 years with the New York Power Authority (NYPA), most recently as marketing consultant and attorney. In this capacity, Moreland was involved with the development of energy policy related to several areas including utility rates, energy conservation, demand side and peak load management as well as renewable energy, utility mergers and tax issues. During this time, he also served as project manager for two statewide programs, Power to Schools and Power for Jobs, working with other state agencies, utilities, energy service companies, schools and other NYPA departments. Moreland served on the corporate restructuring committee, was chairman of the Employee Recognition Committee and a member of the Speaker's Bureau. Moreland joined NYPA as an account executive in 1994. In this position, he managed NYPA's relationship with New York City, the New York City Housing Authority, the Jacob Javits Center and 20 towns, villages and government offices in Westchester County. As account executive, Moreland also recommended and helped implement energy efficiency measures for the New York Housing Authority.
Before joining NYPA, Moreland was an attorney with Kaye, Scholer, Fierman & Handler in Manhattan. Prior to that, he spent five years as a staff lawyer for the New York City Energy and Telecommunications Office.
Dyen said, "Terryl's unique blend of legal expertise, in-depth knowledge of the energy industry and residential program development greatly enhances the collective talent of our staff. His experience also adds significant value for our customers as we expand CSG's services in New York City."
Moreland received a B.A. from Indiana University and a J.D. from the University of Dayton School of Law in Dayton, Ohio, where he was a John H. Hook scholar. Moreland also holds a master's degree in governmental administration with an emphasis on energy policy from the University of Pennsylvania. He is a member of the Bar Association in Pennsylvania and New York and lives in Harlem.
Conservation Services Group is a national energy services firm based in Westborough, Mass. Founded in 1984, the company provides energy saving strategies, products, services and technologies to consumers and businesses nationwide. For more information visit www.csgrp.com.
Featured Product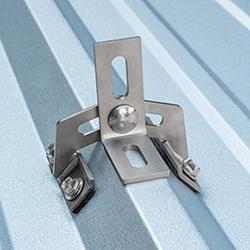 QuickBOLT Low Profile QuickBOLT with Microflashing™ is the industry's affordable, UL Certified Asphalt Shingle mounting system. The Microflashing™ is compressed by the collar on the bolt to create a water-tight seal. With an installation time of less than one minute, the Low Profile QuickBOLT allows installers to complete more jobs.