82,000-Square-Foot Facility Designed to Handle Increased Demand for Solar Inverters
GRASS VALLEY, Calif., May 6, 2008—Global solar technology giant SMA Technologie AG, the parent company of SMA America, Inc., has broken ground on an 82,000-square-foot solar inverter manufacturing plant in Kassel, Germany. The largest of its kind on the planet, the new facility is designed to triple SMA's current production capacity to meet the global demand for its wildly popular solar inverters. It will support all manufacturing efforts for SMA America including production of the Sunny Boy 3000US/4000US and Sunny Boy 5000US/6000US/7000US inverters, created specifically for the American solar market. Construction is expected to wrap up in the fall.

"With this new facility, SMA Technologie AG is once again significantly optimizing its manufacturing processes," says Günther Cramer, CEO of SMA Technologie AG. "At the same time, the plant will set the new standard for the energy efficiency of industrial buildings."
The state-of-the-art manufacturing plant will feature an innovative carbon dioxide neutral energy concept. The energy needed for the production process will be supplied exclusively from renewable energy sources, including a building-integrated, 1.1-megawatt photovoltaic system and a regional biogas plant. The building itself will harvest electricity and heat from two gas-powered combined heat and power plants. An absorption refrigeration system will allow the waste heat from these plants to be used for cooling the facility in the summer and heating it during the winter. The plant also will feature natural ventilation systems, and natural and artificial lighting systems.
The new manufacturing plant is expected to create about 1,000 new jobs.
"We are very excited about the new manufacturing plant," says Jeffrey Philpott, marketing manager for SMA America. "The increased production capacity of the facility will help SMA America keep up with the enormous demand for its Sunny Boy line of inverters."
SMA's successful Sunny Boy line of inverters—which are renowned for their reliability and efficiency—has reached a total installed base of more than 750,000 units worldwide. Together, these Sunny Boy inverters are able to provide an astonishing aggregate of three billion watts (i.e., three gigawatts) of safe, usable, grid-quality power.
About SMA America, Inc.
SMA America, Inc. is a proud part of the worldwide SMA family of companies, with divisions in nine countries on four continents, boasting over 1,900 employees, and continuous double-digit growth. SMA America supports installers and small businesses in the solar industry through marketing and training assistance. Since 2000, SMA America has shown unfaltering commitment to the continued development and implementation of leading-edge products, including some of the most efficient solar inverters available nationwide. For more information, call (530) 273-4895 or visit www.sma-america.com.
# # #
Featured Product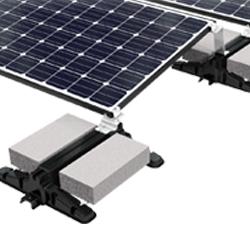 The Power Railâ"¢ Commercial Mounting System is designed with the professional PV solar installer in mind. Both the XD/UD and LD/MD rails feature single tool assembly with the revolutionary patented RADâ"¢ Lock-in-Place bolt for fast and secure module clamping. The high strength marine-grade aluminum rails include an integral wiring channel for securing cables and providing a professional finish.