Cities Taking Steps to Promote Solar Power with High-Visibility Demonstration Projects Overcoming tight time frames and stringent municipal requirements takes know-how and determination
Irvine, CA May 13, 2008

Green, clean energy is more than just a byword, lately. Over the space of just one month, Irvine-based EcoMotion managed the installation of two high-profile solar demonstration projects, one in Southern California and the other in Southern Florida.
Each project was the first of its kind. Each installation had unique challenges as far as its site was concerned. And each was being presented to national media at a pre-scheduled press event, which couldn't be postponed.
"These jobs were tough because of their public setting," said Ted Flanigan, President of EcoMotion, Irvine environmental consulting company tasked with managing the projects. "But these Cities are committed to being out in front in the race against greenhouse gas emissions and global warming. That makes the extra effort worthwhile - and the result that much more satisfying."
The City of Long Beach hosted the first installation - a row of stately "solar trees" that welcome visitors outside the baggage area at the historic Long Beach airport. The trees are actually one of Southern California's most advanced solar systems, featuring dual-axis trackers and bi-facial panels to capture as much of the southern California sun as possible.
The City of Miami hosted the second installation. Once again, a City elected to make a public statement about its commitment to clean energy. Instead of opting for a roof-top installation, hidden from public view, Miami City Hall - the former Pan Am Airship Terminal -- now sports a grove of pole-mounted photovoltaic arrays on its southern lawn - poles engineered to withstand 150 mph hurricane-force winds.
"Our first challenge was to come up with exciting projects that would visually represent the commitment of these cities," said Flanigan. "And then we had to find contractors able to acquire the specialized teams and equipment necessary to do the work."
In California, with less than two months until show time, EcoMotion found SunTrek Industries, able to guarantee delivery of the trackers. Work at the Long Beach Airport took place in a highly secure environment, with special noise and zoning restrictions, and all between 10 p.m. and 6 a.m. "Thanks to EcoMotion's interface with City and Airport officials," noted Roy Heine, CEO of SunTrek, "the installation was completed and energized by Southern California Edison the afternoon before the press event."
In Miami, the project was on a similarly demanding schedule. Again, EcoMotion recommended unique solar structures that would demonstrate the city's commitment to greening and to justify its honor as America's cleanest city. EcoMotion then found a local company able to manufacture, assemble and install them. From City Council approval to the arrival of the camera crews turned out to be only 15 days.
"There is a great climate for anything green in Miami," said Daniel Camacho, of Abender Electric, the company responsible for the solar grove as well as a significant lighting retrofit inside the City Hall building. "People stopped what they were doing to give us a hand - and EcoMotion handled the negotiations masterfully. We came to love this project!"
Budgets for both projects came from a private/public partnership developed by New York-based EcoMedia. Paul Polizzotto, EcoMedia's founder and Chief Executive Officer, asked Ted Flanigan of EcoMotion to sit on EcoMedia's board, and to help design cutting-edge projects that would meet its marketing and public relations goals. Flanigan devised a numeric scoring to gauge values for production, offsets, visibility, transformative, and press potential. This defined the projects. From there, EcoMotion was able to nail down project specifications, select and manage contractors, and assure successful completion.
"A lot of companies tell us they want to 'go green,' but they don't know what steps to take," said Flanigan. "EcoMotion's mission is to get the job done."
For more information contact:
Virginia Nicols at (949) 450-7153 or visit www.EcoMotion.us
Details of the installations
The greening of Miami City Hall involves a number of activities. The photovoltaic system - in "trees" that are approachable by the public -- is made up of 40, 180-watt Evergreen solar modules. Evergreen is a domestic solar module maker. The lighting retrofit includes T5 lighting for the Mayor's offices, consistent, high efficiency T8 lighting throughout the building, occupancy sensors, and high efficiency fluorescent exterior floodlamps. High efficiency dual flush toilets were installed within City Hall, and storm drain filters were also installed on the grounds. The next step for the City is a lighting retrofit at Bayfront Park.
The Long Beach Airport system is made up of six, pole-mounted "solar trees," each consisting of a 25-foot steel pole sunk 8 feet into the ground -- topped with six, 186-watt photovoltaic panels manufactured by Sanyo. The arrays are bolted to "dual-axis trackers" that guide the array to maximize solar gain, continuously shifting tilt and orientation to track the sun throughout the day. The panels are bi-facial, meaning that they collect light from above, and then also through light reflected from the pavement below.
Featured Product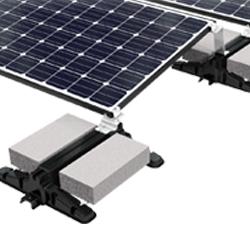 The Power Rail™ Commercial Mounting System is designed with the professional PV solar installer in mind. Both the XD/UD and LD/MD rails feature single tool assembly with the revolutionary patented RAD™ Lock-in-Place bolt for fast and secure module clamping. The high strength marine-grade aluminum rails include an integral wiring channel for securing cables and providing a professional finish.