Innovative Chargers, Metering Services, Carbon Credits and Sunsei.com Revamping Facilitate an Integrated Solar Lifestyle
Montreal, Canada, June 12, 2008 - ICP Solar Technologies Inc. (OTCBB: ICPR, FRANKFURT: K1U.F), a developer, manufacturer and marketer of solar panels and products, today announced that ICP Solar senior management, led by CEO and Chairman Sass Peress, will introduce the Company's new line of Sunsei® Solar products, services and website at Intersolar 2008, the world's largest solar technology trade fair being held in Munich, Germany June 12th through the 14th.

"The concept behind our 2008 Sunsei® line was to combine our consumer-centric development approach and state of the art solar technology," said Laurent Lafite, Vice President Marketing & Business Development. "Ultimately, solar should be fun, simple and accessible and we have always been committed to making products that drive market adoption by making it easier for consumers to join the solar revolution."
2008 Sunsei® solar chargers deliver 25% more power with "solarlicious" designs, plug and play features, and industry leading warranties. Vibrant cutting-edge packaging educates customers on each particular product's per year CO2 and monetary savings and color coding allows them to quickly identify the specific solar chargers they need in order upgrade their solar experience.
"In conjunction with the launch of the 2008 Sunsei® Line, we have revamped our sunsei.com website in order to better serve the growing demands of our customers. This has been achieved by enhancing the content and quality of the site in order to create an engaging and rewarding user experience. The new sunsei.com will include an Energy portal with monitoring services dedicated to industrial and home applications. When combined with our Sunsei® Greenmeter', it will allow users to manage their Greenmeter' data storage, keep track of their carbon credits all remotely and in real-time. This will further facilitate a customers' integration of solar into their lives and impact positively their wallet." added Laurent Lafite.
WHO: ICP Solar Technologies Inc.
WHAT: Launch of the 2008 Sunsei® product line and improved sunsei.com website
WHERE: 2008 InterSolar Munich. The world's largest solar technology trade fair
WHEN: June 12th through the 14th
WHY: ICP Solar launches new Sunsei® solar products and services
Sunsei® is a brand owned by ICP Solar Technologies, Inc. for more information log on to: www.sunsei.com
About ICP Solar Technologies, Inc:
ICP Solar is a developer, manufacturer and marketer of solar panels and solar cell based products and building materials. Through the application of next-generation technologies and use of proprietary intellectual design the Company aims to be the industry's innovation leader. For the past 19 years, ICP Solar has led the consumer market through innovation and has now begun to apply that same philosophy to the OEM, rooftop and power generation segment of the solar industry. ICP Solar's management has over 50 years of experience in the renewable energy sector. ICP Solar is the North American licensee of the Coleman® brand in the solar charger category. The company's headquarters are located in Montreal, Canada, with additional locations in the USA, Spain, Ireland and France.
Corporate information may be found at www.icpsolar.com
The forward-looking statements herein include, but are not limited to, the expected expansion of our solar solutions into Europe Middle East, Asia and Africa. Our actual results may differ materially from those implied in these forward-looking statements as a result of many factors, including, but not limited to, overall industry environment, customer acceptance of our products, delay in the introduction of new products, further approvals of regulatory authorities, adverse court rulings, production and/or quality control problems, the denial, suspension or revocation of permits or licenses by regulatory or governmental authorities, termination or non-renewal of customer contracts, competitive pressures and general economic conditions, and our financial condition. These and other risks and uncertainties are described in more detail in our most recent SB-2 filing with the Securities and Exchange Commission. Forward-looking statements speak only as of the date they are made. We undertake no obligation to update or revise such statements to reflect new circumstances or unanticipated events as they occur, except as required by applicable laws, and you are urged to review and consider disclosures that we make in the reports that we file with the Securities and Exchange Commission that discuss other factors germane to our business.
Contact:
ICP Solar
Laurent Lafite, 514-270-5770
Llafite@icpsolar.com
or
Lippert/Heilshorn & Associates
Jody Burfening/Elric Martinez, 212-838-3777
emartinez@lhai.com
Featured Product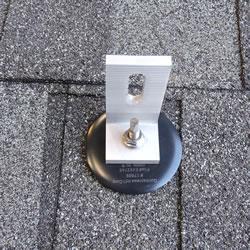 SolarRoofHook's Low Profile QuickBOLT with Microflashing™ is the industry's affordable, UL Certified Asphalt Shingle mounting system. The Microflashing™ is compressed by the collar on the bolt to create a water-tight seal. With an installation time of less than one minute, the Low Profile QuickBOLT allows installers to complete more jobs.