Clean Vehicles and Clean Air partner for a cleaner tomorrow!
Motorworks Clean Vehicles, Inc. announced today it has signed on to be a Clean Air Community Partner through the New York State Department of Transportation's Clean Air NY initiative. Clean Air NY is a dynamic collaboration of organizations and individuals in the New York metro area who are taking actions to improve our air quality.

Community Partners agree to be liaisons between Clean Air NY and their network of members, and notify them of ways they can make a greater impact in improving Air Quality. Community partners encourage their members to combine errands into one trip, utilize mass transit, bike, walk, or share a ride by carpooling to work. These simple adjustments in everyday travel will help make New York's air quality cleaner and healthier.
Motorworks Clean Vehicles has agreed to distribute Clean Air NY information at its offices and showrooms, include a link to Clean Air NY at the bottom of all of its email signatures, and post Air Quality Action Day alerts on its website when there are dangerous air conditions (mostly in the summer months). As a Community Partner, Motorworks Clean Vehicles will display its logo on Clean Air NY's web site, offer tips about how to improve air quality, and collaborate with the Clean Air NY network of partners on events for various cross-promoting benefits. Motorworks Clean Vehicles feels strongly about informing our members of air quality-friendly and healthy commute alternatives. We will promote these alternatives through LITM, a local non-profit transportation management association that helps businesses and their employees choose commute options that are better for our air quality and our environment.
Air quality is a serious, ongoing problem. In a survey, conducted by the New York State Department of Transportation in June 2006, about forty-two percent of New Yorkers reported that someone in their family experiences negative health effects from air pollution. Clean Air NY encourages people to make simple everyday travel choices that can make a big difference.
About Motorworks Clean Vehicles Inc.
Motorworks Clean Vehicles Inc. has exclusive dealership rights for distributing Miles Electric Vehicles for Nassau and Suffolk counties in New York, and provides sales and support service throughout the whole of New York State.
Motorworks owner and president, Gary Birke, runs a successful engine replacement business in Amityville, Long Island. The business has just relocated to new premises in Amityville from Westbury where they are proud of their 18-year record of accomplishment of business growth and customer satisfaction.
Birke, a natural entrepreneur whose wide experience in auto leasing helped him identify a niche market for quality replacement engines, has again turned his eye to the future with by creating his Long Island distributorship of zero emission electric vehicles.
With carbon emissions continually on the rise and dependence on foreign oil accelerating, electric vehicles represent part of the solution to a growing problem. Based in Santa Monica, CA, Miles Electric Vehicles currently offers the latest and most advanced low speed, emissions free cars and trucks in the industry. MILES vehicles, which combine the best of U.S. electric motor and controller technology with China's advanced battery and vehicle manufacturing capabilities, are specially designed for use in limited speed and travel business fleets such as airports, universities, public utilities works, resorts, parks and cemeteries.
Many think of upgraded golf carts or moon buggies when EVs are mentioned. Rest assured vehicle design and technical development since the futuristic electric concept cars of the 80's have come a long way (see below).
Motorworks Clean Vehicles Fact Sheet
COMPANY: Motorworks was established in 1990 in Westbury, NY as an engine replacement workshop, specializing in all major manufacturer makes and models of cars, trucks and vans. Motorworks recently relocated to Amityville, NY where they are developing a customized electric car dealership. Motorworks is the exclusive distributor of Miles Electric Vehicles for Nassau and Suffolk counties. Motorworks are also available for sales and support of MILES vehicles throughout New York State
OWNER: Gary Birke is a long time proponent of environmental sustainability and was featured in a 2007 Newsday issue as a key member of Long Island's clean-air coalition.
LOCATION: 111 Sunrise Highway, Amityville, NY 11701
CUSTOMERS: Motorworks focuses on business to business sales with customers in key public and private sectors such as airports, universities, public utilities works, resorts, parks and cemeteries. Motorworks aims to help its customers reduce fuel costs and prevent harmful emissions by adopting all electric fleets.
ABOUT EVs: Electric vehicles produce zero emissions; meaning they do not produce tailpipe or evaporative emissions, which are major contributors to air pollution and global warming. Currently, researchers are developing improved battery technologies to increase driving range and battery life and decrease recharging time, replacement frequency, and cost.
For more information, contact Gary Birke at Gary@cleanvehiclesNY.com or 866.527.2669 (06/04/08)
Featured Product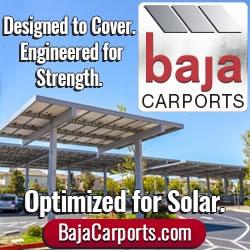 Baja Carports offers an extensive solar support system product line customized to customers' site specifications by in-house engineers, meeting their parking lot coverage, plus optimal PV production needs. Baja's Full Cantilever Tee is often paired with its Semi and Full Cantilever carports to meet live/loads up to 60psf and wind speeds to 160mph. All Baja products are pre-fabricated, bolted connections, pre-galvanized structural steel for fast on-site installation and project aesthetic requirements."