Sustainable Energy to Partner with Opel for Solar Concentrator Project
Calgary, Alberta - June 16, 2008 - Sustainable Energy Technologies Ltd. (TSXV: STG), www.sustainableenergy.com announced today that it will partner with Opel International (TSXV: OPL) to install and monitor a high concentration solar power system in Medicine Hat, Alberta.

The 5Kw trial system will combine Sustainable Energy's SUNERGYTM CPV inverter, Opel's Mark I high concentration photovoltaic modules and the OPEL-FEiNA dual-axis tracker. Procurement for the installation, which will be owned and operated by the City of Medicine Hat, is set to begin immediately, enabling operational testing during the important summer season.
Sustainable Energy's recently announced SUNERGYTM CPV inverter (News Release: April 15, 2008) complements the unique operating characteristics of solar concentrator technologies to improve total system level performance and economics. The Company currently has trials underway with two leading Spanish project developers (News Release: April 24, 2008) and several others are planned. Sustainable Energy also recently announced that it will partner with industry leader Ingeteam S.A. (News Release: May 26, 2008) to jointly market their inverters for solar concentrator projects in Europe and North America.
"We are very excited about working with Opel and Medicine Hat in this project, which will help us to better understand the unique operating characteristics of CPV concentrators, and to optimize our CPV inverter software. It will also provide an important demonstration of the value of solar concentrator technology for Western Canada," said Michael Carten President & CEO of Sustainable Energy.
The City of Medicine Hat, which owns and operates its own electrical utility, is exploring a variety of renewable energy technologies to expand its power generation portfolio. "The high concentration photovoltaic demonstration will help us understand the viability of adopting this technology on a larger scale in the future," said Russell Smith, Environment Manager for the City. "Opel and Sustainable Energy have approached the project with unique technologies that bring tangible benefits to system level performance and economics."
About Sustainable Energy Technologies: Based in Calgary, Alberta, Sustainable Energy (www.sustainableenergy.com) designs, manufactures and distributes power inverters for distributed alternative energy applications, including solar PV systems, small wind power systems and energy storage systems, such as batteries and stationary fuel cells.
Sustainable's SUNERGYTM patented solar inverter technology offers several very distinct advantages over conventional solar inverter technologies, especially for thin film rooftop solar PV systems and building integrated PV applications. The Company's SUNERGYTM CPV inverter platform accommodates the rapid power fluctuations of solar concentrators ensuring and prevents module mismatch losses resulting due to manufacturing variances or imperfect alignment of modules during installation.
For more information on the Company and its SUNERGYTM inverter please visit: www.sustainableenergy.com
About Opel International: With operations headquartered in Shelton, CT, OPEL (www.opelinc.com) designs, manufactures and markets innovative, state-of-the-art solar technology products designed to convert solar energy into electricity - at the least possible cost and greatest efficiency. The Company's products are based on technology developed in cooperation with the University of Connecticut (Storrs, CT) and the Canadian National Research Centre (Ottawa, ON). A leader in gallium arsenide and solar photovoltaic technology, the Company has been awarded 23 patents and has 23 more patents pending. OPEL's common shares trade on the TSX Venture Exchange under the symbol "OPL".
Certain statements contained in this press release may be considered as forward-looking. Such forward-looking statements are subject to risks and uncertainties that could cause actual results to differ materially from estimated or implied results.
The TSX Venture Exchange does not accept responsibility for the adequacy or accuracy of this release.
Featured Product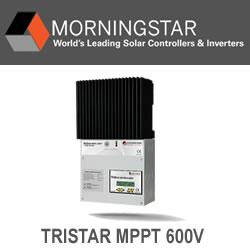 Morningstar's TriStar MPPT 600V charge controller leverages Morningstar's innovative TrakStar™ MPPT technology and our 20+ years of power electronics engineering excellence, to enable the widest input operating voltage range available from a solar array, wind turbine or hydro input. This controller's standard and DB versions are for off-grid applications, and the TR versions were developed to enable retrofitting grid-tied systems with battery backup.