Laser MicroJet Upends Conventional Wafering Approaches to Address Proprietary Polysilicon Wafer Technology
LAUSANNE, Switzerland, July 7, 2008—Synova, the world pioneer and patent holder of water jet-guided laser technology, today announced a milestone follow-on order for its Laser MicroJet (LMJ) systems from a European-based solar cell manufacturer. Representing one of Synova's largest equipment orders to date, the 25 LMJ systems will be integrated into its customer's edge-defined film-fed growth (EFG) process—a leading-edge, proprietary silicon-efficient technology—at its European-based solar fab. These LMJ modules, the core of Synova's Laser MicroJet technology, will be used to cut the venture's 125- and 156-mm polysilicon EFG-octagonal tubes into wafers for solar cell manufacturing. Several LMJ systems have already been shipped and installed, with the remaining modules to be integrated throughout 2009 and 2010.

Wafering, the cutting of silicon tubes into wafers, is a new application area for Synova's Laser MicroJet, which offers a superior alternative to conventional approaches, especially traditional lasers. Contrary to results by conventional lasers, Synova's LMJ approach offers a less abrasive cutting process without causing heat damage, micro-cracks and burr formations that can weaken the wafers' fracture strength. In fact, Synova's LMJ approach results in wafers with a 250-percent higher fracture strength, a significant contributing factor to increasing solar cell yield and lifetime. Notably, since LMJ produces nearly damage-free edges, it eliminates the need for extra processing steps, such as edge etching, reducing manufacturing costs. In addition, the technology's "wet" approach expels from the wafer surface the contaminants inherent to any cutting process, thereby increasing overall solar cell quality and efficiency.
Commenting on today's announcement, Bernold Richerzhagen, Synova's chief executive officer, noted, "This major production order has provided Synova with a unique opportunity to help speed production, adoption and overall efficiency and quality of today's leading-edge solar cells. This milestone order for LMJ systems not only represents an important order volume for the company, but is a testament to tremendous growth opportunity for Synova in the solar market. We are thrilled that our IP will be a key manufacturing ingredient to our customer's new breed of high-quality solar cells."
Synova's Laser MicroJet system can be flexibly incorporated into the production line as either a standalone system or integrated into existing equipment. The LMJ systems purchased by the customer will be custom-configured with a 200-watt dual-cavity green laser source, maximizing throughput.
This order builds on Synova's recent momentum in the solar market. In February, Synova announced a collaborative R&D alliance with Europe's largest solar research organization, the Fraunhofer Institute for Solar Energy Systems (ISE). This joint-development project is chartered with investigating the use of LMJ for laser chemical processing (LCP) to further explore LMJ's wafering and microstructuring applications that will both speed processing and improve the performance of solar cells. In fall 2007, Synova licensed integration systems to solar equipment manufacturer Manz Automation, which unveiled its inline laser edge isolation system for photovoltaic (PV) manufacturing of mono- and multi-crystalline solar cells.
For more information about this announcement and/or Synova's presence in the solar market, please contact Karen Do at kdo@mcapr.com or +1-650-968-8900 ext. 108.
About Synova
Founded in 1997, Synova is the world pioneer and patent holder of Laser MicroJet®, a state-of-the-art water jet-guided laser technology that combines the advantages of a laser beam and water to address the exacting manufacturing specifications and low cost-of-ownership (CoO) requirements associated with volume production of semiconductors, flat-panel displays, photovoltaics, medical instrumentation and automotive devices. Thanks to this innovative technology, Synova is revolutionizing the engineering playing field and fast emerging as the ideal provider for high-precision laser applications in these core markets. Additionally, Synova is satisfying growing demand across diverse markets through strategic licensing partnerships with original equipment manufacturers (OEMs), end users and R&D institutes. Headquartered in Lausanne, Switzerland, Synova is a privately held company with subsidiaries located in China, South Korea, Japan and the United States. Additional information about the company is available on the Internet at www.synova.ch
Laser MicroJet is a registered trademark of Synova.
###
Featured Product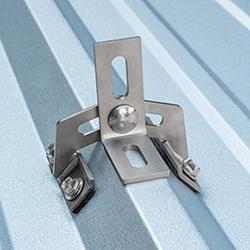 QuickBOLT Low Profile QuickBOLT with Microflashing™ is the industry's affordable, UL Certified Asphalt Shingle mounting system. The Microflashing™ is compressed by the collar on the bolt to create a water-tight seal. With an installation time of less than one minute, the Low Profile QuickBOLT allows installers to complete more jobs.