RENEXPO® 2008, 09.- 12.2008, Trade Fair Centre Augsburg
In the future, operators of new solar electricity facilities will obtain more money for self-produced electricity in Germany than so far. As you can see, the solar branch's dynamic growth rate is continuing. According to a collective study by the European Photovoltaic Industry Association (EPIA) and Greenpeace has shown that by 2020 about 1 billion people will be supplied with solar electricity worldwide. Also, the number of so far over 50 European manufacturers of solar facilities will grow continually. A growth of 27% annually by 2009 and of 34% between 2010 and 2020 is expected.

Solar energy has great potential. Therefore, at this year's RENEXPO® there will be two conferences, that will address this subject matter, alongside the trade fair theme "solar". Thus, the Federal Conference for Operators of Photovoltaic Power plants (BFBG) is being held for the fifth time already. The congress will inform, in its established way, on the innovations of 2008 on the market, in technology, quality assurance and insurance. Thus, for example, Rainer Brohm of Bundesverband Solarwirtschaft BSW e.V. will give a lecture on the effects of the EEG-novelle on photovoltaic, and Manfred Schäfer from the Gesamtverband der Deutschen Versicherungswirtschaft (GDV) will give an overview of the technological potential for danger of mid- and large-sized photovoltaic power plants. The conference will, among others, address engineers, investors, energy suppliers as well as domestic construction, and will take place on Friday, October 10th.
The issue of solar acclimatisation will also be discussed in an all-day conference. This conference is organized by Bayern Innovative in cooperation with REECO. The conference will take place on Thursday, October 9th, 2008. The conference is primarily addressed to engineers, planners, architects, contractors as well as facility managers.
RENEXPO® takes place for the ninth time this year, and informs on the whole spectrum of renewable energies and energy efficiency in building and renovation. Since 2000 it has been able to establish itself to the leading trade fair. Last year, 271 exhibitors informed around 12.373 visitors on their products and services. In accordance to the developments in the industry, a rising number of exhibitors and visitors is becoming apparent. " We are glad about the growing reception from the manufacturers in the solar energy sector. For the first time, almost all well-known system providers of regenerative heat generation are presented at the trade fair." says Gunnar Kersten, sales manager in the solar energy department of the REECO GmbH. Companies such as Viessmann Germany GmbH, Vaillant Germany GmbH & Co KG, Bosch Thermotechnik GmbH, Rotex Heating Systems GmbH, Sonnenkraft GmbH, Tisum GmbH as well as Solvis GmbH & Co.KG are represented in the solar energy sector.
Alongside the trade fair and conference, there will be a wide series of lecture, free of charge.
Featured Product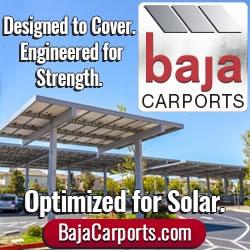 Baja Carports offers an extensive solar support system product line customized to customers' site specifications by in-house engineers, meeting their parking lot coverage, plus optimal PV production needs. Baja's Full Cantilever Tee is often paired with its Semi and Full Cantilever carports to meet live/loads up to 60psf and wind speeds to 160mph. All Baja products are pre-fabricated, bolted connections, pre-galvanized structural steel for fast on-site installation and project aesthetic requirements."