Raises Contractual Backlog to Nearly $3 Billion
MARLBORO, Mass.--(BUSINESS WIRE)--July 15, 2008--Evergreen Solar, Inc. (Nasdaq: ESLR), a manufacturer of solar power panels with its proprietary, low-cost String Ribbon(TM) wafer technology, announced it has signed a new long-term sales contract valued at approximately $1.2 billion with German-based IBC SOLAR AG. This contract extends through 2013 and brings the company's total contractual backlog to nearly $3 billion with 5 customers.

"We are very pleased to begin this significant long term relationship with IBC SOLAR, the largest PV distributor in the world", said Richard M. Feldt, Evergreen Solar's chairman, president and chief executive officer. "This contract represents the single largest contract in the history of our company and is one of the largest contracts ever between a panel manufacturer and a distributor."
The solar panels for these take-or-pay contracts will be manufactured at the Company's new 160 MW facility in Devens, Massachusetts, which opened in June, and at the Company's next factory, which is expected to open in 2010. To date, the Company has contracted approximately 70 percent of Devens expected capacity through 2010 and all of Devens capacity in 2011 through 2013.
"Quality comes first at IBC SOLAR", said Udo Mohrstedt, President and CEO of IBC SOLAR. "Our aim is to make the use of solar energy easy and competitive for our customers. Evergreen's solar panels are one of the highest quality products in the industry. By adding Evergreen to our product portfolio, we can meet the growing demand of our customers."
About IBC SOLAR
IBC SOLAR was founded in 1982 and since then has been active exclusively in the photovoltaics sector. The IBC SOLAR group and its subsidiaries in Europe and Asia provide markets worldwide with high performance photovoltaic systems of all sizes, from house roofs to major solar projects. To date, IBC SOLAR has installed more than 350 Megawatts (MWp) of photovoltaic power at more than 50000 solar energy facilities around the world. For more information about the company, please visit www.ibc-solar.com.
About Evergreen Solar, Inc.
Evergreen Solar, Inc. develops, manufactures and markets solar power products using proprietary, low-cost manufacturing technologies. The Company's patented wafer technology, known as String Ribbon, uses significantly less polysilicon than conventional processes. Evergreen's products provide reliable and environmentally clean electric power for residential and commercial applications globally. For more information about the Company, please visit www.evergreensolar.com.
Evergreen Solar(R) is a registered trademark and String Ribbon(TM) is a trademark of Evergreen Solar, Inc.
Safe Harbor Statement
This press release contains forward-looking statements within the meaning of federal securities laws. Evergreen Solar cautions you that any statements contained in this press release that are not strictly historical statements constitute forward-looking statements. Such forward-looking statements include, but are not limited to, those related to: the start-up and future production capacity of the company's Devens manufacturing facility; the opening of its next factory in 2010, the company's ability to protect the intellectual property incorporated in String Ribbon and other proprietary technologies; and the ultimate value of the customer contracts given changing market dynamics and governmental subsidy and incentive programs, currency fluctuations and related contractual pricing parameters. These statements are neither promises nor guarantees, and involve risks and uncertainties that could cause actual results to differ materially from such forward-looking statements. Such risks and uncertainties are identified in the company's filings with the Securities and Exchange Commission - including the company's Annual and Quarterly Reports on Forms 10-K and 10-Q filed with the SEC (copies of which may be obtained at the SEC's website at: http://www.sec.gov) - could impact the forward-looking statements contained in this press release. Readers should not place undue reliance on any such forward-looking statements, which speak only as of the date they are made. Evergreen Solar disclaims any obligation to publicly update or revise any such statements to reflect any change in company expectations, or in events, conditions or circumstances on which any such statements may be based, or that may affect the likelihood that actual results will differ from those set forth in the forward-looking statements.
Featured Product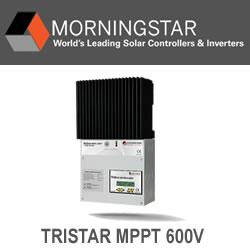 Morningstar's TriStar MPPT 600V charge controller leverages Morningstar's innovative TrakStar™ MPPT technology and our 20+ years of power electronics engineering excellence, to enable the widest input operating voltage range available from a solar array, wind turbine or hydro input. This controller's standard and DB versions are for off-grid applications, and the TR versions were developed to enable retrofitting grid-tied systems with battery backup.