Australia's most popular cars are also Australia's most fuel hungry cars. The revamped Green Vehicle Guide launched by the Australian Federal Government, the Commodore releases 3.8 tonnes of carbon dioxide, making it the highest greenhouse emitter of the top five most popular cars in the country.
WA Sustainable Energy Association Inc. (WA SEA)

Media Release - 20 July 2008
The Rudd Government can immediately act with to improve energy efficiency by tightening the Federal mandated energy efficiency targets for the Australian vehicle fleet, according to the WA Sustainable Energy Association Inc. (WA SEA), the business chamber for the sustainable energy industry in WA.
Not only is the Holden Commodore the most petrol-hungry of Australia's big-selling cars, but search all new fuel efficient vehicles listed on the Australian Government's Green vehicle guide website, and no Australian-built car appears in the top 50 of the most fuel efficient.
A search on the AGO website reveals the top 50 cars are a mix of Hybrid and diesel. Even if the search is restricted to petrol only engines, still no Australian built car rates a mention. Even an SUV, the Jeep MK Compass Limited, is more fuel efficient than any Australian built car.
"It is disappointing that, despite the level of Federal Government support for the Australian car industry over the past decade, Australian manufacturers have failed to provide Australians with an energy-efficient Australian car - this is a deplorable situation, and the Federal Government must move to tie any and all Government assistance to the industry to delivering more fuel efficient vehicles for the Australian market," says Dr Ray Wills, CEO of WA SEA.
"Transport Minister Anthony Albanese is to be congratulated in promoting the Green Vehicle Guide - Australians using this as a buying guide can get out of gas-guzzlers into new fuel efficient vehicles that are easily twice the efficiency of older cars - and in cases as much as three times more efficient. Fuel efficiency will do more than any other measure to ease the pain of prices at the petrol pump," says Dr Wills.
"The Rudd Government must also look at other measures, including changes to taxation laws so that only fuel-efficient cars and commercial vehicles are eligible for tax concessions, and similarly the state governments should target stamp duty relief and other fee relief to fuel-efficient cars," says Dr Wills.
Media Contact:
Dr Ray Wills 0430 365 607
Editors notes:
1. Fuel efficient vehicles listed on the Australian Government's Green vehicle guide website show new vehicles are easily twice the efficiency of older cars - and in cases as much as three times more efficient than the ABS average. Australian Bureau of Statistics rate of fuel consumption averaged for all motor vehicles on Australian roads was 13.8 litres per 100 kilometres. Articulated trucks had the highest average fuel consumption with 55.6 litres per 100 kilometres. (ABS data for the 12 months ended 31 October 2006.)
2. Statistics on Australian vehicle fleet - http://www.abs.gov.au/ausstats/abs@.nsf/ProductsbyReleaseDate/63AF63FDCC1078F4CA2571E1001F0FF6?OpenDocument
3. Green Vehicle Guide website - http://www.greenvehicleguide.gov.au/
4. The Western Australian Sustainable Energy Association Inc. (WA SEA) is a chamber of businesses variously promoting, developing and/or adopting sustainable energy technologies and services that minimise the use of energy through sustainable energy practices and maximise the use of energy from sustainable sources. WA SEA is supported by a growing membership of 170 industry members from a diversity of businesses. Our members are many of the key energy players in Western Australia, exemplified by our current corporate members: Alinta, BHP Billiton Iron Ore, BP Australia, Carnegie Corporation, City of Mandurah, Gull Group of Companies, Horizon Power, Landfill Gas & Power, Pacifichydro, Perth Energy, PricewaterhouseCoopers, Rio Tinto, Solahart, Solar Sales, Synergy Energy, Verve Energy and Western Power and the WA Department of Industry and Resources. www.wasea.com.au.
Featured Product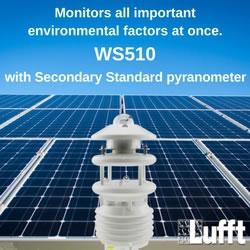 Professional weather sensors form the heart of large solar plants supporting their operation and performance. Lufft was the first manufacturer to combine several sensors in one housing, bringing the largest multiparameter weather sensor family with 19 members into being. Many of them are well-suited for solar site assessment and continuous monitoring. The most commonly used one is the WS600 delivering data on temperature, air pressure, wind, relative humidity and precipitation. Through its open protocol, it can easily be attached to radiation sensors e.g. from Kipp&Zonen. Other models have an integrated Silicon, Second Class or Secondary Standard radiation sensor.