Xantrex Technology Inc. will be a partner in a 50-city solar technology tour across the United States from August to November 2008. City Tour for Solar consists of two educational exhibits about solar and renewable energy.
VANCOUVER, B.C., July 31, 2008 - Xantrex Technology Inc. (TSX:XTX) will be a partner in a 50-city solar technology tour across the United States from August to November 2008. City Tour for Solar consists of two educational exhibits about solar and renewable energy that will be presented to municipal leaders, community members and utility representatives. The tour will visit cities in Washington, Oregon, California, Arizona, Nevada, New Mexico, Texas, Minnesota and Colorado.

High energy costs and environmental concerns have lead to growing interest in renewable energy sources. City Tour for Solar will educate city managers and municipal leaders on how to turn public demand for renewable energy into real solutions with clean, cost-effective solar electric power. The tour will include practical information on how to plan, implement and verify the value of municipal and utility solar programs.
"Solar energy encompasses several municipal priorities," said Mossadiq S. Umedaly, Xantrex Chairman. "It addresses climate change issues and ensures a secure, local, independent power supply while also creating new jobs."
Xantrex is sponsoring the tour along with other solar industry companies including the lead sponsor SunEdison LLC, North America's largest solar energy services provider.
"We commend our industry partners like Xantrex for making this city tour a reality," said Thomas (Tom) Rainwater, CEO of SunEdison. "Industry partners are necessary because solar energy is complex. There are key concepts like 'interconnection standards,' 'net-metering' and others that national, state and local officials need to understand in order to make the right decisions about solar for their communities. We are simply bringing the knowledge to them as an industry, so cities can deploy cost-effective solar energy when and where it makes sense to them."
For more information about the City Tour for Solar, please visit www.CityTourforSolar.com.
About Xantrex
Xantrex Technology Inc. (www.xantrex.com) is a world leader in the development, manufacturing and marketing of advanced power electronic products and systems for the renewable, programmable, and mobile power markets. The company's products convert and control raw electrical power from any central, distributed, renewable, or backup power source into high-quality power required by electronic and electrical equipment. Xantrex is headquartered in Vancouver, Canada, with facilities in Arlington, Livermore, San Diego, and Elkhart, United States; Barcelona, Spain; Reading, England; Berlin, Germany; and a joint venture in Shanghai, China. Xantrex is listed on the Toronto Stock Exchange under the ticker symbol "XTX".
About SunEdison
SunEdison LLC is North America's largest solar energy services provider and operates across a global marketplace. SunEdison provides solar-generated energy at or below current retail utility rates to a broad and diverse client base of commercial, municipal and utility customers. For more information about SunEdison, please visit www.sunedison.com.
Note that this news release contains forward-looking statements related to Xantrex Technology Inc. Such statements reflect the current views of Xantrex with respect to future events and are subject to risks and uncertainties that could cause actual results to differ materially from those contemplated in these forward-looking statements. Xantrex and Smart choice for power are trademarks of Xantrex International, registered in the United States and other countries.
For further information, please contact:
Xantrex Media Relations
604-422-2589
mediarelations@xantrex.com
Featured Product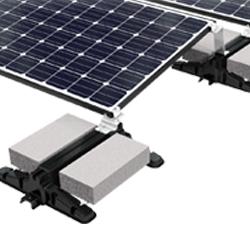 Preformed Line Products introduces the POWER MAX Ballasted Roof Mounting System. The POWER MAX solar mounting system is engineered to maximize energy output on commercial flat roofs. Developed with the professional installer in mind, this system offers adjustable inter-row spacing in the field of up to 11 inches. It features 50% fewer components and a simplified design resulting in faster assembly rates and labor savings on every project. Available in a flush mount, 5˚ or 10˚ tilt or higher density dual tilt design, the POWER MAX base arrives stacked on pallets providing easier transport to the roof. Engineered as a fully ballasted, non-penetrating system, it accepts standard concrete blocks and is qualified by wind tunnel testing.